A passenger on an express train in India followed his instincts and saved the lives of 26 underage girls in the process.
While traveling by train through the northern province of Uttar Pradesh on July 5, a man, known only by his Twitter ID as Adarsh Shrivastava, saw a large group of girls all looking unsettled.
The young girls were accompanied by two older men, and many of them were crying. Something didn't sit right with Shrivastava, so he tweeted about the suspicious behavior and tagged a number of public officials in his tweet.
I am traveling in Avadh express(19040). in s5. in my coach their are 25 girls all are juvenile some of them are crying and all feeling unsecure.@RailMinIndia @PiyushGoyal @PMOIndia @PiyushGoyalOffc @narendramodi @manojsinhabjp @yogi

— Adarsh Shrivastava (@AdarshS74227065) July 5, 2018
subject to human trafficking )my current station is Hari Nagar my next station is BAGAHA and then Gorakhpur.kindly help them out. Please help.@RailMinIndia @PiyushGoyal @PiyushGoyalOffc @PMOIndia @narendramodi @rajnathsingh

— Adarsh Shrivastava (@AdarshS74227065) July 5, 2018
It didn't take long for officials to swing into action. Within 30 minutes of the message, officers in Varanasi and Lucknow were investigating.
The Government Railway Police (GRP) and the Railway Protection Force (RPF) worked with the police's anti-trafficking unit to arrest the two men when the train stopped at Kaptanganj.
Two RPF plainclothes officers boarded the train and apprehended the two men, aged 22 and 55. The girls, 26 in total, were escorted off the train to safety.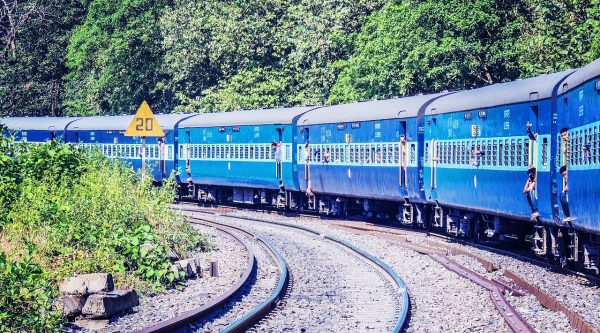 "All of [the girls] are from West Champaran in Bihar. The girls were being taken from Narkatikyaganj to Idgah," the RPF said in a statement, according to NDTV.
"When questioned the girls were unable to answer anything convincingly, so they have been handed over to the child welfare committee."
The girls were all thought to be between the ages of 10 and 14 years old, and are in the process of being reunited with their families.
"Their parents have been informed and the men have been taken into custody," the statement said.
Only a few days earlier, the Chairman of the Railway Board had launched a campaign to protect children traveling on railways.
"Thank you, action is happening. Thanks for your quick response. Thanks from bottom of my heart," Shrivistava said in a follow-up tweet.
Public's response
Despite not having any followers on Twitter, Shrivastava's tweet has received over 8,000 likes, and over 1,000 comments. As word of the bust made the rounds, his life-saving tweet has drawn unanimous applause from the public.
"You are a great courageous man. Salute to you. We all should be learning from you," one man said in response to Shrivastava's tweet. "Great work Adarsh !!! Also, great work everyone for the quick action," said another.
Shrivastava's reply to the praise was: "Thanks but as a citizen of India it is our responsibility to help people."