Houseman in Hudson Square

Houseman has opened in Hudson Square on Greenwich Street, with chefs Ned Baldwin (Prune) and Adam Baumgart (Marco's) cooking dishes that they deem "delicious, cravable, pretty but unfussy."
Dishes include Littleneck Clams and Butter Beans, Peas and Cheese, and Roast Chicken for two.
Family dining is encouraged. The dining room is outfitted with tables made with reclaimed bowling alley maple, schoolhouse chairs, and canvas banquettes. Open for dinner daily.
Houseman is inspired from the word "humanskost," which means every day food in Swedish.
Houseman
508 Greenwich St. (at Spring Street)
212-641-0654
HousemanRestaurant.com
Michael Chernow Opens Seamore's
Michael Chernow (cofounder of The Meatball Shop) has opened Seamore's, which highlights under-utilized local fish species in seasonal dishes.
A Daily Landings menu features seasonal offerings of monkfish, porgy, and flounder from local fisheries.
The menu is divided in sections from Big Fish Tacos to "For the Crew" (for shared plates to The Reed Deal. Dishes include: Spicy Squid Taco with kale, apple, Cotija cheese and corn nuts; and a Spiced Tuna Burger.
Seamore's
390 Broome St.
212-730-6005
seamores.com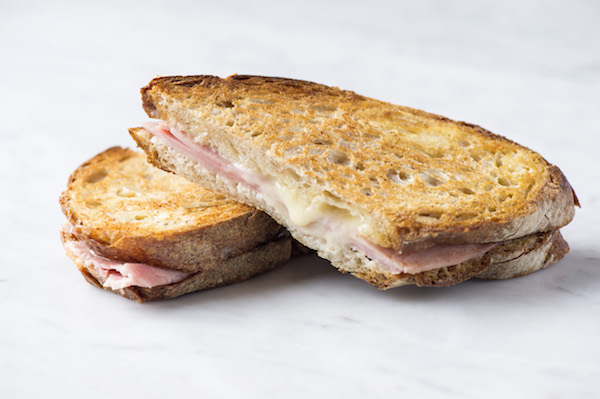 Croque Monsieur Expands to Midtown Location
Croque Monsieur, which carries the classic grilled French ham and cheese sandwich, is expanding to a second location in Midtown.
Besides the classic croque with slow-cooked jambon de Paris, béchamel, and choice of cheese, there are worldly take on the sandwich. For example, Mr. Rupert is a sandwich with Myers of Keswick sausage, bacon, eggs, and New York state cheddar, and Mr. Joaquin has roast pork, jambon de Paris, béchamel, dill pickles, mustard, and Gruyère.
Vegetarians are not left out with sandwiches such as Mr. Richard (breaded eggplant, béchamel, caramelized onions, comté).
Croque Monsieur
459 Lexington Ave. (at 45th Street)
212-675-2227
CroqueMr.com
First Blue Ribbon Restaurant on UWS
Adding to the Blue Ribbon Restaurants, Eric and Bruce Bromberg have opened The Ribbon on the Upper West Side
"The Ribbon menu is part classic Blue Ribbon, varied and wide ranging, featuring steaks, salads, and burgers, and raw bar, and adds spit roasted specialties and some other items made on our rotisseries that we have wanted to offer for some time," Bruce Bromberg said in a press release.
As far as libations, diners can choose from over 98 whiskeys and bourbons, a 100-bottle wine list, six wines on tap, a selection of local beers and ciders, as well as cocktails.
The Ribbon
20 W. 72nd St.
212-787-5656
TheRibbonNYC.com