When most people imagine their perfect romantic setting, they picture a fancy restaurant or a beach at sunset … or pretty much anything that's not a gas station.
But for one couple, it was love at first pump.
For five years, Craig Godfrey has been employed at the Sewell On The Go gas station in Hull, England. It's an ordinary job, one he took to save up money as he puts himself through school to become a PE teacher.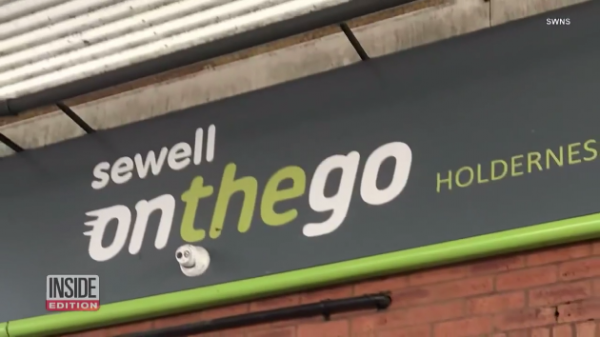 But when he showed up for his shift 16 months ago, he had no idea how it would change his life forever. It was the day Laura Orr walked in.
It's an encounter Godfrey will remember forever. Even though he was just working the counter, and it was an unlikely place to make a connection, they hit it off immediately and agreed to keep in touch.
"We chatted at first, then became friends on Facebook and through text," he told The Mirror.
They soon began dating, and have been together ever since.

Recently, Godfrey and Orr were out on a date, driving around York. At some point, Godfrey stopped to go to an ATM. Orr noticed he was taking a lot of time.
"I was waiting for him to find a cash machine and he was longer than expected," she told The Mirror. "But I didn't think anything of it."
The couple kept driving, and ended up at the gas station Godfrey works at. The two decided to pull over and get some hot drinks for the ride.
Godfrey then did something unexpected—unaware he was being recorded on a CCTV camera.

While Orr was busy pouring her hot chocolate, Godfrey turned to her and pulled something out of his pocket.
He then got down on one knee.
Godfrey proposed to her, right where they first met a year ago!

There's no audio on the CCTV recording, but Godfrey filled in what happened.
"Her first word after I popped the question was 'really?' before she actually said 'yes', as she was so shocked and a bit shaky."
Orr was surprised—but completely thrilled by the clever proposal.
"It wasn't cliche, and it was personal to us," Orr added. "I didn't see it coming at all, but it's brilliant and so romantic."
"How many people can say they have their proposal on CCTV?"
It turns out, it was a spur of the moment decision. While Godfrey said he was going to the ATM, he was actually shopping for a ring.
"For the proposal I was really nervous because even though I had planned to propose to her in the store where we first met, I bought the ring on the spur of the moment really," Godfrey told Inside Edition.
"Once I'd asked her, it was like a weight had been lifted."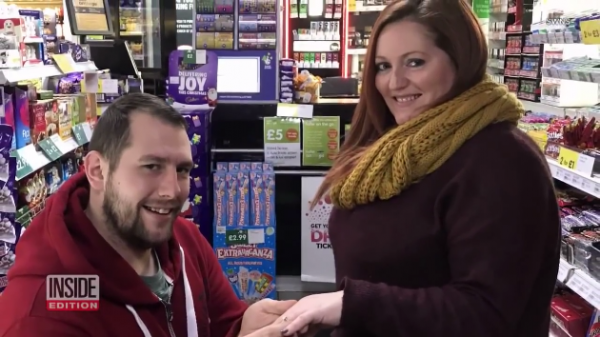 Godfrey's co-workers were thrilled when they found out the store was the site of their proposal.
"I think it's fantastic," store manager Sue Abbott told Inside Edition. "When you look back at the CCTV, you can see how nervous Craig was."
"We've never had anything like this happen in the store. We are really happy for them."

The couple hopes to tie the knot in summer 2019.
"I still can't believe it has happened," the future bride said. "I'm over the moon and it's time to start planning."