Otto Warmbier is suffering from extensive brain damage, a doctor said.
A medical team at the University of Cincinnati Medical Center described Otto Warmbier's described his condition as a "state of unresponsive wakefulness."
Warmbier, an American student, was imprisoned in North Korea and was apparently abused and beaten.
"He has spontaneous eye opening and blinking," Dr. Daniel Kanter, who is head of the hospital's neurocritical care program, told reporters on Thursday.
"However, he shows no signs of understanding language, responding to verbal commands or awareness to his surroundings."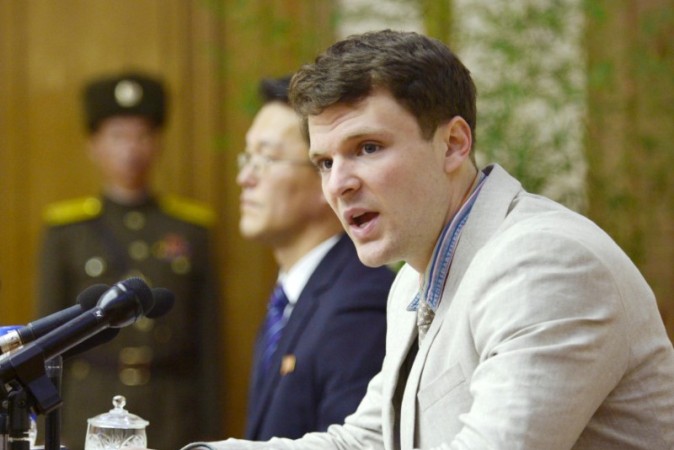 "He has not spoken," Kanter said, per Fox News. "He has not engaged in purposeful movements or behaviors."
Warmbier's father, Fred, verbally lashed North Korea, describing it as a "pariah regime" that had "brutalized and terrorized" his son, the New York Times reported.

North Korea claimed Warmbier, 22, collapsed due to botulism and sleeping pills, but American doctors and his family disputed that theory. "Even if you believe their explanation of botulism and a sleeping pill causing the coma — and we don't — there is no excuse for any civilized nation to have kept his condition secret and denied him top-notch medical care for so long," he said.
"They lure Americans and then they take them hostage and then they do things to them and that's what happened to my son," Warmbier said, per USNews.com. "North Korea has proven they are not nature's noble men."
A roommate of Warmbier spoke to the Washington Post about his experiences in the isolated, communist country.

North Korean officials jailed him for 15 years for attempting to steal a propaganda sign.
"I've got nothing from my experiences with him that would suggest he would do something like that," Gratton said. "At no stage did I ever think he was anything but a very, very polite kid."
Gratton was with Warmbier at the Pyongyang International Airport when he was detained.
"No words were spoken. Two guards just come over and simply tapped Otto on the shoulder and led him away," Gratton said. "That was it. That was the last physical time I saw Otto, ever," he added. "I was also the only person to see Otto taken away. Otto didn't resist. He didn't look scared. He sort of half-smiled."