Thalia Rodriguez was a 17-year-old high school senior from Hialeah, Florida, who knew exactly what she wanted to do with her life.
She was going to serve her community by becoming a firefighter-paramedic.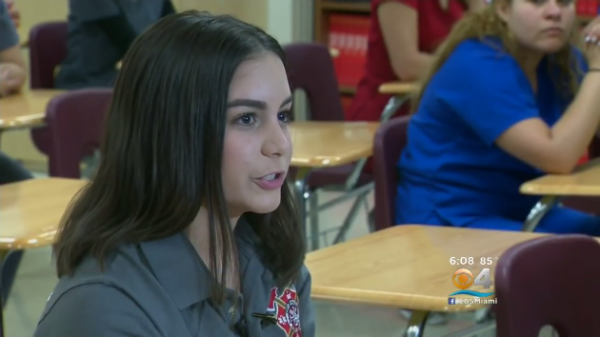 Thalia was already taking steps towards her dream. The teen was able to take first responder courses through her high school's health sciences magnet, receiving rescue and medical training, and witnessing the local fire department in action by going on ride-alongs.
She was so passionate about her training that she even cut her prom plans short—to make time for more ride-alongs.
"It was prom weekend, and I was supposed to stay at the hotel the whole weekend, but I decided to come back on Saturday," Talia told CBS Miami. "I wanted to go to the station on Sunday because I'm pretty obsessed."

Little did she know, that change of plans would send her towards a life-changing altercation.
As Talia was driving on the I-75, she saw something horrific: a police officer had crashed his motorcycle into a guardrail, and was in grave condition.
No emergency services had arrived—Talia was the first one there.
She was in her uniform ready for the ride-along, and knew she had to help.
"I knew that I had to stop, because it would kill me if I wouldn't have stopped," Talia told Local 10.
"You know, you never know what might happen. You might save him."
She approached the wounded officer, Miami-Dade police Maj. Ricky Carter, and realized he was in need of serious medical attention. He was responsive but in shock, and the bleeding was critical.
"He was on the floor and he wasn't looking good," she recalled. "I saw that he was bleeding from one of his legs."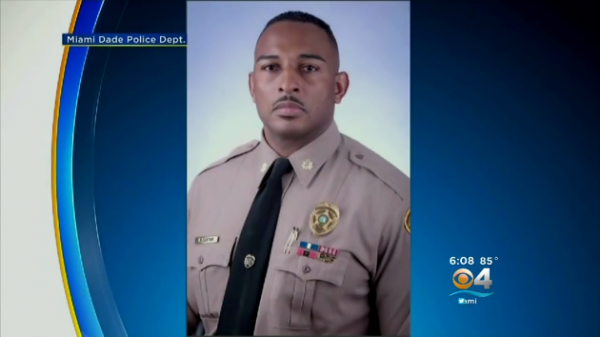 Talia was suddenly getting the real-world experience she was looking for—by having to quickly use her medical training to save the man's life.
"I knew I couldn't panic," she told the Miami Herald. "At that point it was only him, only save him, buy him time. Everything else in such a scenario is all a blur except for what you're focused on."
The teen was forced to make a difficult decision: she decided to stop the bleeding by applying a tourniquet to the leg. This would stop the bleeding, but increase the chance that the leg would need to be amputated. 
A nurse had stopped on the scene to help, and together they created a makeshift tourniquet with a belt, halting the bleeding. It was all they could do.
"From there, all we could do was wait until the medical service got there," Talia told the Miami Herald.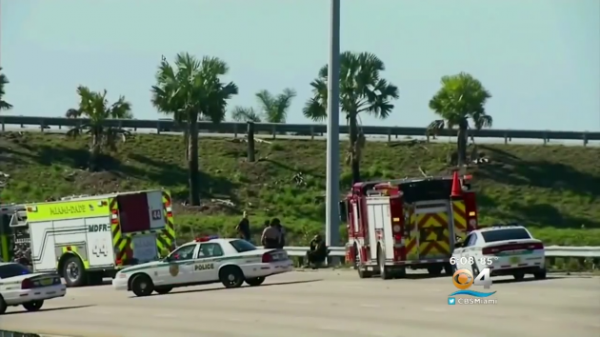 The teen helped save the officer's life, keeping him alive until medics arrived to supply an airlift to the hospital.
When word reached Talia's school, everyone was stunned by her actions—especially her emergency training instructor, retired fire lieutenant Luis Espinosa.
"It's rather difficult to be 17 and comfort a grown man during a time like that," Espinosa told the Miami Herald.
"I was rather impressed with the first aid skills, of course, but I was more impressed with her grace under pressure."
Maj. Carter ended up losing his legs after the accident, but Espinosa says the student made all the right decisions and saved his life.
"In all honesty, in that scenario the most trained cardiac surgeon in the field would have done the same thing," he said.
"They had to stop the bleeding, there was no other way to do it … it was a great decision at a great time."
 Carter later received prosthetics and was able to return to the force a few months later.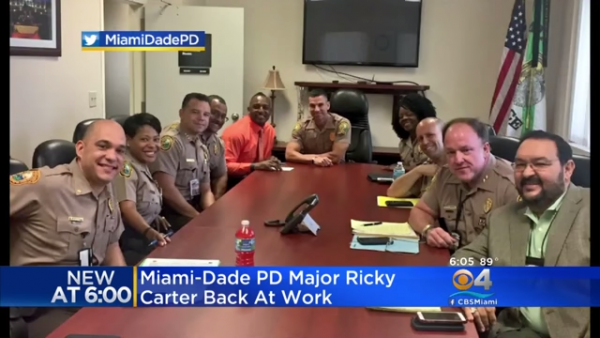 Everyone praised Talia as a hero.
"It gives us great pride to know this program at this school is paying off," the school's principal Giovanna Blanco told CBS. "We are not only teaching the basics in math, social studies, and science, but we are also training our students to be productive citizens and give back to the community."
She was even surprised with a certificate from the school's Superintendent.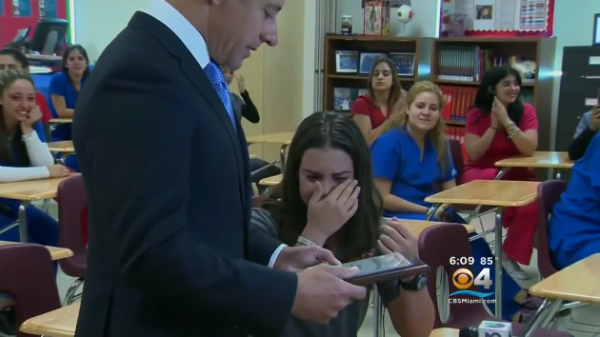 But Talia doesn't consider herself a hero—she was just doing what she was always meant to do—and was just glad her training paid off, and was in the right place at the right time.
"This is my life and I live for this," she told CBS Miami. "It is not necessary to call me a hero. I did what I have to do."
"You never know what you are capable of until you have to do it."