A 5-year-old Australian boy who was constantly bullied because of his dwarfism, has found comfort in a rescue dog who happens to have the same condition as him.
Quaden Bayles and Buddy, a Shih Tzu rescue dog, both have a form of dwarfism called achondroplasia.
But before Buddy came into the picture, Quaden forbade his family from ever mentioning the word "dwarfism" because the name calling from outsiders became too unbearable.
"He didn't like us talking about his condition or saying the words 'dwarfism' or 'achondroplasia,'" Quaden's mom, Yarraka Bayles told Epoch Times.
Yarraka also told Today that Quaden "had a kid come straight up to his face last month at our shopping center and say, 'Oooh, yuck!' People think he's just a freak and very openly say, 'What's wrong with him? Why does he have such a big head?' Or they'll say, 'He's ugly. He looks scary.'"
Yarraka said that Quaden "has been the target of online trolls and cyber bullies who like to point out his differences." He also received multiple threats, and "has also had threats of physical harm," she said, adding that it is "absolutely heartbreaking as a parent of an innocent child who is constantly bullied and made fun of because he was born with dwarfism."

Quaden would get a lot of stares from people in public, and they also made some rude remarks, which in the end, made him much more self conscious of himself and very paranoid about his appearance. Yarraka said the difference is even noticeable within the family, since he is the only child with dwarfism.
"He [Quaden] especially hates when people refer to him as cute or think he's a baby," Yarraka told Epoch times, "which is quiet often," she said.
Yarraka's friend, a veterinarian, told her she had a 9-year-old Shih Tzu rescue dog who was looking for a home. Yarraka immediately told her "no," saying, "the responsibility of a pet was the last thing on my mind." It wasn't until her friend went on to explain that the dog, Buddy, also has dwarfism, that Yarraka changed her mind.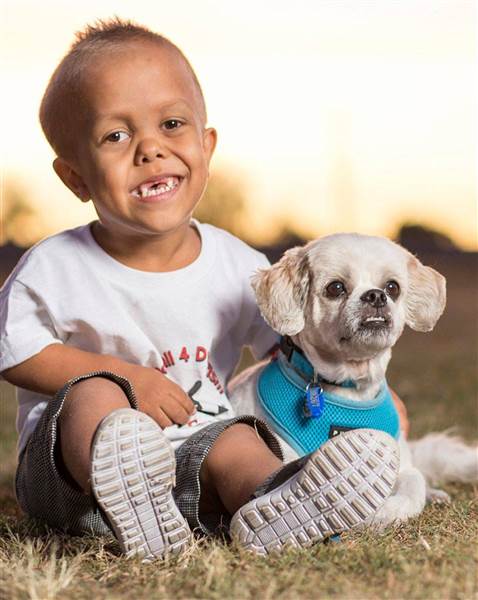 "The first night we got Buddy, we all fell in love with him and he bonded so well with Quaden. It was divine intervention! Buddy has brought so much happiness back into the house after so much sorrow. We just love him so much. He's the best dog ever!" she said.
"Buddy has really cheered us all up and lifted our spirits after the recent passing of my father. It's amazing how a dog can bring so much love & joy."
Because of Buddy, "Quaden is now a lot more confident and finally accepts that it is ok to be different. He wouldn't accept the fact that he had dwarfism before Buddy came along," Yarraka said. 

According to Today, Quaden has had eight surgeries already and now relies on a wheelchair more than ever because of his weak muscle tone and nerve damage. He is scheduled to have more surgery soon, but Yarraka said that the hospital where Quaden is set to stay in has a pet area, so Buddy will be nearby during the entire process.
Despite problems related to his dwarfism, "Quaden is so much happier every day that he spends with Buddy," Yarraka said. 
According to HealthResearchFunding.org, one in every 200,000 people are affected by dwarfism.