Music has a transformative effect on the human spirit. Detailing how music empowered a persecuted people to defend their dignity, the 2006 documentary "Defiant Requiem: Verdi at Terezin" shows how concentration camp inmates were able to change their perspective from victim to survivor—not with firearms, but with fire in their hearts.
This spring, the film screened in Prague as part of an annual series of events to honor the prisoners in the Theresienstadt concentration camp, and it will be shown at the third annual Jewish Film Festival in Southampton, New York, in August.
American conductor Murry Sidlin was stirred to recreate the Requiem as a testament to the inexhaustible spirit of that enslaved choir.
"Defiant Requiem" tells a story that came out of the Terezin concentration camp, 40 miles outside of Prague, during World War II. A group of Jewish prisoners started a choir there, devoting themselves to mastering a most demanding choral work, Verdi's Requiem, in Latin and by heart.
They practiced in the cold basement of their crowded barracks after working in slave labor conditions all day. They would perform to offer hope to their fellow prisoners, to provide their own edification, and eventually to offer an emboldened warning to their Nazi captors.
In 2006, American conductor Murry Sidlin was stirred to recreate the choir's performance to pay homage to those who survived, and those who didn't. It was recreated in the same hall in which, many years before, a performance for the Red Cross had taken place—a charade staged by the Nazis to showcase the "wonderful" treatment given to the Jewish people in their very own town. In the tribute concert, some of the children of the survivors sang in the choir, with their parents sitting in the audience.
In the early 1940s, Raphael Schächter was a rising young Czech composer. His burgeoning career came to a sudden halt when he was sent to Terezin. In the camp, he rallied his fellow inmates with gatherings late at night in the barracks basement. Among the 60,000 Jewish inmates were members of the cultural elite, including accomplished Czech writers, artists, and intellectuals. The camp was a "thriving cultural center," explains a survivor in the film, unparalleled by any place since.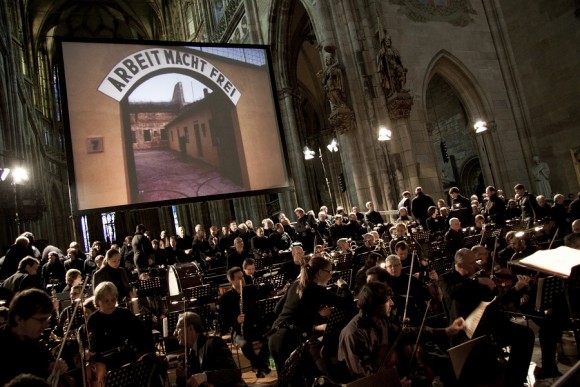 "Artists captured the horrors around them on paper, playwrights staged plays with makeshift sets and costumes, composers wrote new compositions, and thousands of concerts and lectures provided late-night escape for inmates longing for a return to humanity," according to the film's website.
"This room became the protective walls of something good, something meaningful, something healing," said Terezin survivor Zdenka Fantlova, in the film.
The camp entrance bore the motto was "work will set you free," but it was music that would set free the inmates' mind and spirit.
"We have no more names, we have numbers, but they don't have our soul, our mind, our being. What we are cannot be taken away, and it won't be taken away, and it won't be taken away at the moment we are shot," said Marianka Zadikow May, another survivor featured in the film.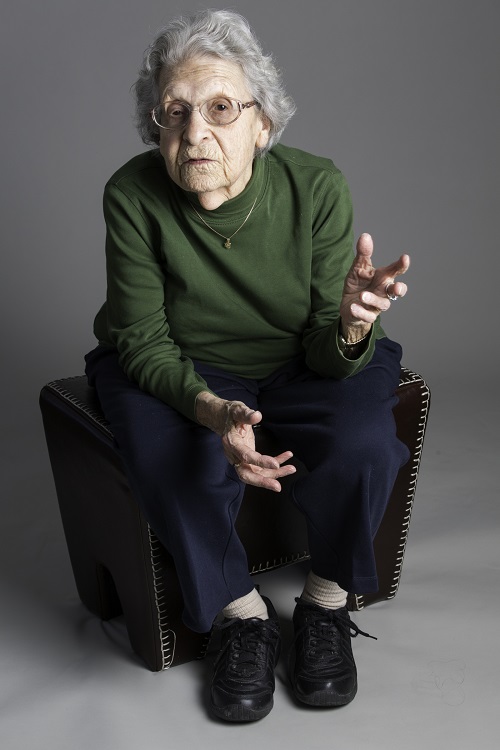 May, in additional interviews on the film's website, shares her remarkable experience of singing in the choir for Schächter: "He explained to us that we were going to do something totally unique. We were going to sing the most beautiful music Verdi ever wrote. He explained, this was our battle, good against evil, music against violence and death. And we will survive. This music will be put to the highest heights from the deepest depths because in such a place like this it was never sung before."
Some survivors viewed the Requiem as a prayer, while some saw it as a requiem for the Nazis, and others, as a requiem for themselves.
The text of this Verdi's Requiem promises divine judgment against evil:"Whatever is hidden shall be revealed, and nothing shall remain unavenged."
"Performing this piece for the Nazis was to profess their divine retribution. They were not victims, but empowered vehicles of divine transmission," according to the website.
The words in the Latin are "Libera me, Domine," literally, "Delivery, oh Lord," but to the choral prisoners who sing this," explains Sidlin in the film, "it was, 'Liberate us from here.'"
This was our battle, good against evil, music against violence and death.
The idea of liberation was not an abstract notion to Giuseppe Verdi, the Italian composer of this powerful requiem. He understood, most personally, ideas of deep grief, after losing his first wife and two children to typhoid. And he understood liberation as well; much of his prolific work was produced under Austrian occupation.
"It was a marvelous experience," said May, in the film. "It made a very difficult and disagreeable way of life livable in as far as we had some kind of a goal. No matter how bad the day was, no matter how hungry I was, there was something to look forward to the next day. And the most incredible thing happened. You forgot you were in a concentration camp."
"When you are more soul than person, I don't think the soul needs to be nourished by anything else [than] that heavenly music," she said.
As May concludes in the film, "I'm not a Holocaust survivor as much as a requiem survivor. It was a present to take with me all my life."
"Defiant Requiem: Verdi at Terezin" will screen at the third annual Jewish Film Festival at the Southampton Arts Center in Southampton, New York, on Aug. 22, 2017.