Pregnancy is beyond question an important and beautiful journey that most ladies cherish. For an expecting mother, it's indeed a joyful moment to know a new life is inside her womb. Thus, in order to never let these precious memories fade away, Nicole Bedwell, of Mabank, Texas, hired photographer Traci Fugitt of Traci Lynn Photography for a maternity photoshoot.
Sadly, Nicole's military husband, Wesley Bedwell, couldn't participate in the photoshoot, as he was deployed to Japan.
Nevertheless, photographer Fugitt had the perfect idea to capture Nicole and Wesley together, even though the first-time parents were 7,000 miles apart.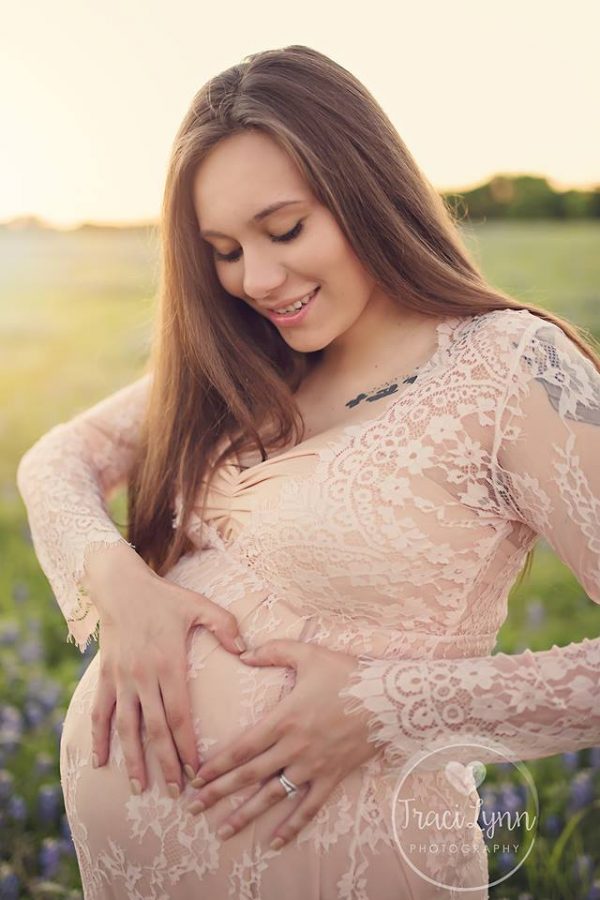 "Nicole expressed how upsetting it was that he was deployed, so we decide he needed to be in them somehow," Fugitt told Fit Pregnancy.
Fugitt incorporated Wesley—a Navy corpsman who was deployed just a month after he and Nicole knew that they were expecting a baby in April 2017—in one photo, using brilliant editing skills.
"Nicole got him to pose like he did and send me the images to Photoshop together, I put them side by side to show the difference between the locations. 7,000 miles away, they waited together for [their daughter] Pyper," Fugitt said.
Surprisingly, the result was truly stunning.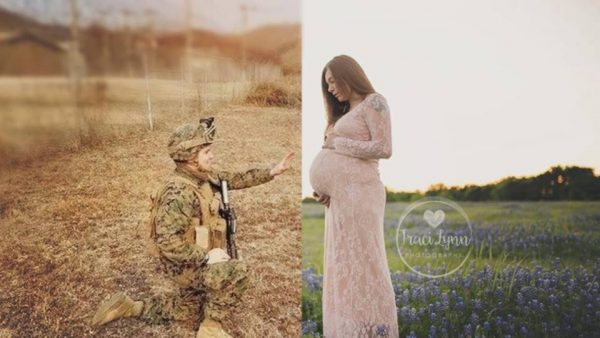 Though Nicole and Wesley were posing from entirely different settings, Fugitt managed to crop the two images and combine them to become one unique picture.
In the composite photo, Wesley, donning a military uniform, is kneeling down against the backdrop of an autumn field in Japan. His hand is reaching out to touch the protruding belly of Nicole, who is standing in a picturesque field of Texas bluebonnets, wearing a gorgeous floral dress.
Nicole, Wesley, and their family were touched to the core when they saw the one-of-a-kind photo.
"I cried, both of our families cried," Nicole told Inside Edition. "It's been really emotional for me to have my husband gone my whole pregnancy, so the fact that Traci was able to include him in my maternity session was very emotional. We will never be having our first child again. He's my family, so having him included touched my heart. It made me happy."
Through the picture, Fugitt hopes people will "thank a soldier for their service, and feel the love radiating from it."
"Even 7,000 miles away, Wesley's love for his wife and newborn daughter is amazing. The anticipation was well worth it!" Fugitt recalled.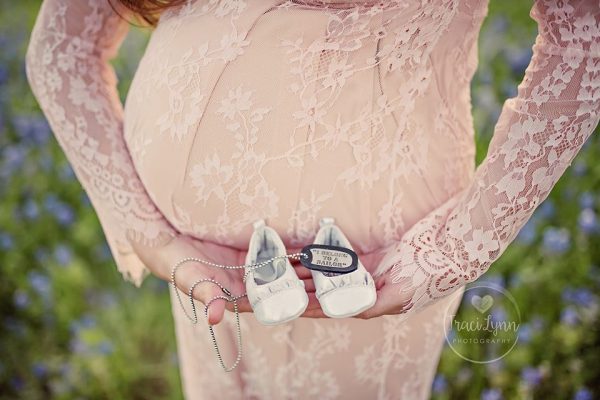 Many other photographers across have also turned to Photoshop to document deployed military fathers in maternity photoshoots as well.
As a matter of fact, this trend is sweeping across social media!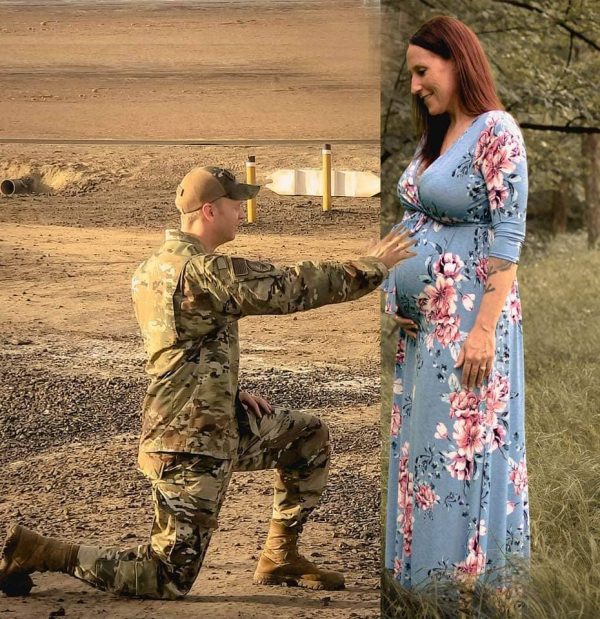 Angie Kessenich of Kessenich Photography waved her magic wand in order to include deployed military dad Kyle Wallace, of Deerfield, Wisconsin, who was expecting his third child in November 2018, in one of his wife's maternity photos, using the same method as Fuggit.
"So I have a client that is pregnant with her third boy and her husband is deployed so he couldn't be here for her maternity pictures before she has the baby and she wanted this one picture done really bad," Kessenich wrote on Facebook.
"So I tried to accomplish this picture for her, mind u I have never done something like this before, but I did it and it means a lot to her. It's not the best but I am pretty proud of myself that I was able to figure out how to do this for her," she added.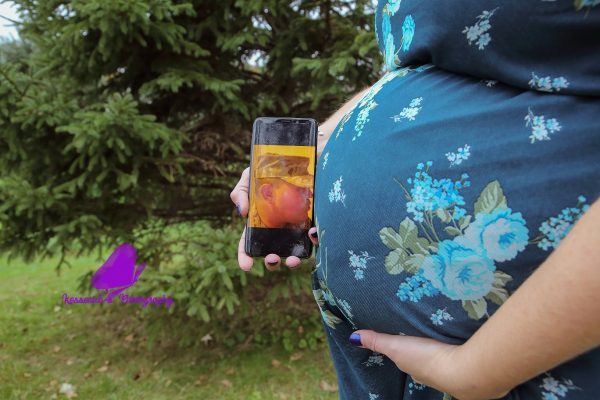 Speaking to The Epoch Times, Kessenich said, "When she first asked if I could do a photo like that I told her I wasn't sure if I would be able to figure it out but I would try. So I was extremely overjoyed and excited that I was able to do the picture for her!"
In the amazing photo, Kyle, who's far away from his loving family, appears to be kneeling in front of his wife, Heather, laying his hand on her big tummy.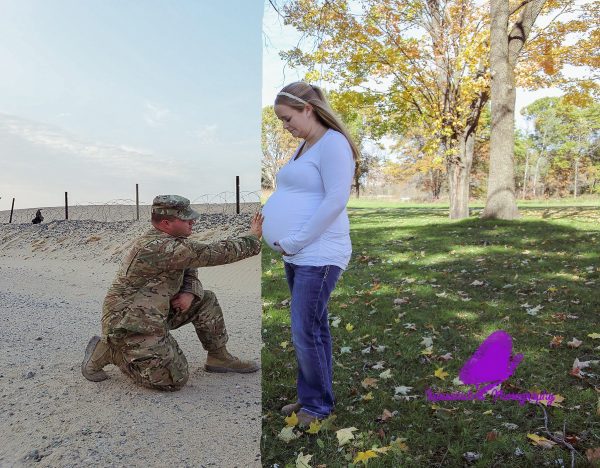 The powerful photo created by Kessenich was undeniably one precious gift Heather will hold dear to her heart forever.
"My amazing photographer helped me create this picture," Heather extended her heartfelt gratitude to Kessenich on Facebook. "Thank you so much!"

These military men were certainly waiting anxiously for the arrival of their little bundle of joy, regardless of being separated miles away from their pregnant wives.
Thankfully, they were able to be a part of their wife's beautiful pregnancy journey with the help of modern technology. These memories, captured on camera, are something that the families will cherish for eternity and pass down through countless generations.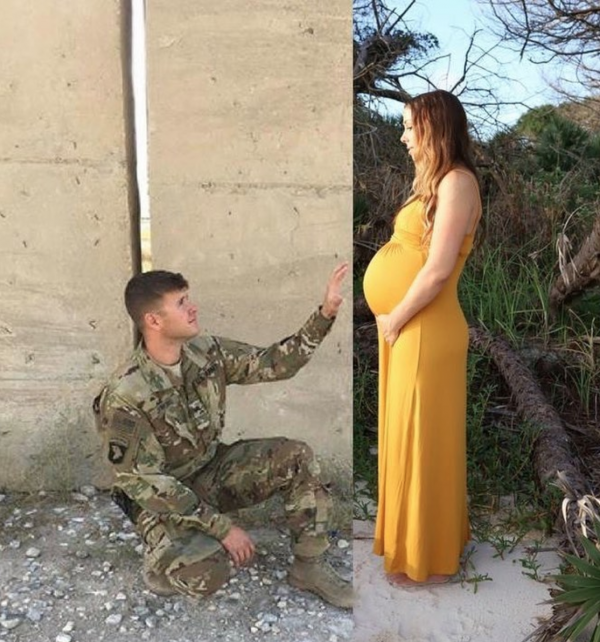 Count your blessings if you're able to partake in your wife's pregnancy experience, as having the chance to place your hands on her growing belly is a privilege many military dads are denied.
And thank you all military personnel and your families for your service and sacrifice!