ACCC Says Energy Market Is Broken, Customers to 'Save Hundreds' From Reset
July 15, 2018 Last Updated: July 15, 2018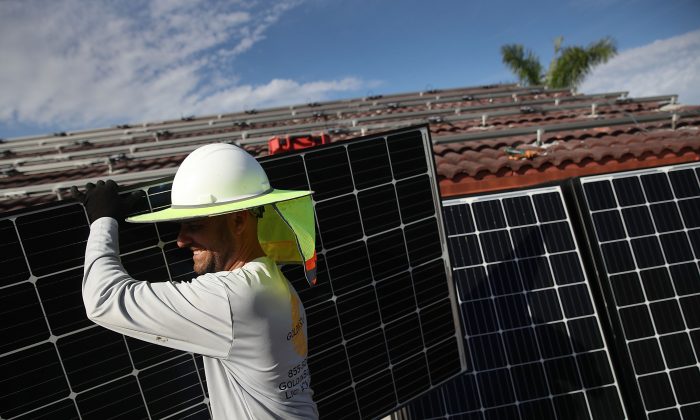 A report released by consumer watchdog the Australian Competition and Consumer Commission sent shockwaves through the nation's energy sector on July 11.
In a single trading session just after the announcement, A$1.6 billion ($1.18 billion) in value was wiped from AGL and Origin shares as the market adjusted to news of regulatory clampdown on the big players in the east coast's national electricity market (NEM).
The ACCC said its report makes a compelling case that Australians have been paying too much for their electricity following a 15-month inquiry into the affordability of electricity from the NEM. The inquiry into electricity prices was commissioned by the Turnbull government in March 2017.
"The National Electricity Market is largely broken and needs to be reset," ACCC Chair Rod Sims said in a press release.
Sims said in a 2GB interview that after reviewing around 48,000 internal documents from the electricity retailers and other companies in question, it became clear to the ACCC that "many things have gone wrong."
Summarising the four main findings of the report, Sims explained, "We've built more networks than we've needed which is costing consumers a lot."
"We have had excessive subsidies for some of the renewable energy. We have had a much too concentrated generation sector, and we have had retailers confusing consumers with discounts off very different bases so that consumers don't know how to go about buying what should really be a very simple and of course essential product.
"At the moment, if you get a discount of 30% and another one of 20% from another supplier, you've got no idea which is the better offer."
Regulation and poorly designed policy have also added significant costs to electricity bills, Sims said.
The report said government policies have encouraged investment in low emissions generation but without regard for the availability of power when we need it.
Increases in network costs—the poles and wires—contributed to a 38 percent price increase across the NEM over the last decade. The second most costly factor was an increase in wholesale electricity generation costs, which added another 27 percent.

Recommendations
To address high electricity prices, the report has laid out 56 recommendations for federal and state governments to implement.
"The ACCC estimates its recommendations, if adopted, will save the average household between 20 and 25 percent on their electricity bill, or around $290-$415 per annum," the ACCC press release read.
"Further, Australia's 2.2 million small to medium businesses could save an average of 24 percent on their electricity bill.
"Commercial and industrial customers, the heaviest users, could see electricity costs decrease on average by 26 percent."
To address the lack of competition driving up electricity prices in the NEM, the report recommended that various changes were needed to allow more independent players to enter the market. One challenge new players have faced is difficulty in securing investment due to market uncertainty resulting from inconsistent climate change policies that would determine competitor subsidies.
The ACCC stated that there was a case for government support in the financing of new dispatchable generation projects that required considerable up-front investment and carried significant risk for these new players.
"Where private-sector banks are unwilling to finance projects due to uncertainty about the future of an industrial or manufacturing business, the ACCC considers there is a role for the Australian government in providing support for such projects in appropriate circumstances," the report said.
"This can be achieved at little cost to government," Sims explained about the recommendation for the government to use its market power to underwrite new dispatchable power, according to The Australian.
"When new players want to enter the market, they need somebody to buy the energy to make the project bankable. You just can't build it and hope that someone will take the energy—you won't get finance for that," he told 2GB.
"So the only way to do that is with the commercial and industrial customers. They'll take enough capacity to make the project bankable."
But as these commercial and industrial customers may not want to commit past an initial five year contract period with one generator, this has created a barrier to the entry of new generators, Sims explained.
"What we're suggesting is the government could say, well look, we'll underwrite a power price, which we're suggesting is very low, $45-50 [per megawatt hour], we'll underwrite a price, and that will allow you to get bank finance."
Sims said that this would not provide any market advantage to such generation projects. "It won't underwrite the equity risk, because if you're investing in [a] new generation to make a good return on your investment you'll need a higher price than that, so you'll have to take that risk."
"But we'll at least make sure you get bank finance, and that will help new players get into the market," he told 2GB.
High power prices in Queensland (QLD) were attributed to lack of competition. "Against ACCC advice, the Qld and New South Wales (NSW) governments made decisions regarding the operation and ownership of generation assets giving rise to concentrated markets," according to the report.
To add to the problem, power prices spiked in 2016-17 after the closure of coal-based generators like Hazelwood in Victoria and a shortage of gas for domestic use resulted in limitations for dispatchable power.
The report said that due to market concentration, it was recommending a separation of the two-state government-owned generators in QLD into three independently operating competitors to drive market competition.
Prime Minister Malcolm Turnbull said that since his government acted to increase domestic gas supply, "wholesale gas prices have halved over the last eighteen months," and that was what has driven the recent slight decrease in power bills.
In a bid to end price-gouging by the big energy companies like AGL, Origin, and Energy Australia, who are involved both the generation and retail sectors of the industry, the report also recommended introducing a new set price to be determined by the Australian Energy Regulator (AER) to ensure transparency in retailer pricing structures and limiting market share of companies to 20 percent.
The incentive structure of the Renewable Energy Target (RET) was also identified as a component of the current framework that needed updating. According to the report, subsidies through the RET distorted investment signals, resulting in more investment in renewable energy generation without consideration for the reliable supply of energy.
The report recommended that premium solar feed-in-tariff schemes be transitioned from federal to state funding and that the small-scale renewable energy scheme be phased out. This would save non-solar consumers $20-$90 per year, the ACCC estimated.
'NEG is a necessary step'
In relation to the Turnbull government's centrepiece energy and climate policy the National Energy Guarantee (NEG), which is the framework through which the government may propose to address the problems identified in the report, Sims told 2GB: "We think the NEG is a necessary step. It's not sufficient, but it's necessary."
Environment and Energy Minister Josh Frydenberg is currently working to win Commonwealth and state support for the NEG, which is due to be finalised by early August.
In its current form, the NEG is an attempt to outline bipartisan policy that governments at COAG can agree on to deliver affordable and reliable electricity for Australians while meeting the emissions reductions targets committed to after Turnbull ratified the U.N. Paris Climate Agreement in 2016.
In response to criticism that the NEG was withdrawing support for renewable energy generation, Turnbull said that the government needed to provide a "technology agnostic" approach that would let the market decide what energy technologies to invest in.
"As I said in Paris in 2015, 'It is innovation and technology which will drive stronger growth and a cleaner environment, not heavy-handed taxes or the force-feeding of one technology or another,'" Turnbull said in Brisbane.
"The National Energy Guarantee brings together energy and climate policy by maintaining system reliability. It requires retailers to purchase a minimum level of electricity generation that can be sent out continually or on demand. And at the same time, meet an emissions intensity that enables us to meet our international commitments."
Sims told 2GB that the government's NEG had the support of the ACCC, "You have to bring together the various objectives that people want to achieve so that the energy comes onto the market as it's needed."
But the Coalition government has been having a tough time convincing its own backbenchers as well as the Nationals Party that the NEG will be effective in bringing about globally competitive power prices.
Backbencher Tony Abbott was urging for the parliament to discuss leaving the Paris climate agreement.
Meanwhile, the Labor government of the ACT threatened to withdraw their support for the NEG due to a lack of political will to consider increasing Australia's CO2 emissions reduction targets beyond the minimum of 26 percent by 2030 as mandated by the Paris climate agreement.
There had been a discussion from Labor of pursuing even higher emissions targets closer to the 45 to 50 percent CO2 reduction recommended by the Climate Change Authority (CCA)—an independent advisory body for climate change policy that was established in 2011 by the Gillard government—according to their 2015 report. This could add another $200 a year to the average household ­energy bill, according to the CCA.
Sims said that if the report's recommendations are adopted by governments, consumers should save a lot of money through a more competitive, transparent market.
"Only a technology-neutral approach will get prices down. Whenever Governments prescribe that the technology should be one thing or another, that's when you get higher prices."
Watch next:
Alex Epstein and Dave Rubin Discuss the Climate Change Debate