It's been almost a year since Hurricane Harvey struck Texas, but the damage is still being felt.
One of the costliest tropical storms of all time, Harvey displaced countless families from their homes—many residents are still struggling to get back on their feet.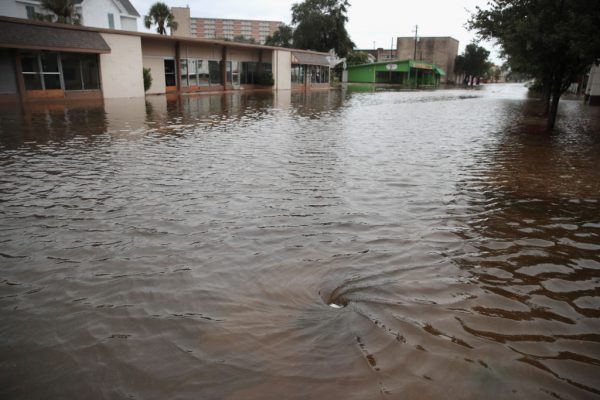 Like the family of Tina Bebout, a mother of four from Galveston, Texas, who lost their home in the storm. They've been living in a hotel ever since—that is, until they recently lost their FEMA funding in early June.
Suddenly, they had nowhere to go, and the family was left in a desperate situation.
"You can't exactly put beds and all this other stuff high when you don't have the room to do anything," Bebout told KTRK.
"I looked up at the sky and I said, 'Lord, please, just one more miracle, please.'"

With no other options, the mother made a call that no one should have to make—but she felt it was the only way her kids could be provided for.
She called the police to take her children.
"It is gut-wrenching," Bebout said. "It is heartbreaking. It will make you hit your knees."
"You feel like your heart and your soul is being ripped out of your body."
The family waited, and soon two Galveston police officers arrived.

Bebout prepared for the worst—but instead of taking her four children away, the officers had a better idea.
They helped the family get back on their feet.
Knowing that the mother only called because she was struggling to provide for her children, the officers knew there was a better route—even if it came at their own expense.
"He gave my kids food," Bebout said of one of the officers. "He gave my kids drinks. He gave them stuffed toys."

However, the family was still out of a home and couldn't afford a hotel—but the officers had a solution to that, too.
They spent $250 to put them in a hotel!
The family finally had a roof over their heads. Thanks to the officers' kindness, they got to stay in a brand-new hotel.
Bebout's prayers for a miracle were answered.
"I felt like I just had two angels that were sent to me to help my kids," she said.

Their good deed went even further than that.
While the hotel gave the family a place to stay for the night, they still needed a longer-term solution.
So the police helped set the family up with a shelter they can stay in for three months!
It's an amazing turn of events for a family that just a few days ago was not only homeless but on the verge of being torn apart—and it was all thanks to some above-and-beyond thinking from their local police.
"These two men kept a family together," Bebout said. "They didn't have to do what they did, but they did."