A mother's plan to save her son's life seemed like a long shot—but turned into a miracle, thanks to a selfless good Samaritan.
Kristi Goll, from Janesville, Wisconsin, has a son named Jackson Arneson who was born with a condition called posterior urethral valves, which causes the kidneys to gradually lose function year after year.
"Virtually, his kidney function has always been below 30 percent," Goll told WISN.
In November 2016, 8-year-old Jackson went in for a routine kidney check-up—and Goll got the news she had been dreading for years.
Jackson's kidneys were failing, and he needed to find a donor soon.
His condition was life-threatening. While he was added to the donor list, the doctors informed Goll that it would be better to find a living donor if possible.
Desperate, and believing in the power of social media, the mother put out a plea on Facebook looking for a donor in December.
I have reached out before, I am just trying again to see if we can find anyone out there that would be interested in being tested," she wrote. "This would be the very best gift we could receive."
But the odds were stacked against them. According to CNN, the average person in need of a kidney waits three to seven years on the donor list.
On top of that, it's difficult to find a living donor outside your family who is a match. The donor needed to be an O positive blood type.
However, Goll's post was shared over a thousand times on Facebook, and the family waited for a miracle.
That miracle came in March 2017, when the post was seen by just the right person.
Officer Lindsey Bittorf, of the nearby Milton Police Department, saw Goll's Facebook post and, as a mother herself, was immediately struck by the story.
"If roles were reversed and it were my kid, I would move hell and earth for my kid, too," Bittorf told CNN.
The officer decided to get tested to see if she was a match.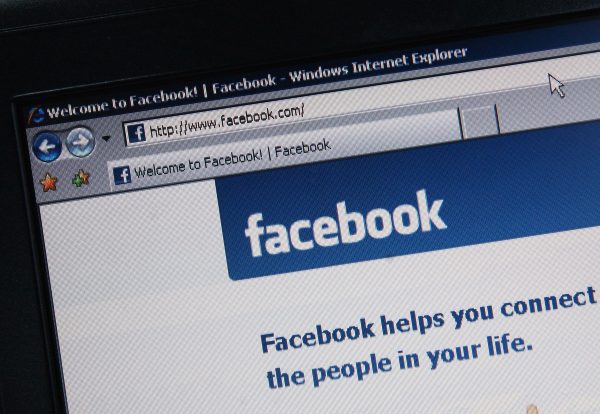 By May, Goll was still waiting for her post to pay off and to find a match. But everything changed when she got an unexpected visit—from the police.
It was Officer Bittorf, who showed up in uniform to Goll's parents' home. She handed them two presents. When Goll opened hers, she knew immediately what this was all about.
"I ripped [a gift] open and I saw the word 'kidney' and I didn't even read the rest of it," she told WISN.
Officer Bittorf was a match, and was going to donate her kidney!
"I took an oath to serve and protect my community and now my kidney will serve and protect you," she told Jackson.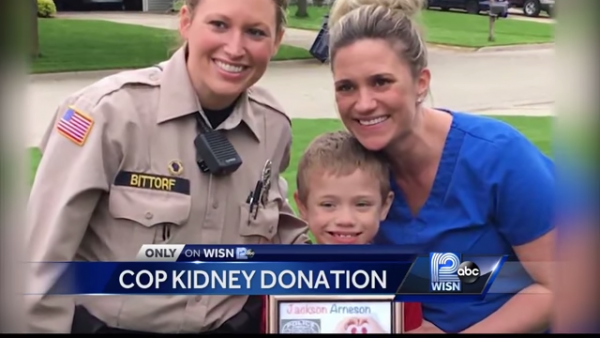 Unbeknownst to the family, she had been tested at the hospital and was miraculously compatible with Jackson.
"[The doctors] were kind of shocked like for a person who is not related, you are a pretty good match," Bittorf said. "This [is] seriously like meant to be."
"My mom always told me it takes a village to raise a child, and this is one child in my village that I can help," she told WISN.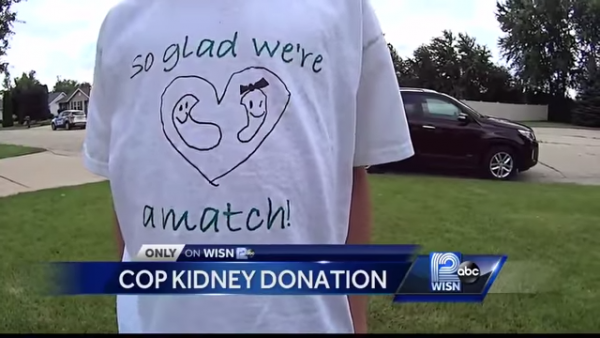 They underwent the transplant on June 22.
Bittorf said the risks of donating were nothing compared to the risk she regularly puts herself in as a cop. Jackson was also fearless going into the surgery.
"He wasn't scared at all," Goll said. He was just the bravest kid."
The surgery was a success. Jackson had a subsequent lung problem and contracted pneumonia, but quickly recovered.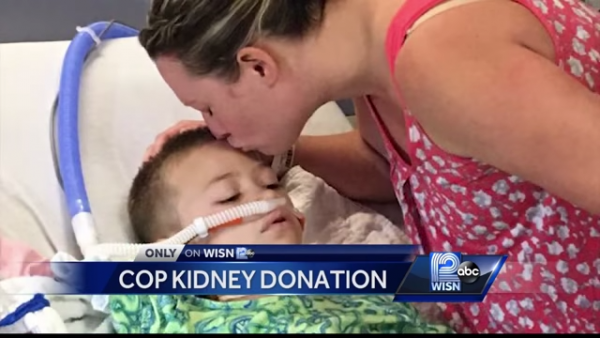 The two families—total strangers before the kidney donation—remain friends, and can now joke about the whole ordeal.
"I love this kid as if he is my own," Bittorf told CNN. "I tell him to hug me on my left side with his right side so I can feel whole again."
It was a miraculous, life-saving decision Bittorf made, but to her it was all part of her sworn duty.
"You don't get to save everybody," she said. "But this is one life I can say that we got in front of and got to save."