Located near the BAM (Brooklyn Academy of Music) and Barclays Center, Lady's, which seats 100, brings an aesthetic designed by James Beard Award-nominated designers Matthew Maddy and Nico Arze, with black leather booths, an open kitchen, and many handmade details, such as hand-cast blue concrete tiles and cabinets. The designers' previous projects include Lilia, No. 7, Colonia Verde, Grand Army, and Russ & Daughters Cafe, among others.
The menu focuses on pasta and pizza, which likewise have a handmade ethos.
The pastas are made fresh in-house. "It's a tremendous amount of labor, but there's no alternative," said chef Aaron Harsha, who soaked up his pasta-making knowledge at Marea, where he worked for four years.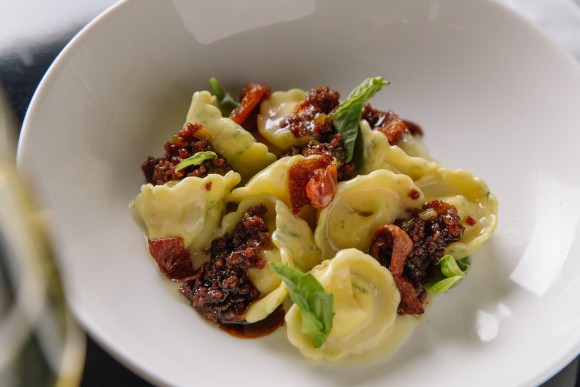 The pasta dishes are seasonal, currently including cappelletti with ricotta, soppressata ragù, and a confit of tomatoes; and casoncele with short ribs, roasted sunchokes, and a bone marrow bordelaise. A vegetarian pasta dish is the chestnut campanelle with butternut squash and wild mushrooms.
"The thing with pasta is that if you do it right, even something as simple as that [campanelle dish] can be pretty outstanding," Harsha said.
Gluten-free noodles are available for substitution, except for the filled pastas.
Neapolitan pizzas include a pie with honey butter, Calabrian chilies, and sea salt; a Brussels sprouts pizza with Italian sausage and ricotta; and a classic Margherita. There's also Harsha's version of a clam pie, but with cockles and lardo iberico (essentially fat from Spanish pigs, cured with fennel and dry oregano). "You put it on a hot pizza and it just starts to melt away into it," Harsha said.
Kathryn Weatherup, who studied under legendary bartender Sasha Petraske, heads up the bar program, with a focus on amari.
Lady's
572 Fulton St. (between Rockwell Place & Hudson Avenue)
Brooklyn
929-307-2822
LadysNYC.com