When you have a crying baby in your hands and you've tried just about everything to soothe them, this doctor's simple tutorial might bring you peace and quiet.
Dr. Robert Hamilton practices at Pacific Ocean Pediatrics in Santa Monica, California, and the parents of his tiny patients have reportedly been begging him to share his unique technique with the world.
Dr. Hamilton use what he calls "The Hold" to calm his patients in his office.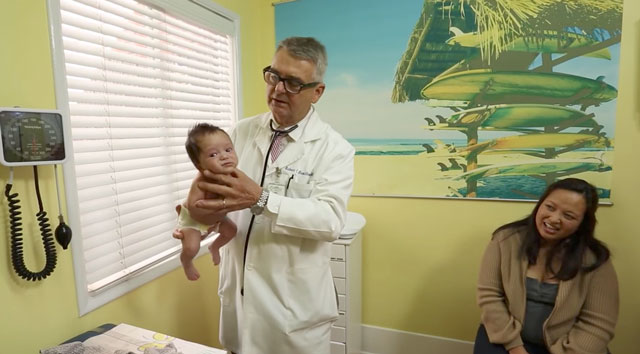 The Hold seems a bit unconventional, but Dr. Hamilton insists that babies feel comforted by it, it's as though they're being swaddled.
"That's a comforting position for a baby because you have to remember where they're coming from — a very tight womb — and they've been in that position for a long time," Dr. Hamilton told TODAY Parents.
The pediatrician who has been practicing for over 30 years has used the same technique for just as long. He says that it works on approximately 90 percent of babies up to about two to three months — simply because once they get any bigger they become difficult to hold in that position. He also notes that The Hold does not work on babies who are sick or hungry.
There's only four steps to The Hold.
The four steps needed to successfully perform The Hold will take only a matter of seconds, and hopefully within that time your baby will have calmed down.
Dr. Hamilton believes that other pediatricians probably use a similar technique, though he believes where his strays from the rest is the step where the parents tucks their child's arms across their chest.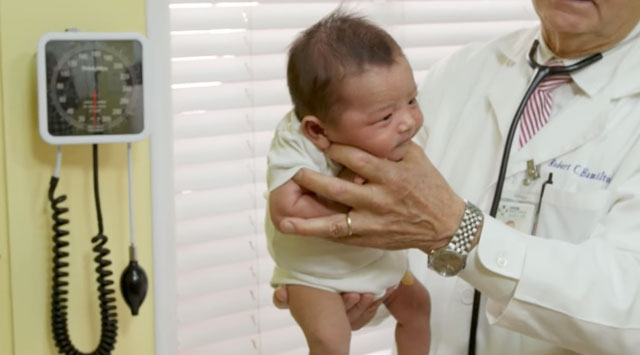 The attention to the video he uploaded, which has received over 25 million views, caught Dr. Hamilton by surprise.
"I'm a little bit humbled," Dr. Hamilton told TODAY Parents. "I never in my wildest dreams thought this would happen."