Who's a good dog? Louie's a good dog! You can take your pick of all of the reasons why Louie, who resides with Marolyn Diver's parents in New Zealand, is a good dog. There are many. But a recent event put Louie over the top in the "goodness" department as far as his family and a few others are concerned.
Louie was not too old for another adventure.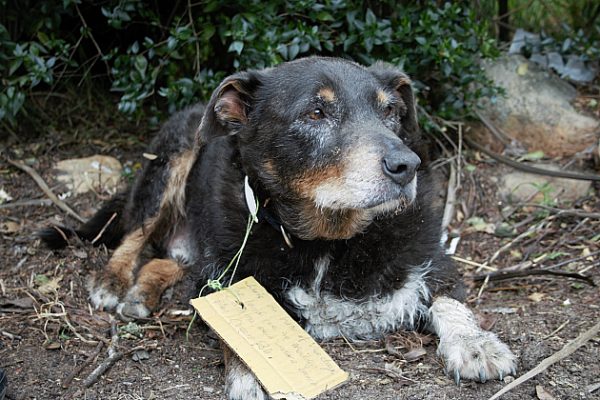 12-year-old Louie has always been an adventurer, wandering through the farmland where he lives and sniffing out good times daily. Being a little older now, he keeps his adventures on the down low, for the most part.
This is Louie as a pup! That puppy spirit still lives in him!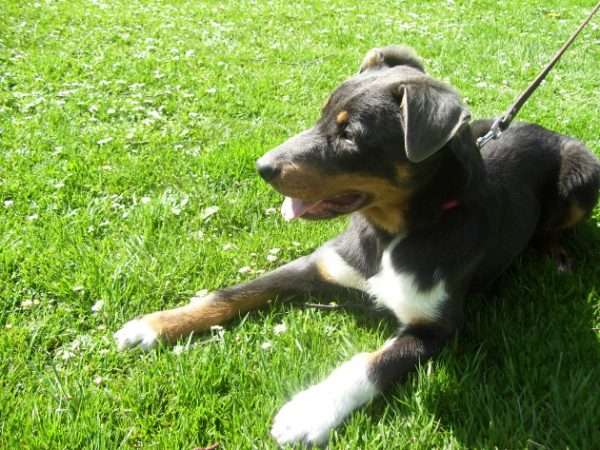 Recently, however, Louie got a spring in his step again and headed out into the mighty terrain. It happened to be on a day when Marolyn was visiting. When Louie was gone longer than usual they all became concerned.
Old dog and old tricks made grandma grumpy.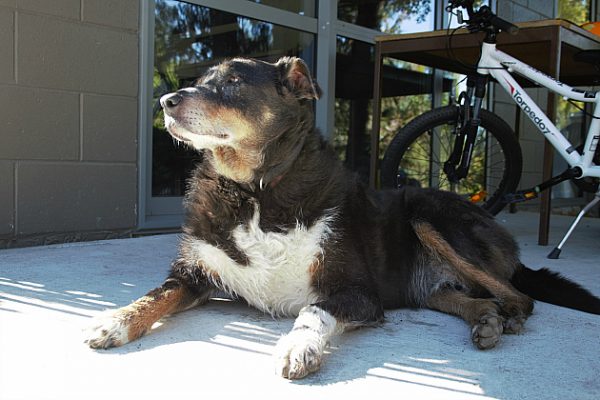 "My mother was a little grumpy as she had thought he had stopped his wandering," Marolyn explained in an interview with The Dodo. "We worried he might forget where his home was."
Marolyn and her family were rather surprised that Louie wasn't around, but they also didn't know that the happy pooch was out doing something important.
An exhausted Louie finally returned with a note.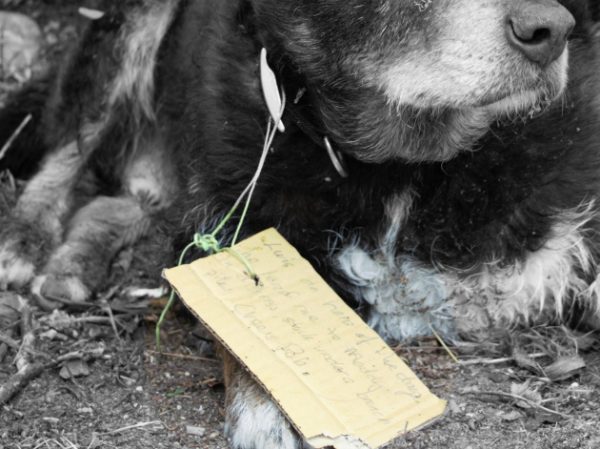 He was gone all afternoon, but finally showed up later that night, totally drained of energy. He was so tired, in fact, he pretty much just collapsed. Then they noticed a note had been attached to his collar.
What on earth had Louie been up to?
Written on the note was a tale of heroism.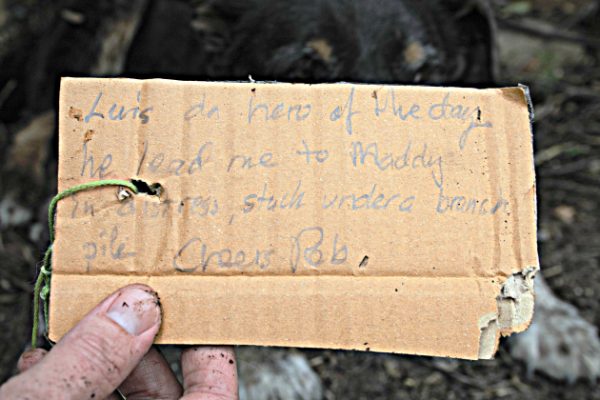 They detached it to take a look. It read: "Louie is the hero of the day, He led me to Maddy in distress stuck under a brush pile. Cheers, Rob."
Rob is a farmer friend who lives about a mile away and Maddy is his dog. Marolyn wasted no time in getting Rob on the phone asking for a more detailed explanation, which Rob was more than happy to provide.
Maddy had also been missing.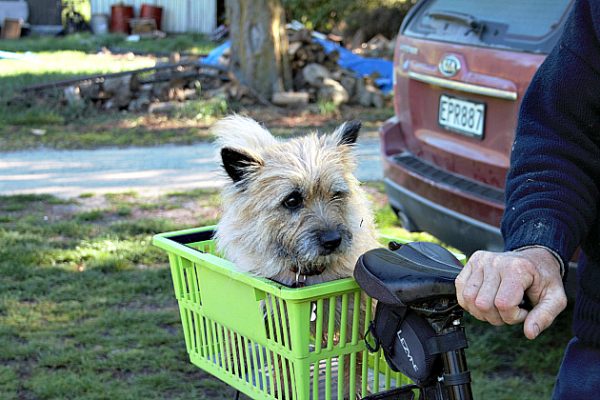 Rob couldn't find Maddy earlier that day and he had errands to run. Thinking Maddy would certainly return by the time he got back from town, Rob went on his way and did what he needed to do. When he returned, there was still no Maddy, but there was a Louie—and a very persistent Louie, at that.
Louie was signaling to Rob in every possible way for Rob to follow him. When Rob figured that out, that's exactly what he did. Louie led Rob to a woodpile. There was Maddy, who had somehow managed to get herself trapped, was.
Both Rob and Louie helped dig Maddy out. Louie was digging and tugging on branches as hard as Rob was! Eventually, the dynamic rescue duo freed Maddy, at which point Louie and Maddy sprinted to a nearby pond for a drink of water. The two canine buddies were as happy as could be, and Rob rewarded Louie for his efforts with a handful of doggie treats.
Rob couldn't fit the whole story on one note.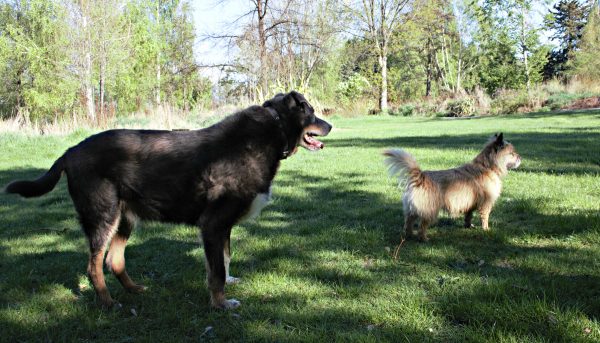 Rob had the forethought to know that Louie might be in trouble for being gone from home for so long. Of course, he didn't want that! He had just saved the life of his dog! So Rob wrote the note and attached it to Louie's collar, fully expecting a phone call when Louis got home. All was well, except for one thing.
"That night we were very worried about Louie. He could hardly walk and looked terrible," Marolyn recollected. "We were scared that he might not make it through the night."
Thankfully, Louie fully recovered from his heroic deeds.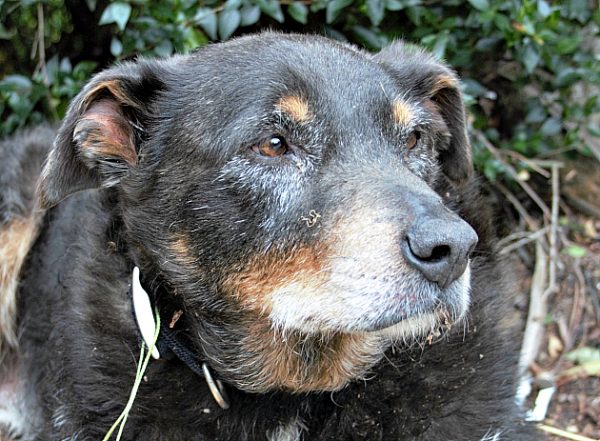 After a night of well-deserved rest, Louie seemed to be fully recovered and was doing just fine. It helped when he got a visit from Maddy, too.
"The next morning Rob came over on his bike with Maddy in a wee basket in the back," Marolyn says. "Louie perked up and was back to normal."
It was "Louie Day" at the farm as all remembered why exactly they loved the pup they rescued from a shelter years ago, Louie is a very good dog.
Marolyn told The Epoch Times that Louie has been growing in popularity. "A few days ago Louie started getting fan mail," Marolyn said. "Mainly doggy treats and letters from young and old, and from all over New Zealand, saying what a good boy he is."