Nolen Simmons is a "work horse" and loves his career as a roofer—however, he was recently forced to put a hold on his career. His inability to help out around the house took a toll on his family. Luckily, his community stepped in to lend a hand.
In January, Simmons was diagnosed with stage 4 laryngeal cancer. Jennifer Simmons, his wife, wrote on a GoFundMe page set up for his medical expenses that the cancer covered both his vocal cords and thyroid. Radiation and chemotherapy left him extremely weak and tired.
Nolen's cancer treatments left him unable to help around the house.

Following his diagnosis, Nolen underwent months of chemotherapy and radiation treatments and as a result he was unable to continue working. This meant that Jennifer's income was all the family had. It was imperative that Jennifer go to work despite her husband's condition—however, there were times that she had absolutely had to take time off.
"If ever we needed prayers, good vibes, positivity and so on, it's now," she wrote on her GoFundMe page. "Stress is a killer… I've been having to miss work and need your help more than ever…"
There came a point where the Simmons were desperate for help.

Jennifer was lucky that her employer was understanding when she needed to take time off to be with her husband, especially when he had an emergency tracheostomy. However, "understanding does not pay the bills."
She also found herself unable to take care of some things around the house, including yard work, which she said used to be one of her husband's jobs.
"He was the guy that worked 6 days a week and never stopped working, and when he was tired he was still working—he did the yard," Jennifer told KGUN9.
Jennifer took to Facebook to ask family and friends for help getting ready for a home inspection.
Recent storms had caused the grass and weeds in the Simmons' yard to grow extremely tall and the task was overbearing for one person—so she sent out a call for help on Facebook. Jennifer said it was a "hard pill to swallow," but she knew she couldn't get her house ready for an upcoming home inspection without help.
When she told Nolen what she had done, he was at first embarrassed. But when he saw his community's response to his wife's call for help, he was extremely grateful.
According to KGUN9, more than 100 people responded to her request and dozens of those who responded showed up to her house ready and willing to help.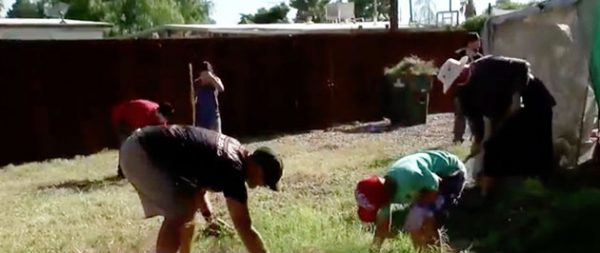 "It restores my faith in humanity," she said. "People that I don't even know would help me and pull weeds and cut grass. It restore my faith."
According to their GoFundMe page, Nolen is currently awaiting a PET scan, which will determine the next steps in his treatment. Until then, the couple thanks everyone for their love and support!