Children born with Down Syndrome or other special needs may find it difficult to express themselves or have opportunities to prove they can do things for themselves. But that needn't be so.
Cambria Lewis, Joby Austin, and Kiley Price set out to show that nothing is beyond their range of abilities if they put their minds to it. The trio from Salt Lake City did just that in hopes of raising awareness for those with Down Syndrome.
Cambria Lewis, Joby Austin, and Kiley Price collaborated for a touching rendition of "How Far I'll Go", from the movie Moana.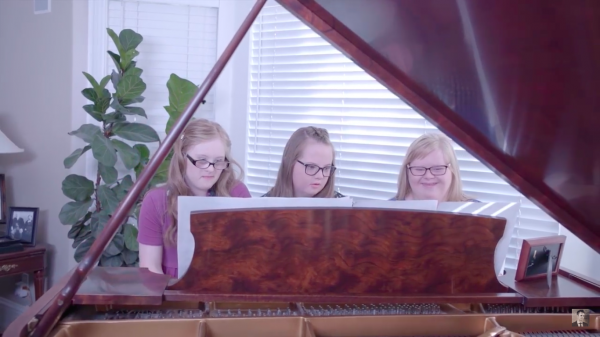 Two of the girls take piano lessons, but one had no experience of playing the piano prior to making the video. Even for the girls who had some knowledge, learning the song would be a challenge. But rather than be discouraged, they saw an opportunity to prove they could do something people thought they couldn't.
They practiced diligently over the several weeks to learn how to play the song.
The three girls from the Salt Lake City area appeared in a video to showcase their achievement, and raise awareness about Down Syndrome.
The video was made for Down Syndrome awareness month in October. The girls who made the video say they weren't expecting all of the attention, but have certainly enjoyed it.
"I loved it. A lot. I'm really proud to be on YouTube. On TV. It's my first time being an actress!" Cami Lewis told KSL.com.
The trio met with musician and composer Jason Lyle Black, who put together the musical arrangement for the girls.

Black wanted something that allowed all three girls to shine, and prove there are no limits on what special children can accomplish.
"You don't focus on the disabilities, you focus on the abilities," he said in an interview with KSL.com. "And that's really what I wanted to do with this video."
Black adds: "If you don't put limits on yourselves, there's no telling how far you'll go."
The three girls are garnering attention in the best way, and their families are happy the world is finally seeing them the way they do.

In a video that accompanied their musical number, the three mothers of the girls talked about raising a child with Down Syndrome. "It's a gift I never knew I wanted," said Joby's mother, Jill.
"When I look at Cami, I don't see Down syndrome," said Cami's mother, Celeste.
"I see a wonderful daughter who has every ability and every characteristic and personality that any person has and it's just who she is."
Want to see more inspiring videos like this one? Have a look below!
A Female Pilot With No Arms