Anna Strode is an Australian Instagram blogger that never stops working.
Anna has based her whole Instagram page on not just her husband Rhett, her twin boys, and her newborn baby girl, but her workouts as well. In the midst of being a mother of twins and a wife, she always finds time to both exercise and to show her 110k+ Instagram followers not only her daily life but what she does to stay in shape.
Even when she was pregnant with her third child, Madi, it looks like her big belly didn't slow down her workouts one bit.
She has a video of her doing squats while in labor!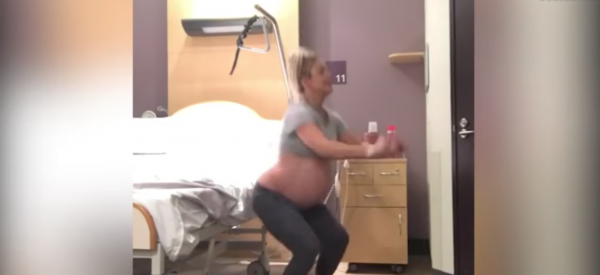 Though she may seem like it, Anna is not superwoman. Even she has moments of weakness.
Anna was left to ride solo one day and took all three kids to the store with her. Given the twin boys, Lachie and Sammy, are still young enough for strollers, and with Madi being only 3 months old, it seemed like a task in itself to even just watch them, let alone take them to a store and have them behave.
With Sammy running around, Lachie crying over his spilled drink, and Madi getting restless in the baby carrier, Anna was getting ready to throw in the towel.
"Part of me wanted to laugh," she said on an Instagram post about that day. "But the other half of me wanted to sit down on the ground and cry while screaming 'Help me, I'm exhausted and I just can't MUM today!!!'" Even this woman that is in better shape than most mothers with three kids has her limits.
Then, she heard 8 words that "changed everything."
In the midst of her kids' chaos, while picking up Lachie's spilled drink, she overheard an old man whisper to his wife, "Those were the best days of our lives," referring to Anna and her kids.
Not caring if she had been eavesdropping, Anna turned and asked, "Really?" to the couple, to which they responded, "The best by far." This rejuvenated Anna back into mother mode for the day and inspired her to write an Instagram post about the whole ordeal.
"It suddenly dawned on me that one day that Rhett and I sitting at a cafe watching young mums and dads with their babies and wishing our babies hadn't grown up so quickly," Anna said in the post.
That moment, Anna realized this wouldn't last forever. The sleepless nights and endless loads of laundry would become an empty and silent house, with all three kids in college before she knew it.
She knew she had to cherish the time she had with them now, even if that did mean being tired and stressed a lot of the time.
Given the frequency of her Instagram posts, it's obvious that she cherishes every day with her family. That specific day, she just needed a little push, and the older couple's words came just in time.
Hopefully, those words will stick with her until her daughter Madi is old enough to be doing squats in labor like Anna was.
Watch a video about her fitness inspiration below: