Sometimes you come across something so amazing you just have to get your hands on it, only to find out it doesn't come in your size, it's no longer made, or it's out of your price range.
For nearly a decade Ted Thorne longed for a pair of light-up shoes, but he believed they were only made for children. On his 70th birthday, his daughter, Sarah Thorne, had a surprise for him.
Thorne was drawn to the fun sneakers little kids often wear.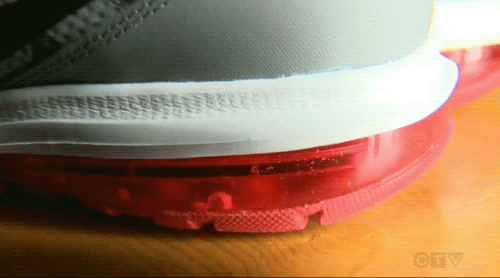 The Calgary-area resident, who is a former middle school teacher, told CTV Calgary in October 2016 that he first came across the shoes about eight years earlier, while watching a school assembly.
"We'd shut all the lights off and they'd do their dance," he remembered. "I thought, 'Gee, it's too bad I can't join them.'"
He never stopped thinking about them.
"I really wanted a pair of those shoes."

Knowing her father dreamed of owning a pair of sneakers that light up, Sarah and her mother, Patty, searched for someplace that made them in adult sizes.
She came across Evolved Footwear, which retrofits LED lights along the soles of shoes, and suddenly something her father had only dreamed of became a reality.
Sarah gifted the sneakers to her father for his birthday.
From the outside they looked like a regular pair of Nikes.

As Ted took the sneakers out of the box he didn't suspect they were anything out of the ordinary until he pressed on the heel of the shoe.
"Oh!" he screamed.
"Get outta town!"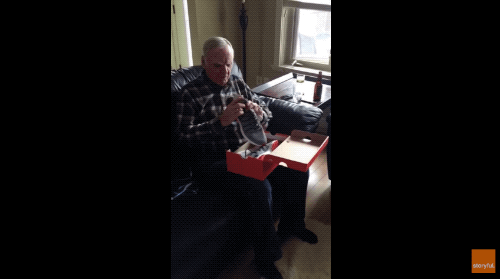 Ted, who admitted he thought the LED lights were "just a cushion," was ecstatic.
The shoes he wanted for nearly a decade were finally his.
You have to see his reaction, it's priceless.
The original video, which was uploaded to Instagram in July 2016 and has since been deleted, reportedly had 40 million views, and it's popularity was part of the reason why Ted was nervous about wearing his shoes out in public.
He told CTV Calgary he was a little worried someone might recognize him from the viral video.
Ah, the problems of internet fame!