He was a man with an expiration date. Let go from his job and diagnosed with Stage 4 neck and head cancer when he was 57, his family had been told by a doctor to start planning his funeral.
Simply put, Greg Thomas was dying and acutely aware of it.
"It's almost like it's a nightmare you can't wake up out of," he told Kare11. He had to eat from a feeding tube and watch hope of a peaceful retirement slip through the cracks. To jolt him awake, a walk around the countryside and up an abandoned church's flight of crumbling stairs, returned his faith in the future.
He had never seen the 150-year-old church before in his life.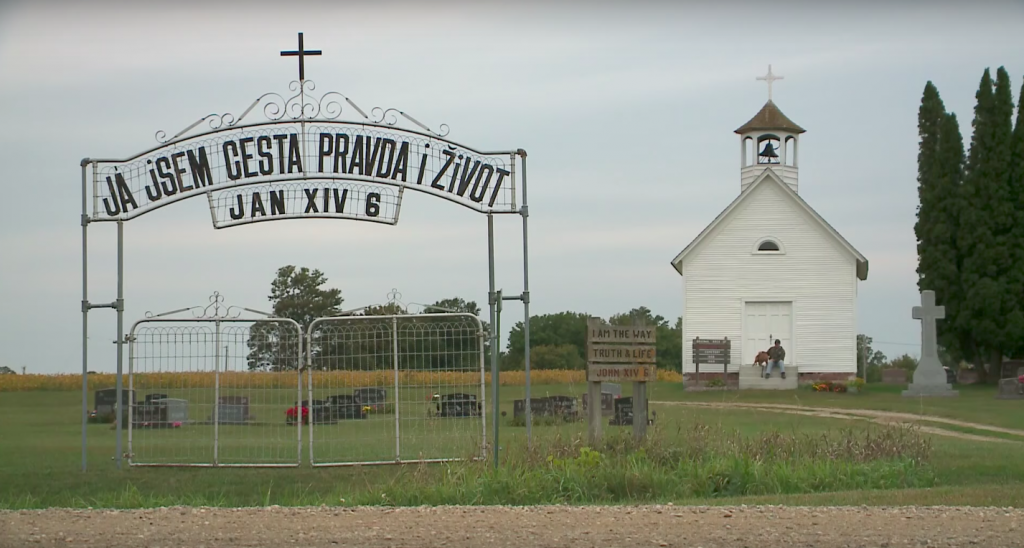 Beginning on the rural out-roads of Montgomery, Minn, where tree branches grazed blue skies and green stalks of corn waved from the sides of unpaved roads, Thomas liked to walk stroll with his dog named Jenny, rapturously absorbing the scenery and the unbroken solitude while contemplating his spirituality. In fact, he walked this very route with his dog when he suddenly discovered the worn-down church, tucked away in the outskirts of the town next to a small cemetery.
He tried to enter it, but the door handle wouldn't budge, so he say on the front steps and began to pray. This became a daily ritual.
One morning, Thomas walked to a neighboring farmhouse and asked for the person who had the keys to the church. He said he wanted to restore it. He was directed to Don Rynda, an 82-year-old treasurer of the church's cemetery association.
When Rynda heard Thomas's proposal, he was bewildered.
"I thought, 'Am I just dreaming?'" Rynda told the Star Tribune. "That church has always been closed."
But Greg Thomas had plans to change that.
He wanted to fix up the church with the time he had left.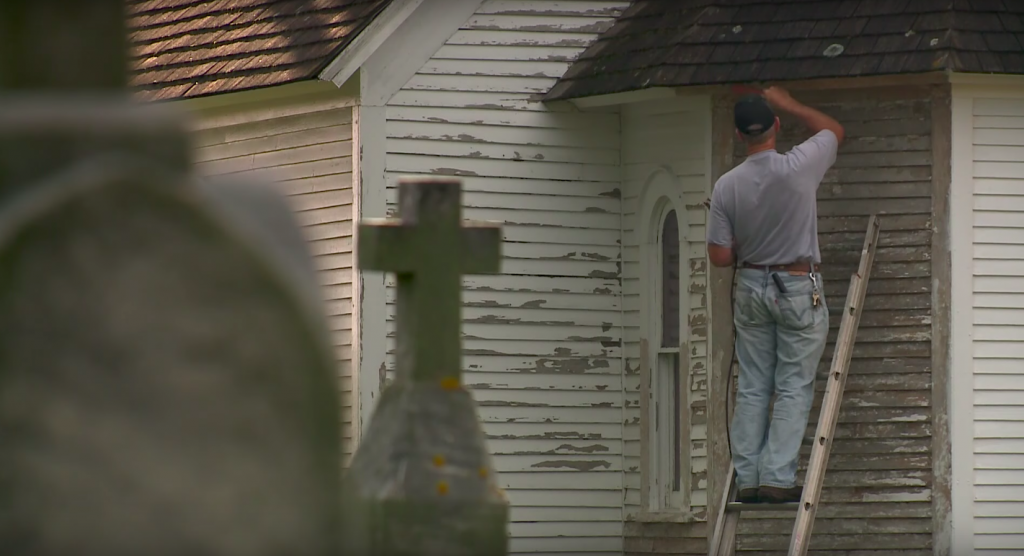 The church was once heralded as St. John's Catholic Church. Czech settlers established it in the 1860s, and residents of Montgomery still have family members buried in its cemetery. But the church hasn't opened for more than a century.
The structure itself was small, its outside was built from cedar wood painted plain white, and a bell tower was mounted on the roof. Inside, the layout was simple, but the place didn't age a day.
Pictures of Jesus Christ still hung on the walls. The candles were still in their holders. The old Catholic Bible was still on the altar, along with statues of Jesus and Mary.
"It looked like people just left after the last service," he told the Star Tribune.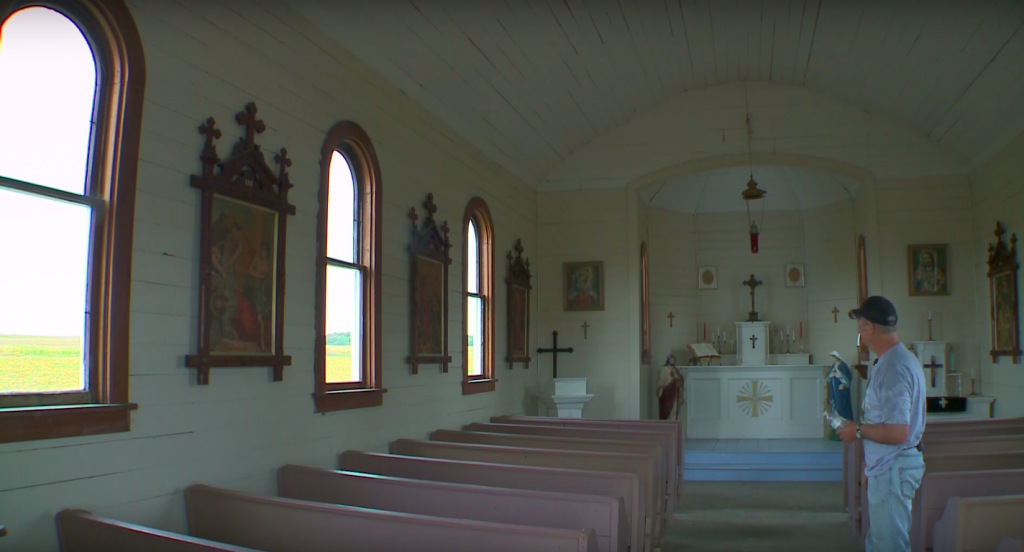 The potential of this little church excited Thomas.
"I couldn't wait to get started!" he said.
The only hint of the passage of time was the aging structure of the church: the outside paint was chipped, dead beetles crunched under his shoe, spiderwebs clung to walls, and his leg went through the rotting wooden floors with his first step.
Thomas peeled off layers of chipped white paint, scraped diligently, replaced the shingles on the roof and filled buckets of water to clean up the spider webs and dead beetles.
As he worked, he counted the small blessings in his path. Local businesses helped to pay for expenses like replacing the roof. More people stopped by the church to thank him for his work. A movie crew for "Memorial Day," a film directed by Sam Fischer, asked to film there, and Thomas starred as an extra. But most surprising of all, his health began to return, and he finally went into remission for his cancer.
"It was like as I was rebuilding the church, God was rebuilding me," he told the Star Tribune.
It was a miracle. He owed it all to God. He believed that what was saving him was not chemotherapy or the drugs pumped into his system, but rather a simpler remedy found inside the white church walls: faith.
The relief from cancer was temporary, but pivotal.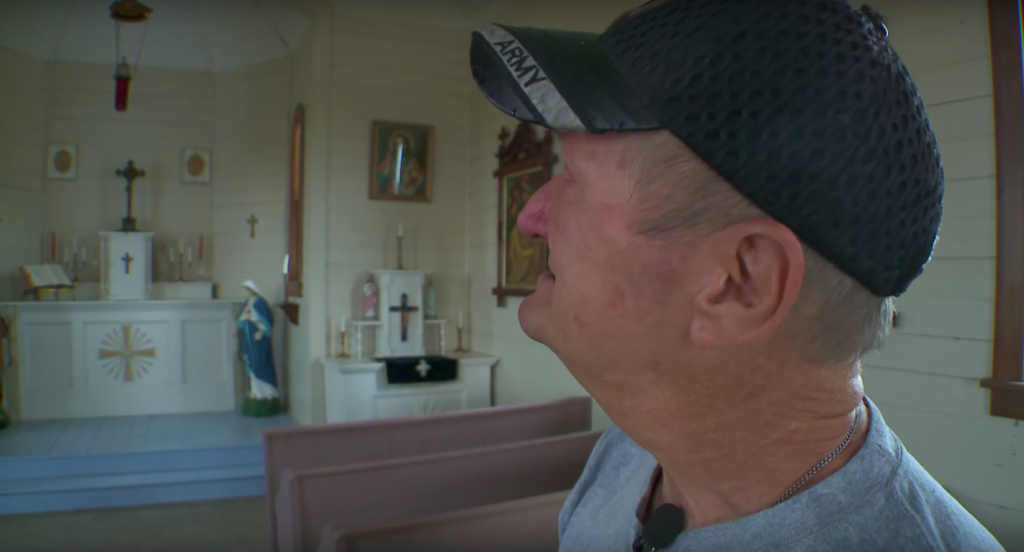 The cancer returned in 2016, this time more aggressive, spreading to the lymph nodes in his neck and his voice box. Without viable treatment options, it seemed like this was the closing chapter of his life.
But Greg Thomas wasn't afraid anymore and he had no regrets. This time, he decided to forgo all treatment.
"Whatever God's decision is, I'm okay with that," he told Kare11. "If he takes me home, he takes me home. I'm a winner either way."
One year later, in July of 2017, Greg Thomas passed away. He was 64-years-old. He hadn't stopped trying even in his last moments though: he was working toward being a minister, he volunteered as a speaker at the Minnesota Adult and Teen Challenge, a Christian rehab center, and spoke about his spiritual experience. He was fighting for the little church, which still stands to this day.
One moment, however, will forever encapsulate the feeling that turned Thomas to spirituality in his earlier years and was carried by him until his last days. It was a moment when he stood in the little white church, looked at the white ceiling and the chipped crosses that hung on the walls, and he paused. When he spoke again, his voice was thick with tears.
He looked up and said, "This is my way of saying 'Thank you.'"
Watch the interview with Thomas here: