One bad apple does not always spoil the bunch.
When a community heard a single culprit was responsible for stealing 65 bags of pet food from the local animal shelter, they stepped up in an unbelievable way.
"The only thing I can compare this to is the end of It's A Wonderful Life, when everybody in the town comes in to save the bank," Monica Zulauf told The Dodo.
Someone stole $700 worth of pet food from Animal Rescue League of New Hampshire.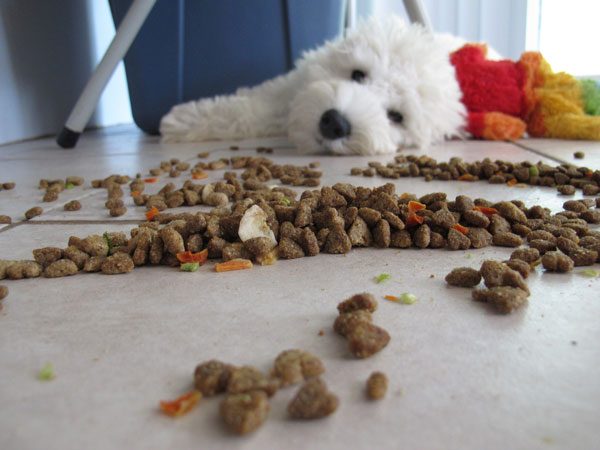 Monica Zulauf, president and CEO of the shelter, explained to The Dodo that in the middle of the night in March 2016, someone broke into their community food pantry and stole nearly all of their supplies.
"They left one small bag of kitten food," she said.
Staff at the nonprofit, which is located in Bedford, New Hampshire, were devastated. Who would do such a terrible thing?
They had security footage of the suspected thief, but it wasn't clear enough to get an ID.

They were particularly upset because the food that had been stolen was distributed to those who need assistance with feeding their pets.
According to the New Hampshire Union Leader, at the time the program offered assistance to 20 to 30 families.
"These are animals that if this program wasn't here, they would be being surrendered to shelters or eating food they shouldn't be eating," Zulauf said.
The shelter reported the theft to the police and shared it on social media.
In hopes that someone would recognize the burglar, the shelter shared the news on their social media accounts.
They also reported the crime to the police.
It didn't take long before people started dropping off donated food.
Shortly after the posts went live, word began to spread and members of the community started to show up at Animal Rescue League of New Hampshire's front doors.
"The community response was amazing," Zulauf said. "It was a steady stream of everything—from toddlers carrying little bags of cat treats to families who had picked up full bags of pet food."
Before the day was over, the shelter had more food than what had been stolen from them.
Staff shared a photo of the overwhelming amount of donated animal food on Facebook.
"We were confident we would replace the stolen food, but your support – the support from our community – far exceeded our wildest expectations!" they wrote.
Once the donations slowed down, Zulauf estimated they had received 10 times as much food as they had before.
All of the extra people at the shelter meant a lot of animals found forever homes.
The community didn't stop at donating bags of pet food—many also adopted animals who had been living at the shelter. Reportedly all of the animals found a new home.
At the time of the crime, police were unable to identify a suspect.