Have you ever been the subject of an unrequited love? It's flattering to have someone fall head over heels for you, but when you aren't interested in that person, it can be rather awkward. But what if they're not even the same species?!?
Damian Aspinall, chairman of the Aspinall Foundation, found out recently that close, personal connections can happen almost anywhere—even with his wife Victoria and a massive wild gorilla. But fortunately, theres no need to be jealous of this touching encounter.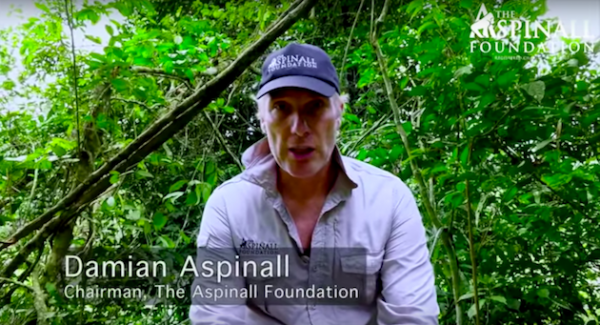 Damian has worked with all sorts of animals over many years, but he's formed a special connection with gorillas in particular. Four years ago, Damian released a group of gorillas he had been raising back into the wild, and he hadn't seen them since.
What would you have done? Vote below!
However, he hoped that he could meet up with them on a restoration project in Gabon in Central Africa, and he wanted to bring his wife along. But Victoria had never met a gorilla before.
"They're 16 and 18-year-old male gorillas, so it's slightly scary," Victoria admitted. "Hopefully, if everything works out well, I can go and see them and be in contact with them, but we'll see."
Damian's crew had a tough time finding the gorillas in the open jungle and along the river. Eventually, they resorted to searching for them by drone. Once they tried that, it didn't take long for them to locate the apes.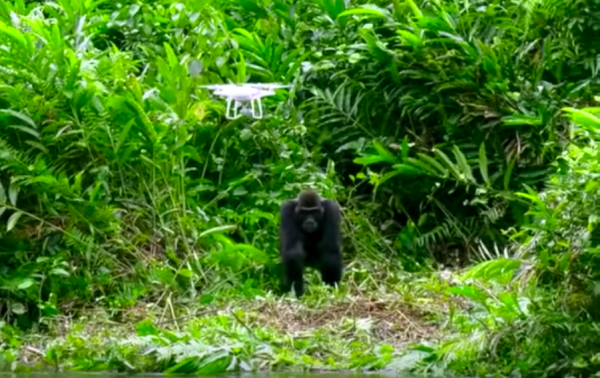 Damian was ready to reunite with his old friends, although he was a bit nervous.
"It would be lovely for them to accept Victoria," he said, "I think it'll depend very much on them seeing Victoria's part of my group."
When the couple reached the shore, Damian eased his way out toward the great apes to make sure that he didn't frighten them. One gorilla, Ima, responded with a friendly gurgle, so Damian knew that they weren't in an aggressive mood.
Damian encouraged Victoria to slowly ease her way toward him to show that she's part of the group. Ima approached her and let out the same friendly gurgle. It seemed like he had accepted her as a friend.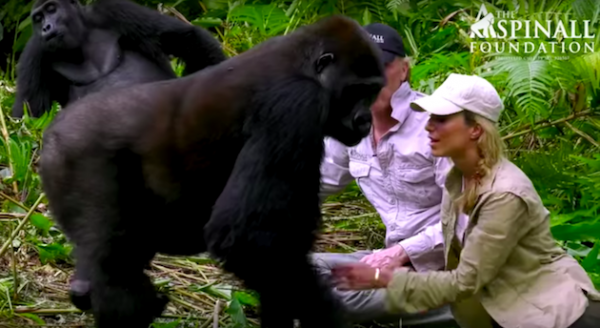 The Aspinalls then returned to camp for the night, and they were excited to visit the gorillas again the following morning.
When they met up with Ima and friends, it became clear that Ima liked Victoria as more than a friend! The gorilla approached her asking for a hug and later held her hand as she rested on his chest.
"I think I've lost my wife!" Damian quipped.
After a bit of rest, Ima got up and grabbed Victoria's hat. He put it on his head and proudly showed it off.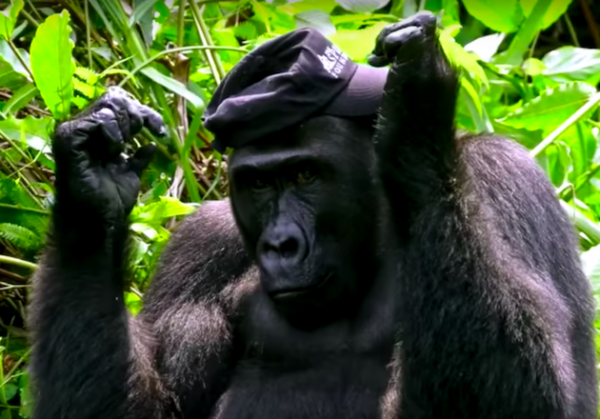 Victoria was flattered by the attention and amazed by Ima's intelligence, although she obviously wasn't going to leave her husband for a gorilla!
Fortunately, Ima is an understanding ape and didn't see this as grounds to kidnap Victoria and run off with her like a modern-day King Kong. Damian left the site thankful that his wife and animal friend had gotten to know each other.
"Watching Ima and Victoria is something incredibly beautiful," Damian said. "These beautiful animals – so noble, so gentle – it just shows that we must never underestimate how extraordinarily beautiful these gorillas are."