Most people believe that true patriotism is a thing of the past. That those who profess patriotic motives today are driven by personal agendas that have little to do with a deep love of your nation. They also say that the young generation doesn't appreciate the struggles and sacrifices that allows them to enjoy the freedoms they take for granted. But that's only because these skeptics haven't met Preston Sharp.
Born and brought up in Redding, California, Preston is a determined, 12-year-old boy with strong feelings about what is owed to his country and the people who served the nation.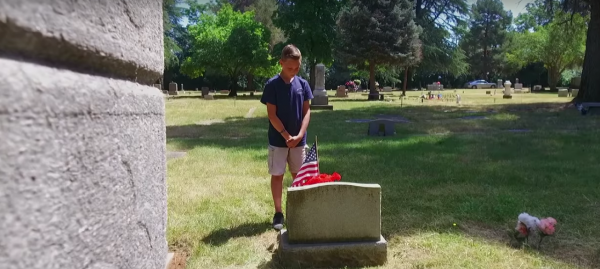 Two years ago, Preston went to visit his grandfather's grave on Veteran's Day and found that most of the veterans' graves were bare of flags or flowers. The U.S. Flag Code asks that veterans be honored on all national holidays, but unfortunately, many smaller cemeteries either don't have the money, or staff to comply with this convention.  
"I was really surprised…and really disappointed."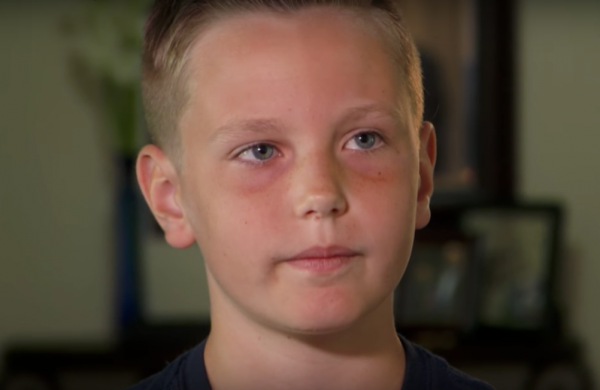 Preston Sharp was appalled and heartbroken after seeing this. In his understanding, the veterans who had died fighting for his country deserved to be honored every single day, and yet, on Veteran's Day , their graves went bare, and forgotten ignored on the day we should be thanking them for their sacrifice.
When he came home that day, Preston was enraged. His mother, April Sharp, recalls that she'd never seen him so impassioned. Hours passed, but the 11-year-old's anger didn't abate. His mother finally suggested that if he was unhappy about something he should either act to correct it or forget the matter. So, he did.
"Well I'm going to do something about it, mom."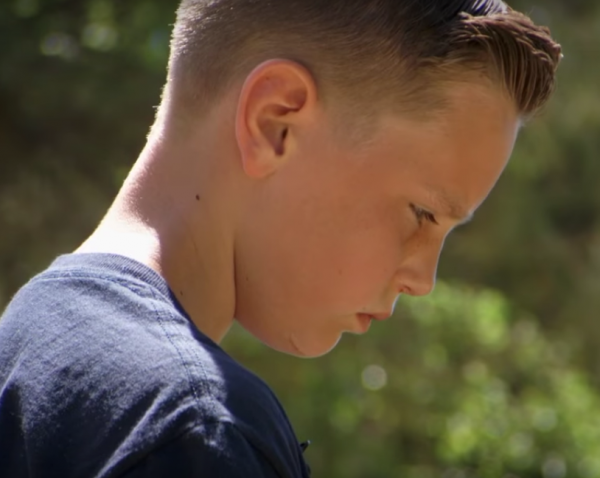 Preston took his mother's advice and decided to take an action. He began collecting donations from friends and neighbors to buy flags and plastic carnations to put upon the graves of the servicemen who died defending our country.
Rain or shine, Preston is at the cemetery making sure every veteran's grave is adorned with flowers and an American flag because he said that never stopped them from upholding their duty, and to Preston, it was our turn to do the same.
"They were out there in the rain doing their job protecting us."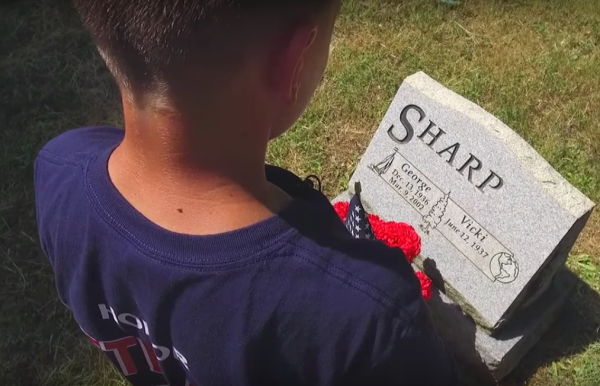 Every week, Preston Sharp would go out to cemeteries around the Redding area, until all the graves had been marked with a flag and a flower. Come rain or shine, this young boy would trudge out by himself to clean the graves, thank the veterans, and honor them in his own way.
"Thank you for your service, Michael."

News of his weekly activities spread through the community, and every Sunday, people–young and old–began to gather where Preston went to help him tend to the graves and plant the flags and flowers. The sight of this movement was so powerful that soon Preston's story hit national news. 
"It's just amazing," said Vietnam veteran Fred Loveland. "What he's doing brings them out, because they can't believe that a young man in this country is doing what he does."
"Thank you for your service, Luis."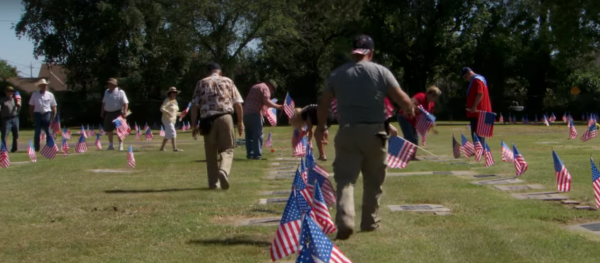 Recently, Preston's mother started a GoFundMe page to help him achieve his goal of putting flags on every veteran's grave from Redding to Sacramento. As word spreads, more and more people are coming to help Preston with his admirable ambition.
Preston Sharp's desire to see his grandfather and other deceased veterans honored is so strong that it has been inspiring others to do their bit for the men and women who fought for their country. He has been called the "Pied Piper of Patriotism," and this young man has truly pulled many along in his wake as he walked forward with his dreams of a nation where sacrifice is recognized.
"Thank you for your service, Allen."

Preston Sharp will not be stopped. He will continue with his work with or without the help of the people around him. But while this young man quietly, and diligently works, his actions have given many hope that loving your country is not a relic of the past after all.
In cemeteries across northern California, you can hear men and women, boys and girls, thanking a veteran for his service and planting a flag in his honor.
If this story touched you, please share it with your friends and family.