The Apicii team (Casa Apicii and Bar Fortuna) have just opened two adjacent venues south of Union Square: Bowery Road and Library of Distilled Spirits.
At American brasserie Bowery Road, executive chef Ron Rosselli (former chef de cuisine at Locanda Verde and recently executive chef at The Standard Grill) offers seasonally inspired dishes, such as rye spätzle with fava, asparagus, ramps, and peppercorn. Lunch items include bourbon-glazed wings and a fried celery root sandwich, a vegetarian take on the classic fried chicken sandwich. Erin Walling (Per Se, Café Boulud) has put together a dessert menu featuring "Almond Joy" Layer Cake, and Rhubarb Granita, with hibiscus-poached rhubarb, kefir cream, and lemon meringue.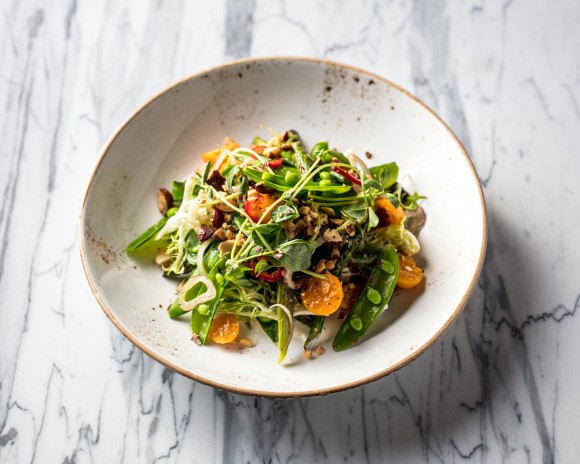 As for the Library of Distilled Spirits next door, it boasts a collection of 1,000 spirits, housed in a library wall spanning from floor to ceiling. Beverage director Kyle Tran hails from Chicago's The Aviary.
The cocktail menu offers 150 selections, from some of the earliest recorded drinks, to signature cocktails including the Vauvert Swizzle, with green tea vodka, green chartreuse, lemon and grapefruit juices, honey syrup, and orange blossom water, topped with sparkling rosé and a nasturtium flower.
Bowery Road is open daily for breakfast, lunch, and dinner. The Library of Distilled Spirits is open daily for lunch and dinner.
Bowery Road
At the Hyatt Union Square
132 Fourth Ave. (between East 12th & East 13th streets)
Union Square
BoweryRoad.com
Library of Distilled Spirits
At the Hyatt Union Square
80 E. 13th St. (at Fourth Avenue)
Union Square
LibraryOfDistilledSpirits.com