Fort Worth, Texas, can be like living in an oven on summer days. If you are 95 years old, like Julius Hatley is, that's not just uncomfortable, it's dangerous as well. Hatley's central air conditioning went out this summer and his back up window unit as well.
As a World War II veteran, Hatley has seen some pretty tough times. But even in the sweltering heat, you'll find him working in his yard outside, taking breaks occasionally to sit on his shaded porch.
He was getting too hot.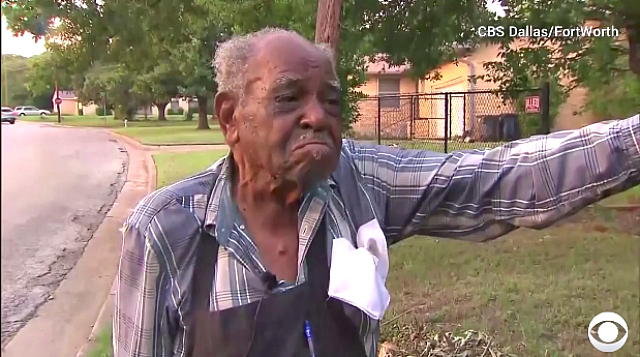 The heat has been extraordinarily high this year and took its toll on Hatley to the point where he had simply had enough. He finally made a call to the Fort Worth Police Department to see if they could lend a hand with his air conditioner situation.
"This wasn't a regular 911 call," explained Police Officer William Margolis in an interview with CBS News. "It was what you'd label 'low priority' because we're not AC techs."
But police officers are sworn to protect and to serve.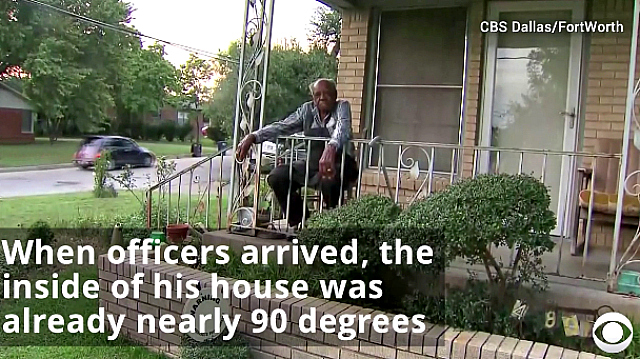 So, some officers made their way to Hatley's home to do a wellness check. When they arrived, Hatley was soaked in his own sweat. Prolonged heat spells make the elderly particularly vulnerable to the heat. They become extremely susceptible to heat stroke, and Hatley was certainly in that category.
Officer Margolis explained, "When we got there around 8:30 a.m. his house was 85 to 90 degrees already."
If you want to be cool, help someone who needs it — by buying them an air conditioner.

Margolis knew he needed to find a way to help Hatley, so he and his partner, Christopher Weir, decided to purchase a new air conditioner using their own money. They made a stop at Home Depot and started shopping for a decent AC window unit.
As they did so, employees who were helping them asked questions and learned exactly what the two were up to. Some of the employees were so moved by the story that even they decided to chip in what they could.
Jennifer, Officer Weir's wife, later wrote about it on her Facebook wall. "While there, Home Depot managers and employees decided to contribute $150 of their own money to help with the cause."
The officers went above and beyond, even installing the unit for Hatley.

Officer Steven Rebrovich, another Fort Wort Worth Police Officer, went to Hatley's house with Weir and Margolis to help install the unit that same day.
"He was actually really excited," Officer Margolis said. "He said he knew if he needed help to call 911 and we actually were able to help him, so he was really excited about it."
Hatley was grateful too.

He was all smiles as he and the officers took pictures together for a job well done. But they didn't stop there: the trio of kind police officers made some phone calls to a few companies to see if they could get Hatley's central air conditioner fixed. They were successful and one company agreed to take care of it for free.
But what they did next went WAY above and beyond the call of duty!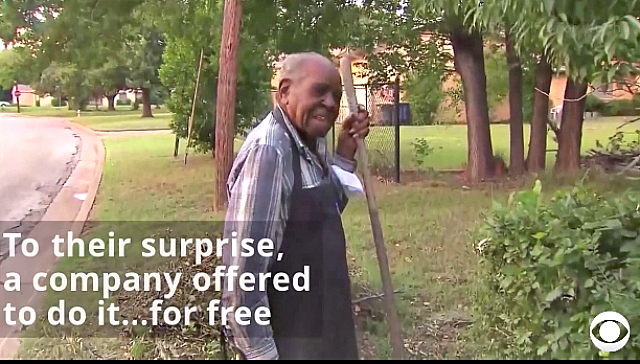 You'd think that last gesture would make a beautiful ending to a story about helping others in times of need, but the officers had one more favor in mind. Hatley's house was in rough shape, so they painted his house, replaced his windows, and now deliver groceries to him weekly!
"He's 95 years old and he's a World War II veteran," Margolis said. "He's a hero."
H/T: SoShareThis.com