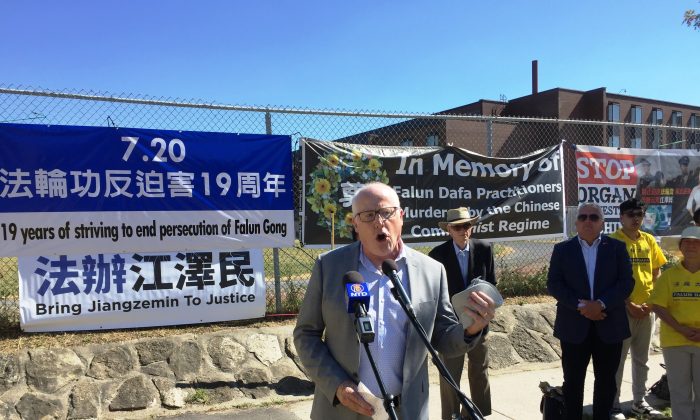 Marking the 19th Anniversary of a Vicious Persecution
'19 years of devastating human rights violations must come to an end,' says head of Canada's Amnesty International
Falun Dafa adherents across Canada are using the occasion of the 19th anniversary of the start of the persecution of Falun Dafa in communist China to ask for the release of their fellow peers who, even against the Chinese regime's own laws, are imprisoned for their beliefs.
Falun Dafa, also known as Falun Gong, is a spiritual discipline that follows the principles of truthfulness, compassion, and tolerance. Feeling threatened by the immense popularity of Falun Dafa, then-Chinese Communist Party (CCP) leader Jiang Zemin launched a brutal campaign of persecution against the practice on July 20, 1999.
For the adherents of the practice, the persecution has meant illegal imprisonment, forced brainwashing sessions, excessive torture leading to death, and even forced organ harvesting.


"These 19 years of devastating human rights violations must come to an end," Alex Neve, secretary general of Amnesty International Canada, said at a rally on July 20 at the Chinese Embassy in Ottawa. The event was held to mark the anniversary of the start of the persecution in China.
"If only we didn't have to gather once more, as we often have on these sunny July, sombre anniversaries, that mark 19 years now. It's staggering even just to say that number," he said.
Neve said he wanted his message to be heard "right across the street," referring to the Chinese Embassy, that the persecution must end. He also asked the Canadian government to urge China to stop the persecution.
"It's time not to put trade first, not to put business first, not to put geopolitical interests first. It is time to put human rights first in our relationship with China, and that absolutely includes the human rights of Falun Gong practitioners right across the country."
The persecution has direct Canadian connections, Neve pointed out: Among those illegally arrested are family members of Canadian citizens, as well as a Canadian citizen, Sun Qian.

Sun Qian, a Chinese-born Canadian citizen based in Vancouver, was kidnapped by the Chinese regime from her residence in Beijing in February 2017, and has been illegally detained since then. According to her family, Sun has suffered torture and forced brainwashing sessions during this time.
Neve said that Sun's case is one of the human rights files that Amnesty International has been working on. He pointed out that the Chinese regime doesn't even allow her to have a lawyer, as 11 lawyers have dropped the case after being "relentlessly harassed and threatened" by the regime.
Neve highlighted two more cases of Falun Dafa adherents that his organization is focusing on: Chen Huixia, mother of Canadian citizen Hongyan Lu, as well as Li Xiaobo, father of Canadian citizen Paul Li.

Chen Huixia was illegally detained in June 2016 for her practice of Falun Dafa, and still has not been released. Her legal proceedings keep getting delayed by Chinese authorities.

Li Xiaobo, a former county mayor and successful businessman before the start of the persecution, has been illegally imprisoned since December 2014, and was given an 8-year prison sentence in 2015. Prior to this, he had endured an 8-year prison sentence starting in 2005.  
Neve said although these cases are about sadness and that "we should be filled with outrage" over the injustice, it is also a time to admire the courage and resilience of Falun Dafa adherents.
"We also gather at the time of this anniversary with incredible admiration and respect for the resilient, the brave, the determined, the courageous practitioners of Falun Gong who, in the face of those 19 years of injustice, do not give up, who continue to stand up for their rights and the rights of their families," Neve said.
"From Canada, we send them our deepest respect and unending solidarity."
Bloody History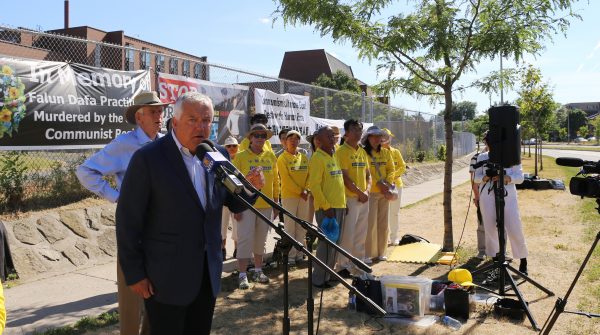 Also speaking at the event was Ludwik Klimkowski, chair of Tribute to Liberty, an organization dedicated to establishing a memorial to commemorate victims of communism.
Klimkowski, who also serves as the vice president of Canadian affairs for the of Canadian Polish Congress and a council member of the International Holocaust Remembrance Alliance, said it's important to remember victims of communism, and not ignore history.
"The victims of Falun Gong and Falun Dafa are not in the past, they are victims of today," Klimkowski said.
"We must remember what they're going through in China and the suffering of the families who live here in Canada now, who can't hold them every single day as they live their lives here."

Klimkowski pointed to the bloody history of communism in the world, and noted that it has always resulted in failure.
"Communism always fails. Evil always fails. Tribute to liberty will always prevail. You can take someone's kidney, you can take someone's liver, you will never take their own soul, their life, their freedom," said Klimkowski, referring to the Chinese communist regime's horrendous practice of harvesting organs from living Falun Dafa prisoners of conscience to sell for profit.
"I think in the second decade of the 21st century, we really have to make sure we understand that communism has no place on this planet anymore."
RECOMMENDED