This 89-year-old man managed to survive while fighting for his country in World War II, but that wasn't enough for him. While that alone would be enough for most people to make themselves proud, he wanted something that many of us take for granted: a high school diploma.
https://www.youtube.com/watch?v=iPmuSUkIflc
Milton Mockerman altered his birth certificate in 1944 so that he could join the Navy and fight in the Second World War. "Everybody my age was engulfed in a war. It was a war to survive, and everybody that could was serving," he explained, according to ABC.
While proud of what he did for his country, however, Mockerman began to regret the fact that he sacrificed the chance to finish high school and ultimately obtain a diploma.

After returning from the war, Mockerman moved and started a family, with a career in the railroad business. He finally decided to do something about high school after around 70 years later and contacted his old high school in Kalkaska, Michigan.

The school's staff empathized with Mockerman's plight.
"Both my grandfathers fought in World War II, and they're both gone and have been gone for a while. So, it was very emotional for me as well and just wanting to make this happen for him," said Mary Deb Rabourn, the high school principal's secretary, in a released statement, adding, "This has meant so much to me to be a part of… and we've gotten so much out of it."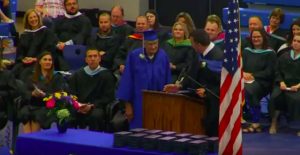 Mockerman finally graduated on Saturday, March 27, 2017.
"I don't know how you'd put it in words, but it does mean a lot to me," said Mockerman.
Mockerman's grandson, Aaron, was proud of his grandfather, driving up from Indiana to see the ceremony. "We're all extremely proud of him. I mean, a lot of people didn't know about this until just a few years ago, and now… he's finishing it," Aaron added.