As a nanny of toddlers, Caroline Maurer takes walks as a regular part of her routine. Most of those walks are simple and enjoyable and also usually quite predictable.
But while on a recent walk with a 2-year-old she cares for, she suddenly found herself in a position in which she would have to make a split-second decision of life and death.
Just Another Walk?

In March, Caroline Maurer, a student and nanny, was pushing 2-year-old Fox in a stroller as they approached an intersection, a four-way-stop. Caroline looked in every direction and, seeing no traffic, began to cross the street.
However, while crossing, she glanced to her left and her heart stopped. A car going full speed was heading straight for them. In the brief seconds Caroline had to process what was happening, she had no doubt that the car was about to hit them.
A Selfless Reaction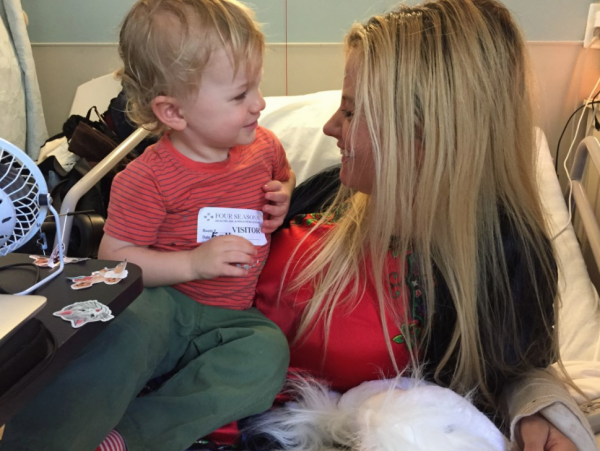 Caroline yelled as loud as she could at the vehicle. "I was screaming, 'Stop! Stop!' – and pushed [the toddler] as hard as I could to get him out of the way," she said, according to KTLA.
As the boy in the stroller rolled away to safety, the car smashed directly into Caroline's outstretched hands and body.
"The car came and crushed my hands, the front bumper—and I was thrown a few feet, I don't know," Caroline explained.
Lying injured in the street, all she could think about was Fox in the stroller. She needed to know he was safe. Thankfully, he was. But the stroller had fallen on its side and Fox was yelling for his "Nanny Caroline."
Her Hands Were Crushed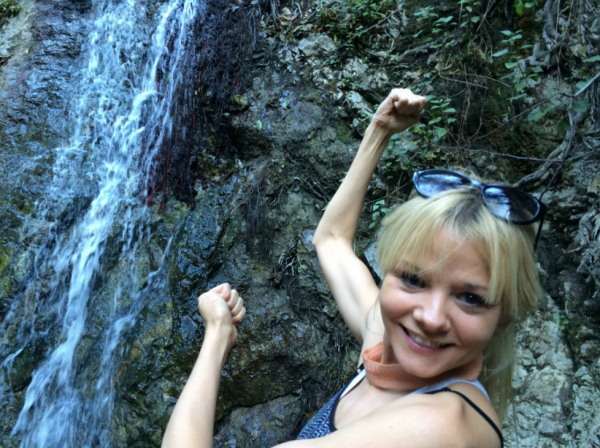 Caroline got up and attempted to get Fox out of the stroller. But her hands were not working properly. "Fox was strapped in and I couldn't get him out," Caroline recalled emotionally. "Because my hands were crushed."
The hero nanny's wrists had compound fractures, which would soon be discovered by paramedics who arrived on the scene. Both Fox and Caroline were rushed to the hospital.
Grateful Parents

Thanks to Caroline's quick thinking, Fox had only minor scrapes and bruises. However, Caroline's injuries were much more serious, and she is still recovering.
Courtney Davis and Bill Wolkoff, Fox's mom and dad, are overwhelmed with gratitude for what Caroline did to save their son's life.
They set up a YouCaring account to raise funds to help pay the medical costs that are needed in Caroline's long-expected recovery. She has been unable to work or attend school because of the incident.
'Family for the rest of our lives'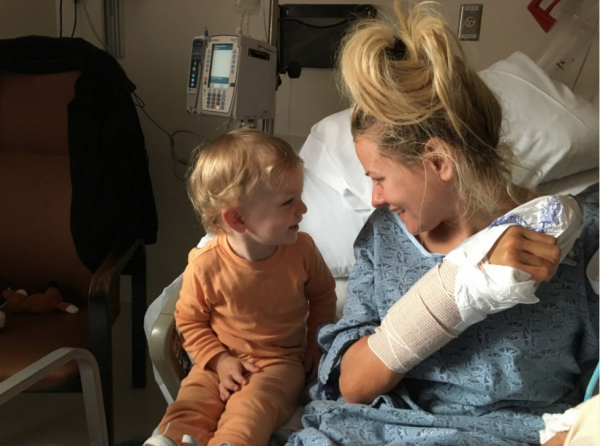 "She's family for the rest of our lives," Bill Wolkoff said. "Because of Caroline, the worst didn't happen. She saved his life."
Although Fox is only 2 and lacks the vocabulary that his father expresses his gratitude with, it is no less genuine and heartfelt. The boy is shown in a video on the YouCaring page, smiling as he says, "We love Nanny Caroline."
Courtney, Fox's mom, added, "As a mom, you give your kid to somebody else … your hope and your dream is that they're going to treat your kid like their own. I'm just so grateful to her."
The driver of the vehicle that caused the crash was uninjured, and the case is still under investigation by the LAPD.
Source: In a split second, this nanny's selfless decision saved a 2-year-old's life from The Chive. and Help Caroline Maurer, Our Hero Nanny by Courtney Davis on YouTube.