In The Chronicles of Narnia, children enter a magical world as soon as they enter their wardrobe. In real life, these sorts of supernatural teleporting closets don't exist (as far as we know), but a clever mom was able to get pretty close in a project for her daughter.
Laura Medicus is an interior designer based in Littleton, Colorado. While she usually works on homes for others, she recently decided to give her 11-year-old, Sylvia, an awesome and necessary addition to her new room.
Sylvia didn't have a built-in closet in her room, but her mother was very crafty.
New Year: Already Behind https://t.co/mbcdawHIrr pic.twitter.com/PYKKi7xE8J

— Laura Medicus (@GildedInterior) January 9, 2018
A closet is important for anyone but especially matters for pre-teen girls. Unfortunately, Sylvia didn't have one built into her room. For years she got by with a vintage armoire her family found on Craigslist, but as she kept acquiring more stuff, it became less and less practical.
Having an interior designer for a mom certainly has its perks though. It's not uncommon for rooms in Colorado homes to lack built-in closets. That's why Medicus offered these impromptu closet ideas in her blog, The Colorado Nest—but she wanted to do something even better for her daughter.
"Sylvia and I have always been excited about hidden, small places," Medicus wrote.
The idea the pair brainstormed was one for the books … literally.
Medicus planned a hidden closet entrance behind an armoire, inspired by The Chronicles of Narnia.
Budget Friendly Children's Room: How to Create a Hidden Room Behind an Armoire https://t.co/X0NEQbQKNz pic.twitter.com/FCJ1FUmqqn

— Laura Medicus (@GildedInterior) February 6, 2018
Just because Narnia doesn't exist within our world doesn't mean a real-life wardrobe can't take you to a fun and exciting place. Medicus's idea was to give Sylvia the master bedroom closet.
The only thing separating the two rooms was a single wall which would be easy enough to drill a Sylvia-sized hole through. Yet leaving a hole in the wall for all to see wouldn't be the most attractive thing in the world, so she covered it up with a wardrobe: one which also had a hole in it.
Sylvia's closet would be a secret hidden in plain sight, an idea clearly inspired by The Chronicles of Narnia.
"Thank you C.S. Lewis for the original idea," Medicus said.
The wardrobe was actually the same armoire that Sylvia had been using up until that point, only now it was repurposed as a door to a secret hideout.
The large size of the closet turned it into a full-fledged room.
Great article on my daughter's "secret room" https://t.co/sJdiY5DBjW via @lovemattersmore

— Laura Medicus (@GildedInterior) March 13, 2018
Sylvia legitimately needed more space for all her clothes, but the master bedroom closet gave her far more space than necessary. Knowing this, Medicus turned the closet into a sweet lounge complete with chairs, a table, a lamp, a bookshelf, and (of course) a place to hang her clothes.
Sylvia absolutely loves her new space, spending time there every day.
"I get dressed in there, hang out with friends, read books and watch TV on my iPad," Sylvia told TODAY. "I like being hidden away from everything."
Her friends seem to be fans of the new lounge as well.
"They say that they want one, too, and, 'Oh, it's just like 'The Lion, the Witch and the Wardrobe!'" she added.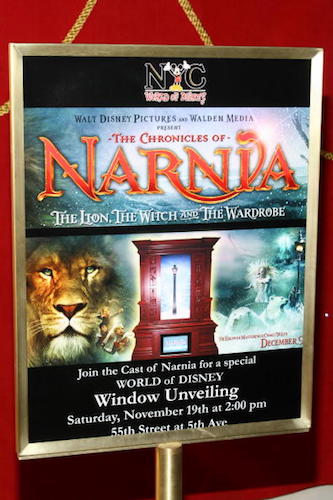 While this might seem like an expensive, time-consuming project, it really wasn't for Medicus. The whole thing took around $500 and three weekends of work.
"It was much easier than I thought it would be," Medicus told TODAY.
Medicus admits that she doesn't know how long the closet will last before the novelty's gone, but she's glad to have done something that makes her daughter so happy.
"I know she probably has three years (tops) of enjoying this before we will probably just tear the wall down and make her room bigger, but I'm excited for her right now."