When you're sick, it always helps to keep your sense of humor.
That's something 15-year-old Austin Eggleston from Pontiac, Illinois understands well. He was born with multiple congenital heart defects due to his stunted growth, and when his heart recently stopped responding to treatments, it was clear that he would need a transplant. 
He was put on the transplant list, and waited for months at the Ann & Robert H. Lurie Children's Hospital of Chicago. But through this frightening situation, Austin kept a positive attitude:
"I'm pretty nervous," he told the Pontiac Daily Leader. "But I'm going to enjoy not having to come to school, at least."
Throughout his long stay at the children's hospital, Austin remained in good spirits and was always looking out for his other patients, becoming known as the "mayor" of the floor.
"He wants to help," his mother Mary Anglin told WLS. "He wants to make people as happy as possible."
And Austin's sense of humor extended to his medical team as well. So when cardiologist Dr. Phillip Thrush showed up at Austin's room this week with some important news, he decided to do it with a twist …

He was dressed as Chewbacca!
Austin is a huge Star Wars fan, and Dr. Thrush—who honestly does a pretty solid impression—showed up  costumed as the Wookiee pilot while Austin, four months into his hospital stay, was connected to some equipment.
The teen was excited—but it wasn't just because of the funny movie reference. It was because he knew what it really meant.

It turns out, Austin made a deal with Dr. Thrush that when he was finally matched with a heart donor, the doctor would break the news dressed up as Chewbacca.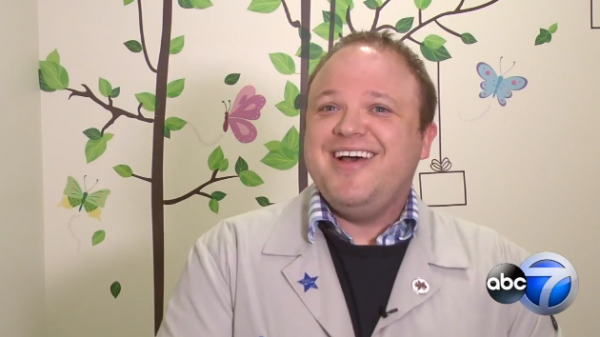 So when he saw the Star Wars character enter his room, he knew he could be in for life-changing news.
"We got a heart? Do we seriously have a heart?"
Chewbacca confirmed: he was finally getting a heart!

Austin was so excited he jumped up, high-fived the doctor and danced—nearly ripping out the wires he was attached to.
It was the best news of his life, delivered with all the good-spirited humor that's gotten him through the ordeal.
"To see him knowing that he has a chance at life, that he has a chance to achieve so many things leaves you speechless," Anglin said.
Days later, Austin successfully underwent his heart transplant surgery and is currently recovering.
It was a miracle, but it wasn't lost on Austin's family that the heart came from another child who wasn't so lucky, and parents who were kind enough to donate the heart.
Austin's mother says her son will live his life to the fullest and pay-it-forward.
"He will make sure that he does remarkable things because of it," she told WLS.

That includes continuing to look after his fellow patients.
He was recently campaigning to get the highly anticipated film Avengers: Infinity War to screen at the children's hospital so the children too sick to leave will be able to see it.
@Marvel As someone waiting for a heart transplant how many retweets do I need to get a showing of Avengers Infinity war shown to the children at @LurieChildrens Chicago who may not be able to see it in theaters. Please @Marvel as someone who loves you guys I want this! #Avengers

— Austin Eggleston (@TheReelThanos) February 10, 2018
It was a life-saving miracle, and it sounds like it couldn't have gone to a more deserving patient. The force will be with him, always.