When you go to the beach it's best to leave things you'd rather not get sandy or wet either at home or in your vehicle, but some items are too precious, like an engagement ring you can't bear to part with.
Jessica Haelen adored her engagement ring, which used to be her mother's; however, an unfortunate event led to its disappearance on a beach in Galveston, Texas.
"I realized my ring wasn't on my finger," Haelen told KHOU. "I started freaking out and hyperventilating."
With less than 8 weeks until her wedding day, Haelen lost her engagement ring at a beach.
She shared the story, which was a roller-coaster of emotions, on Facebook.
While at the beach in the beginning of May with some friends, their car became stuck in the sand. As everyone attempted to push the car out, her ring fell off, though she didn't know it at the time.
Her friends and a group of strangers helped search for the ring.
Twenty minutes had passed before Haelen noticed her mother's ring was missing, but as soon as she realized it she returned to the beach.
It was dark, which made searching for the tiny object nearly impossible.
"Heart broken, and in tears … I asked my friends and family to pray that'd we'd find it," she wrote on Facebook. "This wasn't just any engagement ring that I lost, it was my mother's."
Her mother had passed away less than a year before her father when she was in high school—nearly five years ago.
They turned up empty-handed.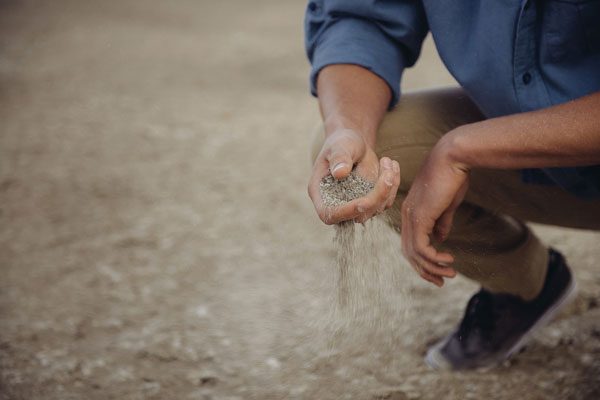 After her friends and a handful of volunteers had no luck, Haelen ran to a tow truck driver a distance from the area they were searching. She hoped he had a metal detector, but no such luck.
Then she spotted a police officer who appeared to be leaving the beach. She stopped him and explained her situation.
"With tears rolling down my face, I explained that I lost my mom's engagement ring and asked him if he had a metal detector," she wrote. "He looked at me and told me that it's crazy how things work out, because he just got engaged earlier THAT SAME DAY."
Haelen was able to flag down a police officer who offered to help.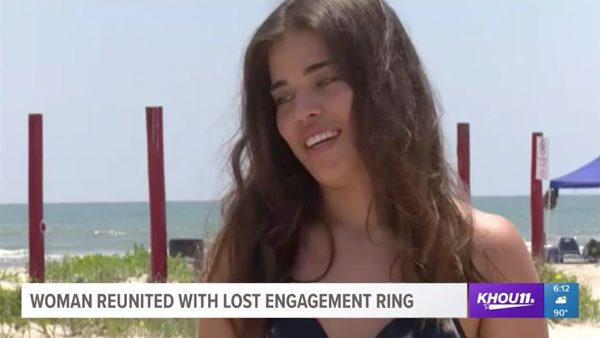 The officer, Derrick Jaradi, informed Haelen that he did have a metal detector, but it was at home, 47 miles away. Still, he would make the drive—he felt as though he was led to help her.
Once Jaradi returned, he taught the search party how to use the metal detector. Unfortunately, he couldn't stay because he received a call.
After several hours, the search was called off.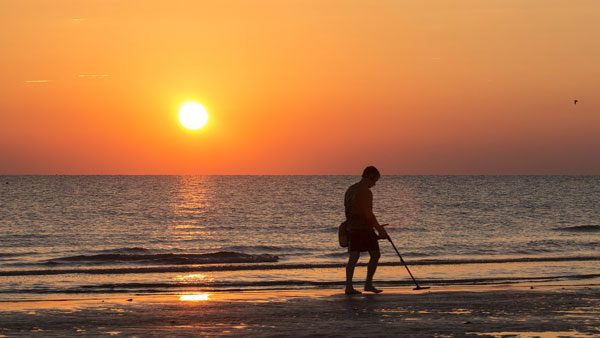 Around midnight, hours after digging, crawling around in the sand, and using Jaradi's metal detector, Haelen's engagement ring was still missing.
"I have sand on every part of my body, I have dry tears everywhere, and I'm sunburned, I'm tired, and I'm hungry and I just come home," she said.
Haelen and her fiancé, William House, went home without her ring.
In the middle of the night, Haelen received a text from Jaradi.
"I couldn't sleep that night … whatsoever," she said. "I began talking to God, and trying to make sense of me losing the ring, I was trying to find the lesson that I needed to learn."
Just as she in the middle of praying, she was given a sign.
A little after 4:30 a.m., Jaradi sent her a text explaining that he had been called back to the beach around 2 a.m.
"You happened to wave down the one Galveston Police officer on the same day he gets engaged to find your lost engagement ring. I couldn't get that out of my mind, so I gave it another shot between calls," he wrote.
He found her ring!
Miraculously, the Galveston police officer was able to find Haelen's ring in the middle of the night after responding to a call at the same beach where she had lost it hours earlier.
"I was just bawling," Haelen told KHOU. "Knowing he'd found it. That's not an act of man. He went above and beyond, and I definitely thank him for that."
Haelen was reunited with her ring.
As a thank you, Haelen invited Jaradi and his fiancée to her wedding in July.