To this point, there is no medical proof that "mother's intuition" is a real thing. But for mothers everywhere, no hard evidence is required, they feel it every day. For those who don't believe, Tanya Tyler might change your mind.
It was a normal afternoon in Spokane, Washington, and Tyler was doing her laundry. She walked into her living room, basket full of freshly cleaned clothes in one hand, and her 9-month-old baby in the other. The baby was still in the car carrier, a detail that would prove to save them valuable seconds when they later had to rush out of the room.
Speaking with KREM2, the mother said she was still trying to make sense of the split-second decision that saved both of their lives.
As she was putting down the laundry, a voice in her mind said "run."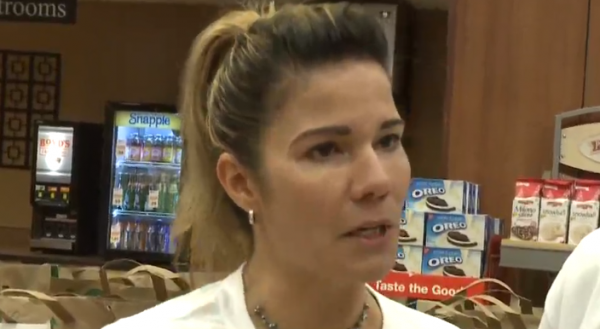 "As I was setting the laundry down, I actually heard in my mind, like instinctively, maybe, 'RUN,'" Tyler said.
She left the basket of laundry where it was, grabbed her baby by the handle of the car carrier, and went flying out of the room as fast as she could. She still wasn't totally clear what she was running from. But moments later, she heard it.
A humongous tree came crashing through their living room.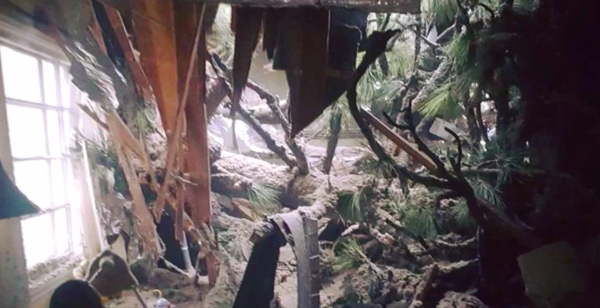 "I didn't hear any trees at the time falling, but I turned quickly and grabbed the car carrier with one hand … And as we took one step, you could hear the tree inside the living room," she said.
Tyler, whose voice cracks as she tells the story, said she and her baby narrowly escaped into the kitchen. They were both covered in sawdust, insulation, and pieces of the roof following the crash, but were otherwise unharmed and happy to be alive.
"If I was just a couple seconds later, who knows where I would be."
Prior to the tree crashing through the living room, there was no indication that it was ready to fall.
As Tyler turned around to look at the damage, she could barely keep herself together. The tree landed right where she was standing with her baby only seconds ago. Had she chosen to ignore her motherly instinct to take off running with her infant child, the story might have ended in tragedy.
The laundry basket, her baby's swing, everything was flattened under the weight and power of the tree. It's impossible for her not to think of what might have happened.
"I looked back, and the tree had just smashed where the laundry basket was where I was standing," she said.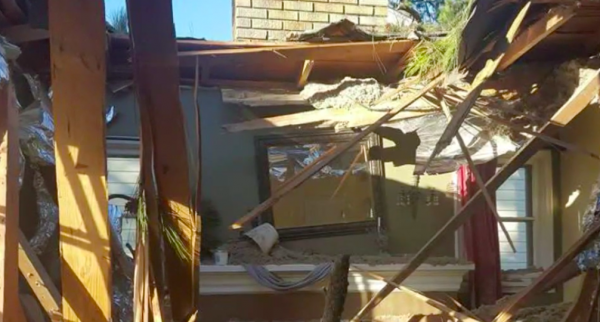 While her home was being repaired, Tyler and her baby stayed at her grandmother's house nearby.
Tanya didn't know who to thank for the fact that she is still alive. But she knows how lucky she is, and is glad she listened to her gut instinct.
"So grateful. So grateful at this moment for my life, for the baby's life," she said.