When Braian Angola stepped onto the court before his final home game as a Florida State Seminole, he had a general idea of how he'd be honored.
But just as the senior thought his moment was over, the PA announcer informed him of one more very special surprise.
In 2012, Braian Angola left his home in Colombia.
Angola always had dreams of turning basketball into a career, and one day while playing in a tournament in Los Angeles for his national team, he caught the eyes of a few U.S. coaches.
However, pursuing his dream in order to help his family would mean leaving them and his hometown of Villanueva, Colombia, behind and moving to the United States.
It was a scary thought, but one that Angola needed to do.
Angola moved to Las Vegas where he attended Findlay Prep.
When Angola moved to the United States, he was a teenager, didn't speak any English, and was all by himself.
"Leaving my whole life and my family and deciding to go from a city of 15,000 people to a city of 2 million people, it was very difficult," he told Noles247. "But I know I needed to do it. For the benefit of my mom and my family. I was probably crying the whole week and probably the whole month."
It took a lot of hard work and dedication to succeed.
Not only did Angola have to learn how to juggle books and basketball, he had to learn a new language. And that took months of hard work.
"I had to sit in the corner with an iPad, learning English by myself," he said. "It was frustrating."
After eight months of reading books, watching TV shows, studying, and using his iPad, he finally had a good grasp of the English language.
After spending one academic year in high school, he went on to college in Idaho.
It was during this time, his first year away from home that his father suddenly passed away.
Angola believed his dreams of a career in basketball were over and that he would have to return to Colombia in order to take care of his mother and sisters. He discussed it with his mother, Ofelia, and the two decided it was best for him to stay in the United States.
Their decision paid off because, after two years of playing basketball at North Idaho College, he signed with Florida State University.
His junior year he played for FSU.
First Thank God.. I'd like to announce that I'm officially committing to the Florida State University #Blessed 🏀🙏 pic.twitter.com/fpRMPO3xhj

— Braian Angola (@Angola2411) April 20, 2016
Playing at FSU was a huge accomplishment for Angola. Years before he transferred to FSU, he was told he would never be better than a Division II basketball player and yet here he was, playing on a Division I team in arguably one of the best leagues in the nation.
"To play in the ACC, one of the best leagues in the nation, it has made me very, very proud of myself," he said.
After two years at FSU Angola only had a few games left; one of them was Senior Day, a day where FSU honors their graduating seniors before their final home game.
On Senior Day Angola accompanied by his girlfriend and academic adviser.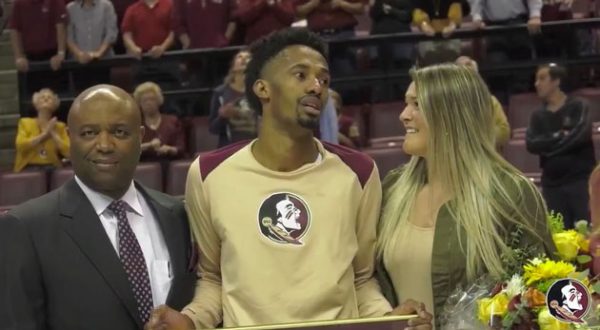 Prior to Angola's last home game on March 3, Angola spoke to his mother, who still lives in Colombia, on the phone. Like any mother, she told him to have fun and play hard, and also call her after the game.
During the pre-game ceremony, Angola walked onto the court with his girlfriend and his academic adviser. He was given a framed FSU jersey and was treated to a recorded message from his sisters in Colombia.
Then when everyone thought his special moment was over, the PA announcer came on and announced that Angola's mother, Ofelia Rodas Orozco, had flown in from Colombia.
"When I saw her, I just couldn't hold it in," he told Seminoles.com. "I just started crying."
Angola's mother surprised him on his special day.
When you fly in from Colombia to surprise your son on his Senior Day@Angola2411 pic.twitter.com/7aZBEVIYD0

— FSU Men's Hoops (@FSUHoops) March 3, 2018
The elaborate plan involved an eight-hour drive and two different flights, and it was all arranged by Angola's family and friends. According to Seminoles.com it was only the second time Orozco saw her son play in the FSU uniform.
It was an extremely sweet moment.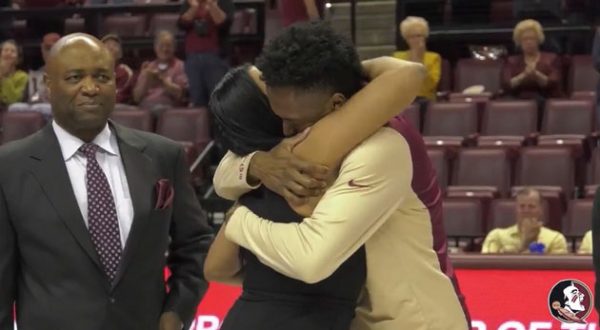 Upon graduating from FSU, Angola will become the third member of his family to receive a college degree. According to Noles247, his mother received a bachelor's degree and his father also earned a degree, shortly before his death.
In the future, Angola hopes to pursue professional basketball, but also has an interest in creating youth basketball camps in Colombia to help kids achieve their dreams.
"It's very important for me to open the door for somebody else to come and do the same thing," he said.