TORONTO—Liliya Omelina, who owns a dance class franchise, knows how much effort goes into creating a performance of Shen Yun's caliber.
"I know that it takes years to do such a beautiful show," said Ms. Omelina, who saw Shen Yun Performing Arts on March 28 at Toronto's Four Seasons Centre for the Performing Arts.  "Oh my God, it was so beautiful. It takes a really long time to be able to perform like this."
Based in New York, Shen Yun is a classical Chinese dance and music company with a mission to revive China's millennia-old culture. The company presents classical Chinese dance, an ancient art form evolved over time from dynasty to dynasty, as well as ethnic and folk dances from different parts of China.
The dances are accompanied by an orchestra that combines traditional Chinese instruments with classical Western instruments. The production also features colorful handmade costumes and a patented animated backdrop that interacts with the dances on stage.
According to the Shen Yun website, classical Chinese dance is known for its incredible flips and spins and its gentle elegance, and it is one of the most rigorous and expressive art forms in the world.
Ms. Omelina said one of the aspects of the performance that really stood out for her were the expressions of the dancers as they performed the storylines in the different dances.
"It wasn't only dancing, it was comprehensive, like acting. It gave me goosebumps," she said.
Ms. Omelina also praised how the dancers were in harmony with the music performed by the live orchestra.
"It was incredible," she said. "I have fallen in love with it."
Connection to Divinity
Tanya Artenosi, broker and owner of a Coldwell Banker franchise, said watching Shen Yun was a great experience.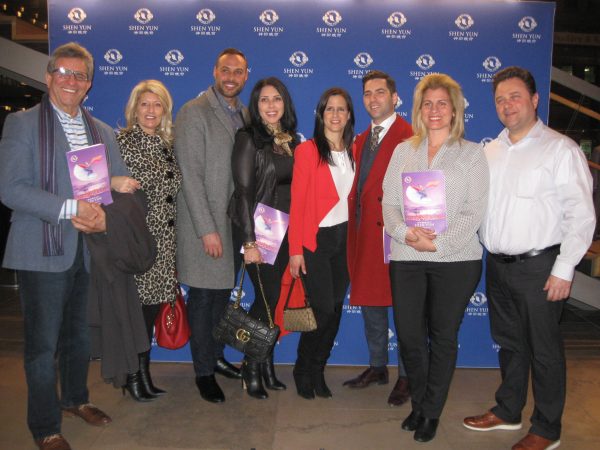 Ms. Artenosi said she enjoyed seeing 5,000 years of Chinese history and culture presented in the performance through storytelling.
"What an amazing thing to experience for the very first time, coming in with no knowledge about what the whole story is about," she said.
According to the Shen Yun website, the company's dance performances bring back traditional values that have "sustained and created cultural expression for so many generations."
Reflecting on some of the values and virtues portrayed in the performance, Ms. Artenosi pointed out that good is rewarded with good and evil is punished.
"That is always a positive message that you want to hear, especially today," Ms. Artenosi said. "You just know that there's goodness, and that's right with everything you do. I thought that was wonderful."
Ms. Artenosi also commented on the connection to divinity in traditional Chinese culture as portrayed in the performance, and a theme of divine intervention.
"There was this thread throughout Chinese culture that they believe in a higher being, and that higher beings come down and they bestow on you good things when you do good," she said.
With reporting by NTD Television.
The Epoch Times considers Shen Yun Performing Arts the significant cultural event of our time and has covered audience reactions since the company's inception in 2006.