LOS ANGELES—The Dorothy Chandler Pavilion in the Los Angeles Music Center was the final venue in Southern California where theatergoers could see Shen Yun Performing Arts International Company, which finished nearly eight weeks of its 2017 season touring the Southwestern United States.
The classical Chinese dance and music company held 51 sold-out performances in 12 cities including Los Angeles, Hollywood, Long Beach, Costa Mesa, Claremont, Thousand Oaks, Santa Barbara, San Luis Obispo, Las Vegas, Phoenix, Tucson, and Mesa, Ariz. Over 100,000 theatergoers had the opportunity to enjoy the authentic expression of China's 5,000 years of civilization.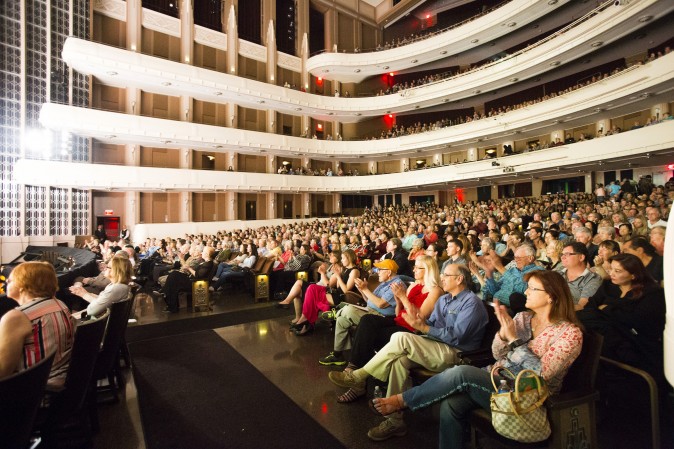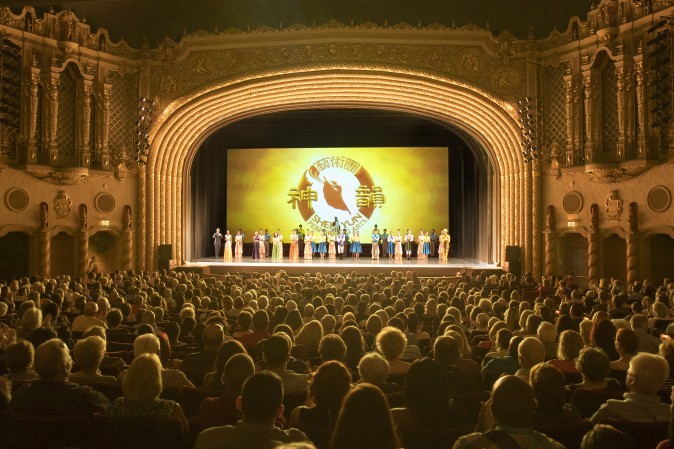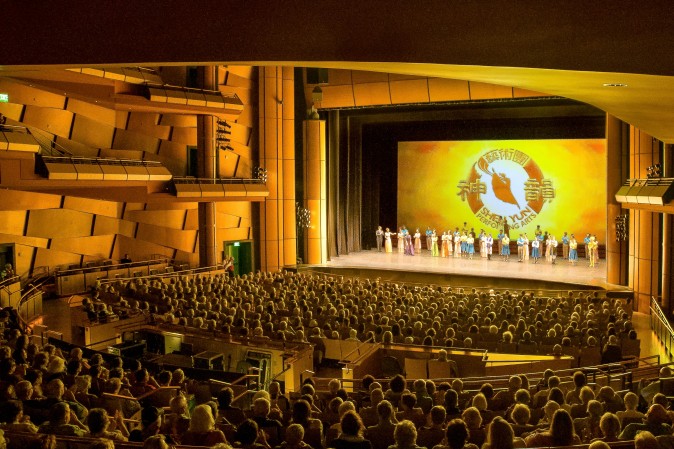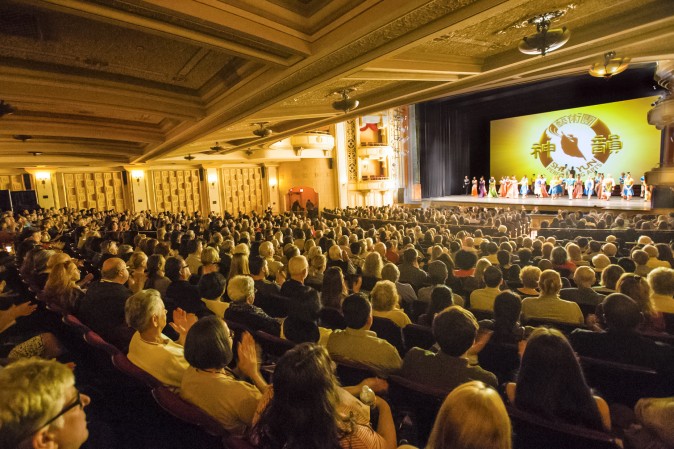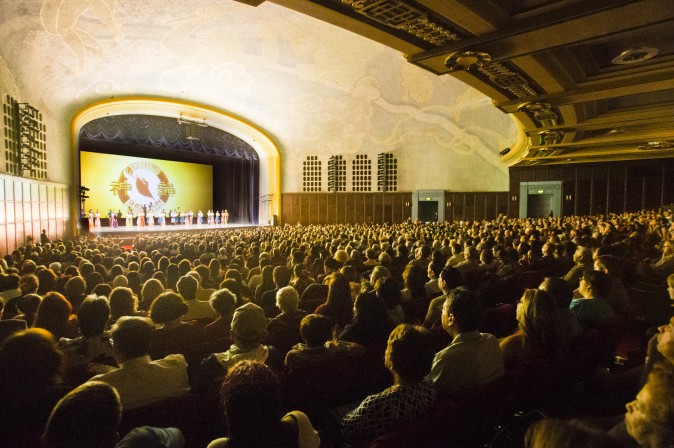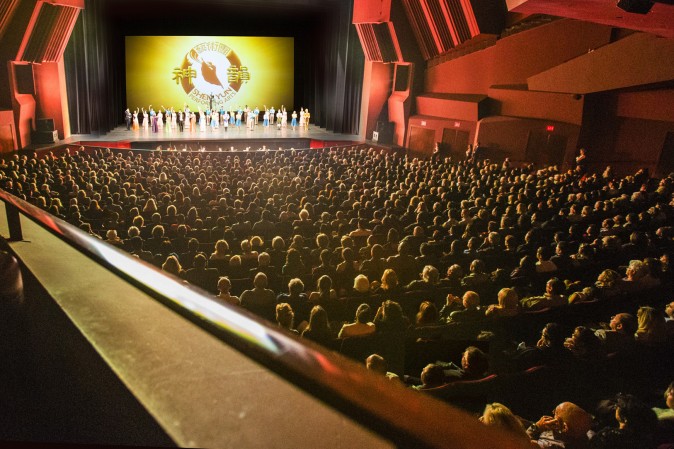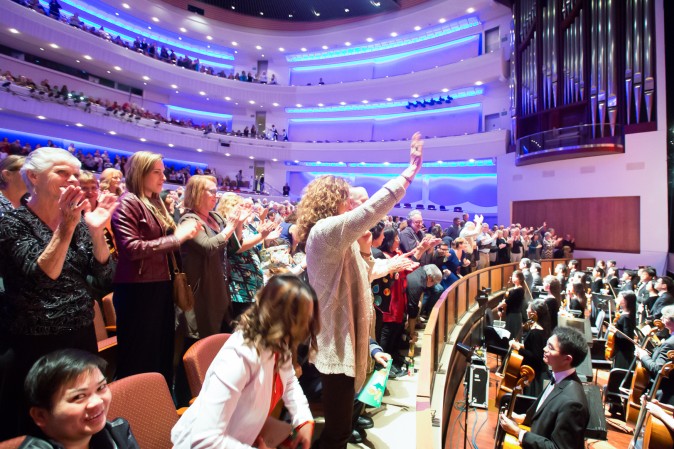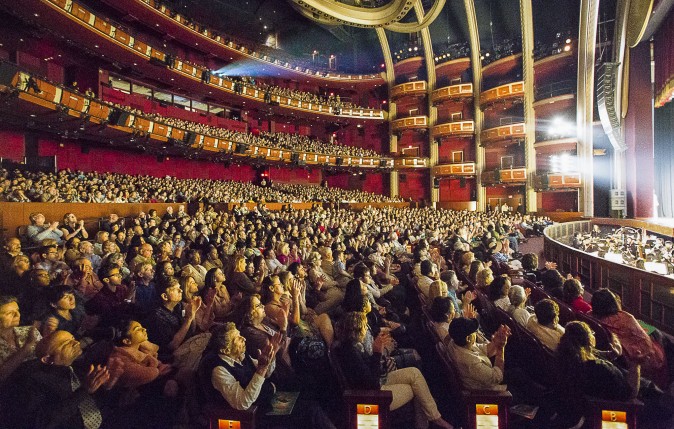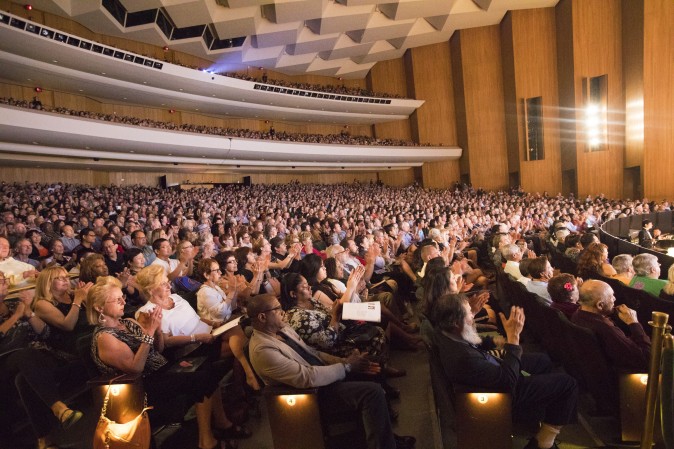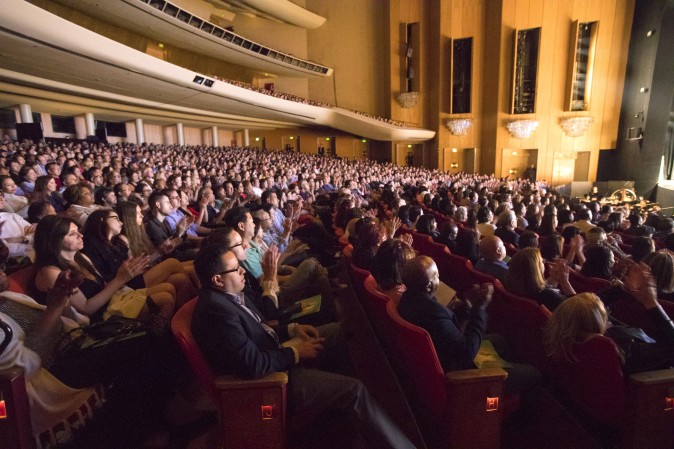 The Shen Yun Performing Arts International Company is one of five companies that compose Shen Yun. After months of preparation every year, each company departs from Feitian Academy of the Arts in New York and tours throughout the world. During the 2017 season, they are collectively reaching over 140 cities throughout North America, South America, Europe, Asia, Australia, and New Zealand.
Shen Yun's reputation continues to grow as the world's premiere classical Chinese dance company. Each year, thousands of theatergoers share their enthusiasm for the production through interviews. Whether it be the elite athleticism and skills of the dancers, the full, live orchestra, and its seamless combination of traditional Eastern and classical Western instruments, the deftness of the erhu soloists, or the digital backdrops which enable Shen Yun to whisk audiences to different realms, time and time again theatergoers express praise and awe for Shen Yun.
From Emmy and Tony Award-winning Hollywood actor Laurence Fishburne, Golden Globe Award-winning actor and comedian Tim Allen, to Shelley Sterling, former owner of the Los Angeles Clippers, Oscar Award winners, philanthropists, an Olympic gold medalist, a boxing world champion, government officials, business executives, entrepreneurs, artists, and musicians, audience members are enthralled by Shen Yun's beauty, elegance, and depth. The following are quotes from selected interviews.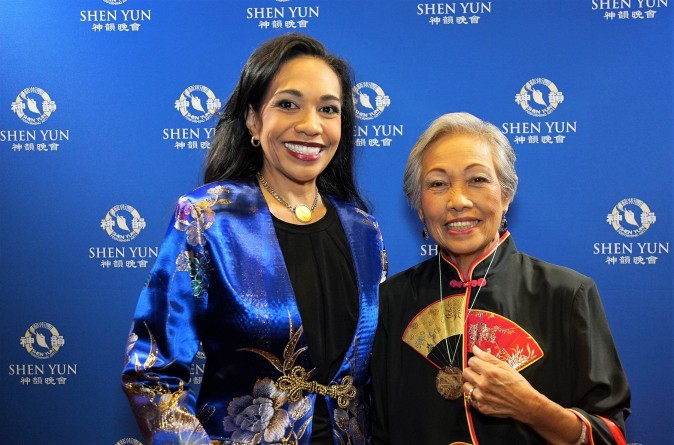 Katrina Lim, an entrepreneur who works in building development, felt proud of her Chinese heritage after watching Shen Yun.
"I've seen pretty much every Broadway play, I've traveled and seen around 300 shows, but this was so exciting for me. I will come and see it everywhere."
"[Shen Yun is unique because of] the preciseness and the attention to detail, the costumes, the movements, and the synchronicity with all of the cast. It was very riveting. I was off my seat, especially for the handkerchief dance ("Handkerchiefs in Flight"). I was like, 'Please, please, don't anybody drop anything.'
"I am so light-hearted. I am so happy, but I'm still emotional. I'm so proud (beginning to cry), especially that [Shen Yun] didn't forget us in Arizona because sometimes culture out West is not as prevalent as the East Coast or European countries.
"I will take this performance, if I have until my dying days, until I'm 100, if they said, 'What is your best performance,' this will be my performance that I will pass onto my 19 godchildren. It will be a must, and I will make sure that all of my godchildren – this will be a prerequisite: 'If you have not seen this, then you have to go see it.' It's just the culture. Like I said, I'm the very first American born on the Asian side, I feel like I missed out a little bit, but [Shen Yun] brought my culture here to Arizona, so I have to thank all of you for that."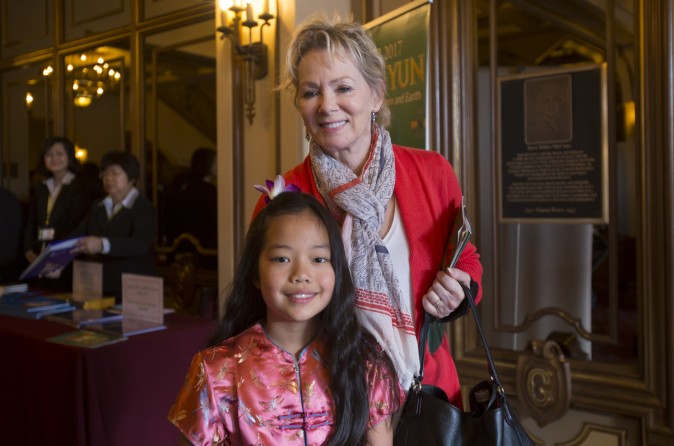 "I love this show myself, and I like sharing it with my daughter because she was born in China, and I think it's important for her to see the history of China," said Ms. Smart.
Although Ms. Smart has made a name for herself as a television actress, she began her career in the theater, so she is able to fully appreciate what goes into a theatrical performance.
"It's an incredibly beautiful, entertaining show," she said of Shen Yun.
Shen Yun was founded in New York in 2006 by a group of Chinese-Americans with the mission of reviving the true, divinely-inspired traditional culture of China through spectacular dance and music. Unfortunately, this 5,000-year culture has been nearly lost after many years of communist control.
Shen Yun itself still cannot be seen in China. However, in the United States and many other countries in the world, Shen Yun has the freedom to display this culture and the true history, both ancient and modern, of China.
As an actress, Ms. Smart can see the variety of different skills needed by Shen Yun's artists.
"Like good singers, good dancers are also actors. You express things through your dance. You don't need to necessarily speak, so it's still acting," she said.
Ms. Smart says every year she is amazed at how graceful yet strong the young women dancers are, and how athletic yet graceful the young men are.
"It's just astonishing," she said. "It's superb. The amount of work that goes into it, the amount of practice is mind boggling."
Acknowledging the company's mission, Ms. Smart said she could see why creating Shen Yun and preserving China's divinely-inspired culture was so important for its founders.
"Having spent a little time in China, [I got] this attitude from some of the younger people there that religion, spirituality is something for the old people. It's not something that's relevant to them anymore," she said.
"I think that's really sad because everyone needs that in their life. Everyone needs some sense of spirituality, and some sense of history, and to lose that must be very painful to a lot of people from China."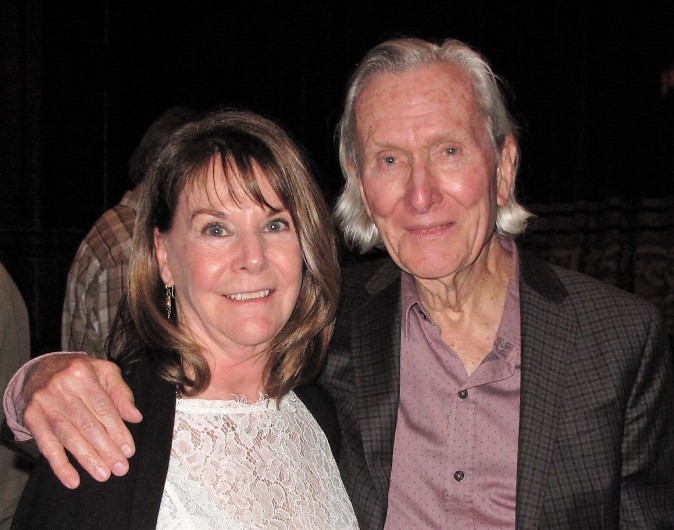 Richard Harris is well-known for his work on major films such as "True Lies," "The Bodyguard," and "Terminator 2," and he won five awards including an Oscar for editing the blockbuster hit "Titanic."
"It is gorgeous what they've done here," said Mr. Harris. "The production is terrific."
Mr. Harris especially enjoyed how the dancers appeared to leap out of the animated projected background onto the stage, and vice versa.
"I just love the dancers. They're incredible," he said. "The movements are very smooth. It's like they're on ice. They move so smoothly."
Both Mr. Harris, who does Tai Chi, and Mrs. Harris said they felt a connection with the spiritual nature of traditional Chinese culture portrayed in the performance.
"The compassion, truthfulness, tolerance, I think those are universal themes with any religion or any philosophy," said Mrs. Harris.
The couple said they would definitely recommend the performance to others, saying it was a pleasant escape from everyday life.
"You're kind of taken on a journey," said Mrs. Harris. "You're just brought into the story, and it's something that is unique. I think it's definitely one of a kind…it's something that you can go [to] and get taken away, like going on a vacation."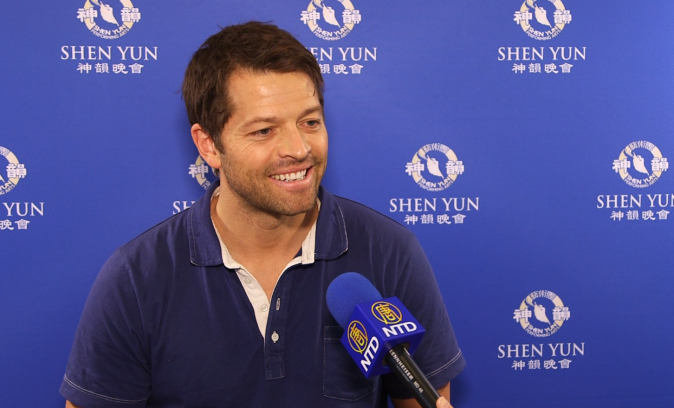 Misha Collins, star of the television show "Supernatural," recognized the amount of training and effort of Shen Yun dancers.
"The level of precision and expertise that goes into the work and the amount of practice and refinement in it is totally on another level from my own level of perfection."
"I think that the symphony accompanying the performance is lovely. It's really nice to have a live orchestra in a performance. I'm enjoying that."
"Any time traditional art can address human rights issues, I think it's important."
"It's transcendent."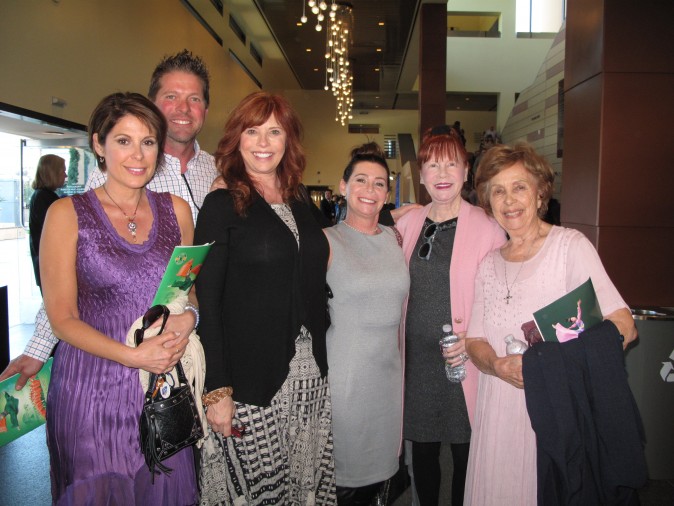 Kimber Eastwood, the daughter of legendary actor and filmmaker Clint Eastwood, watched Shen Yun for the second time.
"It was definitely different this year, but it's still a spiritual message which we absolutely love. It seems like they talk about what's happening in China that they can't talk about there. So [I] found it very interesting."
"I don't think there's enough spirituality in the world with so much going on, so I think that it's beautiful message [when] the Buddha comes down and got this incredibly gorgeous gold aura around him. It just brings you back to some spirituality, to what I think is lost and forgotten now these days. So it just has such a beautiful message about how goodness and love, and patience overcome evil and nastiness."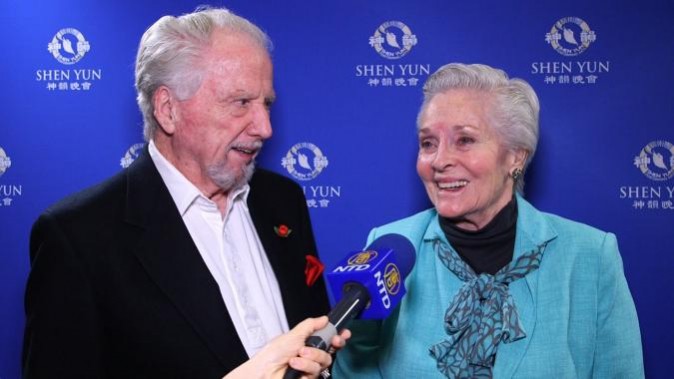 Actress Lee Mariwether, who has been nominated for Golden Globe and Emmy Awards, was thoroughly enthralled with Shen Yun.
"It was more than what I had ever expected. It was so beautifully done. Incredibly … the choreography mixed with the visuals …. I didn't know that there was going to be films (digital projection) and they would appear in the films behind. It was just brilliant. It was a brilliant production.
"I'll tell everyone, 'You've got to see this, if you don't get a chance to see it now, you will see it in the following year because there is nothing like it that I have ever seen.'
"It was just really, truly brilliant. The dancing, the costuming, the music itself, and you learn a lot about ancient China …. I am going to go and do some research because it is fascinating. It is the history that is unfolding in front you. It is just beautiful. So I am very lucky to have this come to us here in Thousand Oaks."
"What was amazing to me [about the live orchestra] was that it didn't seem to be part of something else. It was coherent with what we were watching. And it just worked perfectly.
"The music itself was just amazing, and of course the dancing, it was fabulous, but I loved that I learned so much … and in such an enjoyable way. I learned so much about the history of China and history of dance, because it worked beautifully with the show. It was fabulous. I love it. I am going to take this [program book] to my daughter and insist that they get here tomorrow night."
"Oh my goodness, her (the soprano's) range was … both of us have sung on stage and actually in this theater before. … But her voice was just so ethereal; it really was so beautiful."
Her singing brought me right to the lyrics, and it was just enlightening, completely, and just beautiful to listen to. And she was gorgeous. … And her pianist was wonderful."
"The history, and particularly when [the performers] were dealing with modern history as well, and it was very apparent and it was handled beautifully, and understandably … It was quite interesting, quite interesting."
"Don't wait, get your tickets now."
"Everyone in the audience is going to go home and say, 'Oh, you've got to see the show. You've got to see the show. … So, get to the ticket office right away.'"
"I was thinking, 'The wardrobe mistress back stage must have 14 hands. It was absolutely … The costume changes are amazing."
"[We] were aghast at the brilliance of this production."

Jack Regas, who served as a choreographer for Bob Hope and Elvis, said that seeing Shen Yun is a must.
"I love this show. I think the technique is beautiful. The classical training they have is unbelievable. It's so nice. Beautiful."
"The male dancers, they are so strong."
"I was impressed learning about … the trials that they went through … That is sad, and that depressed me to see that happening to those people (spiritual persecution in China)."
"It's a must. It's something that you will enjoy for the beauty of it, for the technique of it, and for the knowledge you learn about the Chinese people and their history. I love that, the culture."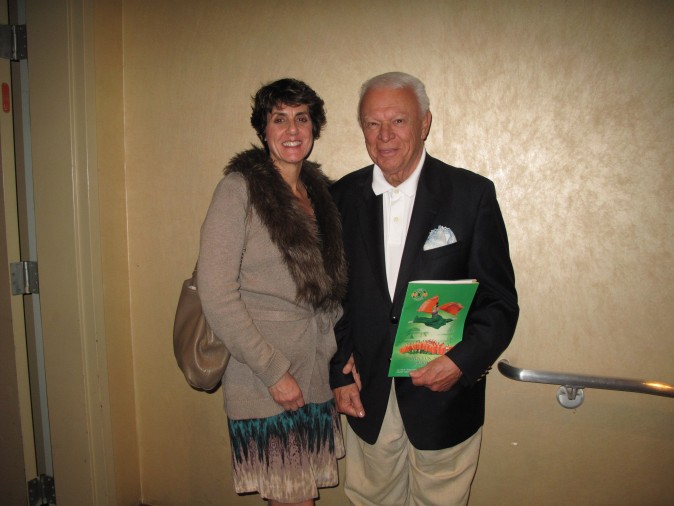 Jerry Sharell, radio host for KJAZZ, said he will talk about the performance for a long, long time.
"[The dancers] don't miss anything. I think those ladies and men, they probably have to go to school for years and years, and years to learn dance. It's all so synchronized; it's all so studied. It's just fantastic."
"I think it's amazing how you have the figures come out from the screen, and then all of sudden they appear live on the stage. It's amazing, I've never seen that before. Just amazing."
"It's new to me; I love it. It's so different than the American music I'm so used to all my life. This is amazing, I can't believe the musicians, and the different instruments that I'm hearing for the first time. … And it's just unforgettable."
"It is fabulous. It is just fabulous. Everybody, it must be the finest players in town to do that because it is really synchronized beyond belief. The music is almost choreographed as well."
"I'm deeply interested [in traditional Chinese culture], and I think that the way [Shen Yun] presents this thing is just amazing."
"I can use the words everybody else use — beautiful, unbelievable, just incredibly unforgettable. … I will leave here and talk about this for a long, long time."

Heidi Harmon, the mayor of San Luis Obispo, enjoyed the spirituality of the performance.
"It's amazing. I've really never seen anything like it. I was so impressed with both the high level of dance and also the political, spiritual message that [they] are bringing. As a political person myself, I really appreciate this really unique way of expressing a political message."
"[The singer] obviously has a beautiful voice. It was really nice to be able to see the lyrics on screen and to really feel the importance of [the] message. I think I could hear the people really feeling that too, as they were reading that. Wow, we all come from a divine place, and regardless of your religious belief or spiritual beliefs, I believe that too, that we all have that essentially good and meaningful quality to us. No political group or ruling body should get in they way of us expressing that."
"[The dancers] are amazing. I loved them all. I really loved the drums in the last piece. That was unbelievable. The whole thing was really great, the commitment to the quality of it too. You can just feel the level of effort and practice and time that's put into it. I think we all just naturally really appreciate anything that [people] put a lot of effort and time into what they're doing."
"We just so appreciate [Shen Yun] coming here and exposing our local community to what [they're] doing and sharing that with us … [We] really appreciate the way that [Shen Yun is] trying to make change with a very positive, creative, artistic way of sharing [a] message."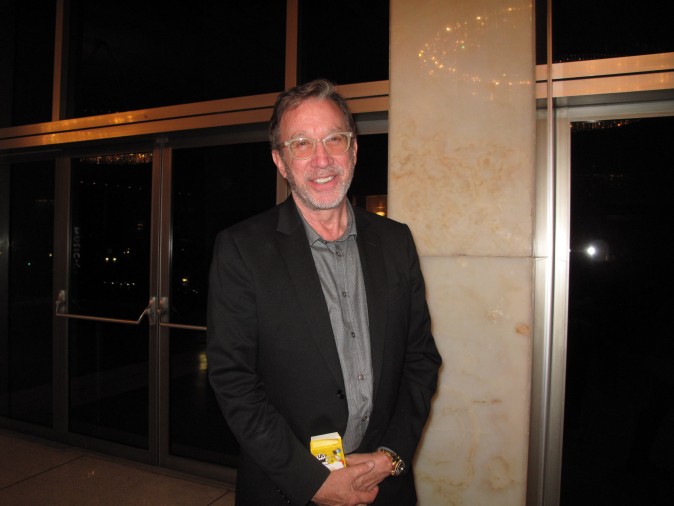 Golden Globe award-winning actor, comedian, and author Tim Allen, known for his leading role as Tim "The Toolman" Taylor in ABC's "Home Improvement" (1991-1999), said Shen Yun brought a smile to his face.
"[It's] just unusual that you can't see this in China. It was interesting; we love it."
"I like the costumes. Costumes are great. Plus I get the sense of humor, it seems culture non-specific. Comedy is comedy, and I love the comedy music. I can tell right away when something is funny even though I don't speak Chinese. It's quite wonderful."
"I love it [the spiritual aspect of the performance] … It brought a big smile to my face."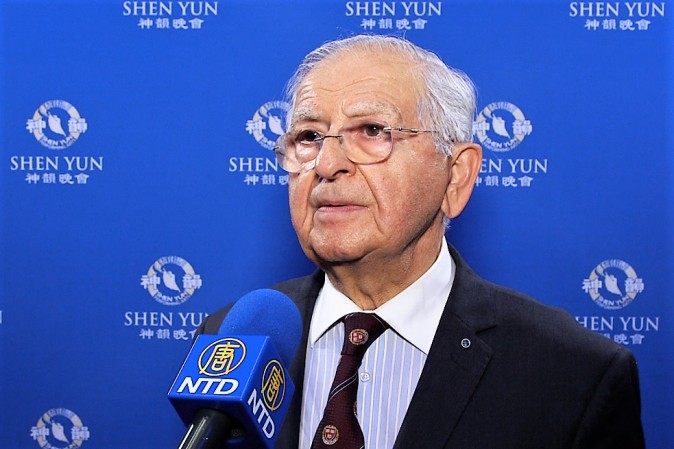 Dr. Simon Simonian, renowned in the field of medical science, remarked that Shen Yun is an example of the future humankind could have.
"The performance was one of the most beautiful performances that one can see today in its grace, beauty, color, and spirituality, as well as reality, and trying to express what is good, and avoid what is not so good, and expressing Chinese ancient tradition, which is one of the oldest in the world."
"I think Shen Yun also is showing this similar spirituality, similar loving, similar beauty, similar grace, that we could have a world that is depicting as an example if we can learn by practice to have beauty, to have harmony, to have peace, to have justice, and it is showing in a beautiful dance, in a beautiful grace for people to copy, to emulate in their lives. They are very high standard to copy, but I think it's a real example about a future we could have. All together from the example from Shen Yun."
"I think this (Shen Yun) would bring to society aspects of goodness, justice, peace, harmony, and ethics, morality, truthfulness, honesty, and trust, and working together in a beautiful graceful harmonious way, and avoiding fighting, avoiding wars, avoiding violence, and showing that their opposite beauty, peace, love, other way to go."
(What does Shen Yun bring to society?) "I think it would be beauty. Grace, divinity, spirituality are powerful, and they triumph in the end against the opposites. And they are more lasting. And this is the kind of past, present, and future that we could look forward to."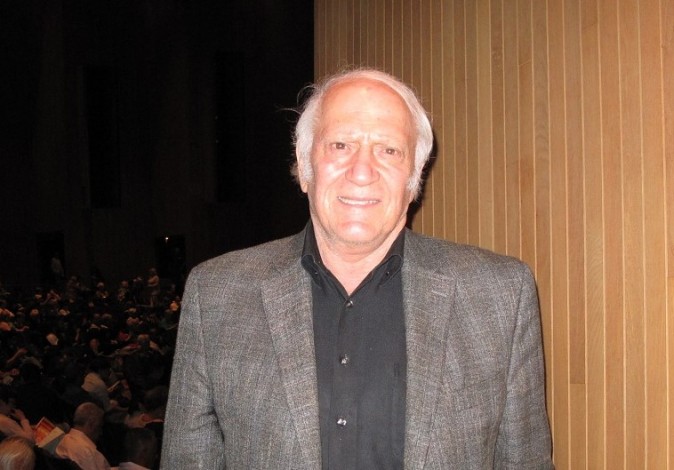 Tony Capozzola, a lawyer who works with Los Angeles' top sports stars, said that Shen Yun dancers are the greatest athletes he has ever seen.
"It's excellent. I work with a lot of professional sports, and I represent some athletes. These people on this stage are the greatest athletes that I've ever seen … and the coordination is the best I've ever seen."
"The music to be perfect with the orchestra is the best coordination that I've ever seen in all the years I've ever come to see anything, and I've gone to a lot of Broadway musicals."
"The coordination and the beauty, and the performers – they move exactly the same, they look exactly the same, the same height, the same weight, the same movements. It's unbelievable. Whoever puts these [dances] together must [require] hours and days of practice."
"I think the [performers have] got to be dedicated their whole life to this. … It takes 100% dedication, and it looks like they love what they're doing. Their discipline is like I've never seen before. Their discipline is unbelievable."
"The artistic beauty, the beauty of the costumes, and it goes along with it, not only athleticism but the beauty and the movement, the story they tell about the Chinese culture, and how it goes back 5,000 years, the story about the book that the man was writing, and how the other bad people come and steal the book. The story it tells is very good."
"I think if [people] pay attention to the chronology of the Chinese culture, they'll learn a lot about China besides the beauty of the performance."
"The spiritual aspect is really beautiful, how it goes back and talks about the different aspects of Chinese spiritual life."
"[Shen Yun] said that this show is not [allowed to be] shown in China, it's really sad. I think that it's gorgeous, and it talks about China, and I don't know why the Chinese government would not allow this. That's really terrible. I think it speaks well of China, it speaks well of their culture. I don't' know why they wouldn't want to show this at all."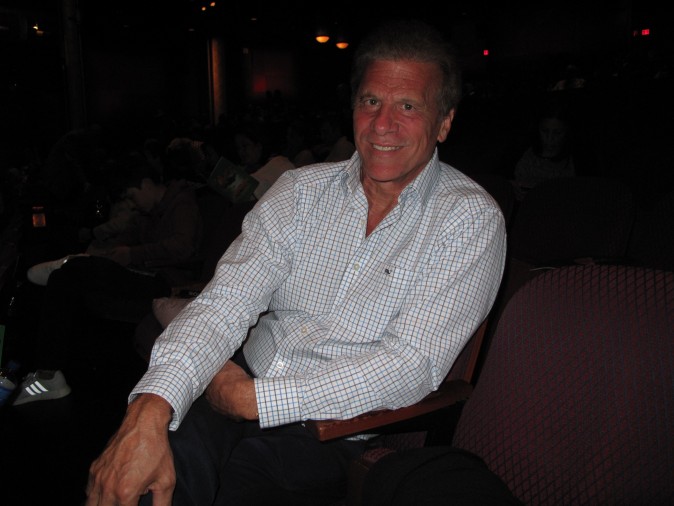 Al Checchi, a successful businessman, said that Shen Yun is uplifting, and that you have to see it to believe it.
"I thought it was amazing. It's so colorful. The dancers are incredibly talented."
"The costuming is used as a prop. I've never seen that before. The precision is amazing, the energy … It's very acrobatic, and it's marvelous."
"[The orchestra is] unique and very pleasurable. I've never heard music like that before."
"I think it was very wise to have the two narrators tell you what you're about to see; that was very helpful."
"[I felt] happy. I had a big smile on my face as I watched this. It's very organic. You really have a sense of a kind of connection with life. The storytelling and history make you want to go to China."
"I think it's a shame that they can't perform in China … Many of these dancing techniques come from thousands of years ago, and it would seem to me that it's something you want to preserve. I don't understand the political objective or what's gained by suppressing dance."
"I was emailing my friends trying to tell them they should see this before it leaves."
"You have to see it to believe it. It's very uplifting, and it's unique. It's unlike any dance that I've seen before."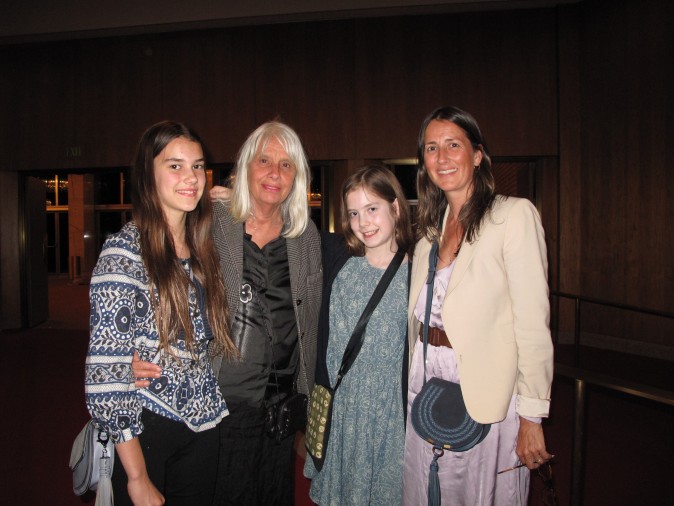 Anna Getty, great granddaughter and heir of the late J. Paul Getty, enjoyed the depth of Shen Yun.
"Absolutely magical. The costumes are beautiful, and the music is wonderful. The way that all the dancers move together and apart is enchanting."
"I've seen a fair amount of ballet over my lifetime. The way [Shen Yun dancers] move together is different. It seems to be less about the individual and more about the group moving together [in] harmony."
"It's a reminder of something bigger than what we are. I'm connected to Eastern religion. … I love how [the spiritual aspect] was all brought into it in a deep way, but a light way too—joyful, light, but also thoughtful."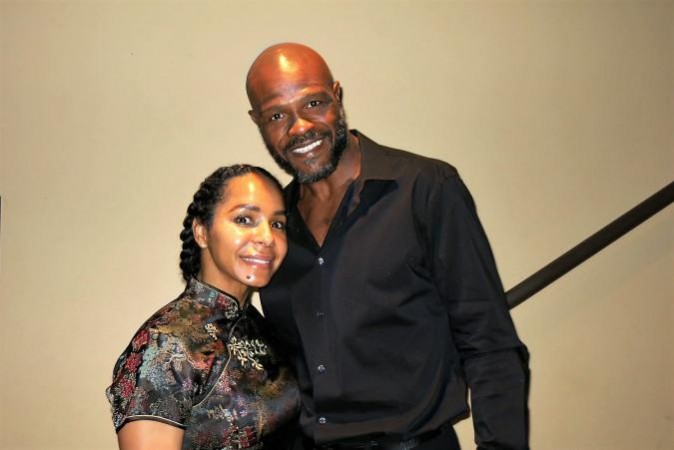 Terry Norris, a three-time world champion in boxing, and his wife, fitness trainer Tanya Norris, both felt invigorated while watching Shen Yun.
Tanya Norris:
"We really liked the show. It's amazing, amazing."
"He (Tanya's husband) feels like he's in the show, invigorating … he said he does get motivated."
"I thought it was very stimulating, invigorating. I really enjoyed it."
Terry Norris:
"I liked it."
"I feel good [watching the show and hearing the music] … It is a great feeling."
"The dancing is great."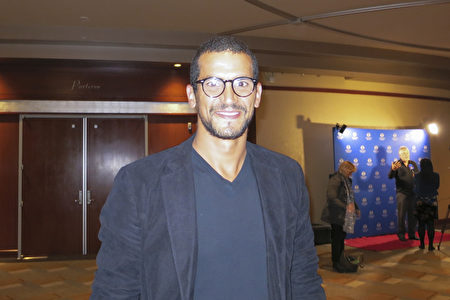 Olympic gold medalist Oussama Mellouli enjoyed the depth and insight into Chinese culture reflected in Shen Yun.
"I think it's very insightful to the Chinese culture, when it comes to psychological, philosophical beliefs, history, tradition, life, politics … The movement from body to soul to spirit, everything."
"One thing I didn't know is that all the flips, the back turns came from the Chinese culture. It's not from the sport of gymnastics. That shows how the Chinese culture is so ancient, so artistic, and so in tune with their bodies."
"In every [dance piece] the women and the men were dressed differently, and it matched every theme."
"I really like the [solo] singers. The message was strong, very deep, very empowering, and the voice was just as deep as empowering."
"There are a lot of different instruments and different sounds that we are not used to here [in the orchestra]. So it made us travel a little bit in China to the history of China through sound."
Reporting by Albert Roman, Thanh Le, Sarah Le, Marie-Paul Baxiu, Epoch Times Chinese Language Edition, and NTD Television
New York-based Shen Yun Performing Arts has five touring companies that perform simultaneously around the world. For more information, visit Shen Yun Performing Arts.
Epoch Times considers Shen Yun Performing Arts the significant cultural event of our time. We have proudly covered audience reactions since Shen Yun's inception in 2006.