Shen Yun Dancers' 'Feet Move so Beautifully', Says Former Ice Skater
April 6, 2014 12:18 am Last Updated: April 6, 2014 3:30 am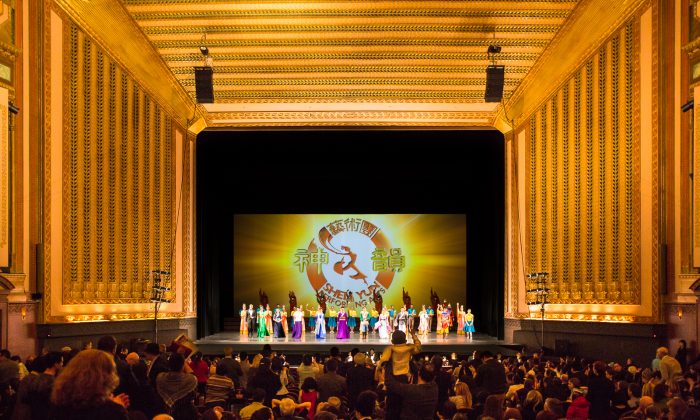 CHICAGO—Retired ice skating couple Lou and Shirley Sherman loved Shen Yun Performing Arts' journey through dance, music, and song of 5,000 years of divinely-inspired civilization at Chicago's Civic Opera House on April 5.
"This is the first time I've ever seen this show, sensational!" said Mr. Sherman, "I would give them an A+. They can't be any better!"
He was very impressed with the male dancers. "All the guys, they are smiling … a big smile on their face. I love that."
The Sherman's have been married for 50 years and are former professional ice skaters.
Mrs. Sherman grew up in an ice skating rink as her father owned one in St. Louis, says Meghan Streit of the Tribune.
"I skated as a child, and when we got married, he learned to skate," said Mrs. Sherman. "So, we appreciate the movement."
Mr. Sherman added, "We were good. I trained her!"
They ice danced together, skated at exhibitions, and later Mrs. Sherman became a national judge for competitions.
"A Shen Yun performance features the world's foremost classically trained dancers, a unique orchestra blending East and West, and dazzling animated backdrops—together creating one spectacular performance," as described by the company's website.
Mrs. Sherman was also impressed the high technology animated backdrops for each of the performances that transcends the dancers from heaven to earth and back. "The screen in the back, and people arrive and they jump up, it's marvelous," she said.
"The scenic effects are beautiful too," she added.
Mr. Sherman explained, "[It's a] visual thing and it makes it sensational. I've never seen that before."
According to the Shen Yun website, "Chinese dance is at the heart of what Shen Yun does. Known for its incredible flips and spins, and its gentle elegance, it is one of the most rigorous and expressive art forms in the world."
Mrs. Sherman was in awe of the female dancers. "It amazes me that when they walk, they look like they are skating. Because the feet move so beautifully … they glide."
Shen Yun's mission is to revitalize the traditional Chinese culture with its beloved myths, legends, and rich history which peaked Mrs. Sherman's curiosity. "I want to get home and read it." Her husband agreed.
"I would recommend it to anybody I know," said Mr. Sherman. He plans to tell others about the performance. "We will. I will tell them what I know— best show I have seen in in a long, long time. I really mean that."
"Beautiful!" is the word best to describe Shen Yun said his wife.
Reporting by Michelle Chen and Cat Rooney
New York-based Shen Yun Performing Arts has four touring companies that perform simultaneously around the world. For more information, visit Shen Yun Performing Arts.
The Epoch Times considers Shen Yun Performing Arts the significant cultural event of our time. We have proudly covered audience reactions since Shen Yun's inception in 2006