Shen Yun, An 'Extravaganza'
April 3, 2014 1:59 am Last Updated: April 3, 2014 5:13 am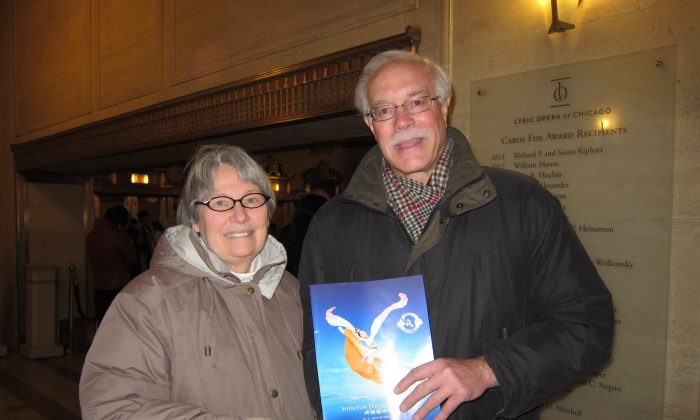 CHICAGO—In his semi-retirement, Ed Kramer is an all-around classical musician who plays the organ at church, directs a couple of choirs, and sings a bit. Thus, he was thoroughly taken with Shen Yun Performing Arts's Orchestra. "I thought it was excellent, it was a wonderful combination," he said.
The combination he is referring to is the mix of Western symphonic instruments with Chinese traditional instruments, which carry the melody.
"Through the universal language of music and dance, Shen Yun weaves a wondrous tapestry of heavenly realms, ancient legends, and modern heroic tales, taking you on a journey through 5,000 years of Chinese culture," according to Shen Yun's website.
"I liked the eastern instruments; they were quite interesting," he said.
Karen Kramer, Ed's wife and a retired teacher of special education, is more the artist in the family and she loved the visual elements.
"It was beautiful, all of the costumes and the colors," she said. "It was gorgeous."
"And how all of the colors fit together," Mr. Kramer said. "Especially … when you got a bunch of dancers, and you get the same kinds of colors on the screen, with the graphics, so I thought it was excellent," he said of the way the costumes complemented the projected backdrops.
The projected images are digitally animated as well, which really intrigued Mr. Kramer: "The combination of the dancing, and then the wonderful combination of the music with the screen, with the graphics, you hardly know how to describe that—but they are dancing around, and all of the sudden they were flying on the screen. So I thought that the whole combination was a real extravaganza."
"I was amazed by their athletic ability, so graceful and beautiful," Mrs. Kramer said, directing her comments to the heart of Shen Yun, its classical Chinese dance. "It's wonderful!" she said.
As for the spiritual quality of the performance, Mr. Kramer thought it was visible in the performers' heartfelt actions, and he felt the company was successful in their mission to restore the semi-divine nature of the culture.
"Bringing back the Chinese dance and everything—it's wonderful." And this feeling of wonder was enhanced because it was all so new to him, "I mean, it's even more like an extravaganza, and very well done, I enjoyed it a lot," he said.
Reporting by Valerie Avore and Sharon Kilarski
New York-based Shen Yun Performing Arts has four touring companies that perform simultaneously around the world. For more information, visit Shen Yun Performing Arts.
The Epoch Times considers Shen Yun Performing Arts the significant cultural event of our time. We have proudly covered audience reactions since Shen Yun's inception in 2006