SAN ANTONIO, Texas—Sergio Dickerson always had an interest in Chinese culture. His grandfather was Chinese and his passion for learning about China's history and culture was what brought him to experience Shen Yun Performing Arts. An experience which, he said, took him back to his "culture and [his] roots."
Dickerson and his wife, Ingrida Dickerson, attended the performance at Tobin Center for the Performing Arts in San Antonio, Texas on Dec. 30. The New York-based Shen Yun recently started its 2019 tour, where six equally-sized companies are traveling across four continents to perform in over 100 cities.
Shen Yun showcases 5,000 years of China's divinely-inspired culture through dance and music, while taking audience members on a journey to different regions, dynasties, and significant events in history. This aspect of the performance captivated Dickerson, who said everything he was learning through the performance was really rich.
"I learned that it's very steeped in traditions and culture. That there are different parts of China, and those different parts of China are exemplified in the dance and in the uniforms and the colors that they wear," Dickerson said. "And that for me was very interesting."
When not studying history, Dickerson works as a vice president for client services at American GI Forum National Veterans Outreach Program. This non-profit provides services to veterans and their families to help them transition back to civilian life. Before this role, Dickerson was the chief executive area manager (Garrison Commander) at the U.S. Army Garrison Benelux in Belgium.
Ingrida was also intrigued by culture, saying that the way Shen Yun presented the performance really helps audience members to get a glimpse of China's extensive history.
A Shen Yun performance usually consists of about 20 individual pieces depicting different aspects of, or stories from Chinese history largely through classical Chinese dance. The performance also includes ethnic and folk dances, which are popular dance styles passed down from many minority groups in China like the Yang Ge, ribbon, and handkerchief dances. The dancing is accompanied by a unique live symphony orchestra that blends eastern and western instruments together, as well as an animated backdrop that transports the viewer to another world.
China's Semi-Divine Culture
The dance pieces also draw from China's semi-divine culture. It was once believed that deities and mortals coexisted and that the divine transmitted a rich culture to the people of the Earth, according to Shen Yun. Ingrida, who works as a realtor, said it was important that people continue to have faith in the heavens.
"I think that when people believe [in the divine], they are much better. And it helps them to stay more calm and more happy," Ingrida said.
Dickerson shared his wife's view, saying that the ultimate goal in life is to get closer to God and to the divine.
"In the end will get you closer to God and the divine, and that's where you want to be," Dickerson said.
"So if you believe that, I think you'll be a much happier person and more in touch for your Creator, the Earth that you live in, and the people that surround you."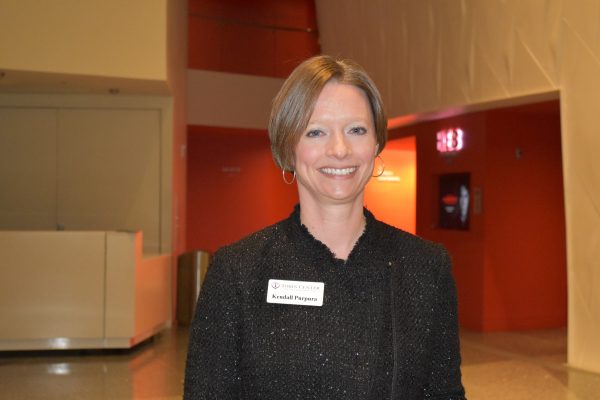 Similarly, the vice president and chief development officer of the Tobin Center for the Performing Arts, Kendell Purpura, also thinks the divine aspects of the performance help audience members to understand "Chinese culture and all elements within" a little better.
Purpura said she is always thrilled to have Shen Yun return to their venue year after year and she enjoys bringing her children to watch the performance each year.
"It's an annual event for us … [it] brings new audiences as well," she said.
With reporting by Amy Hu and Janita Kan.
The Epoch Times considers Shen Yun Performing Arts the significant cultural event of our time and has covered audience reactions since the company's inception in 2006.