Managing Director of Alliance Bernstein: Shen Yun 'Culturally Enlightening'
April 3, 2014 12:06 am Last Updated: April 3, 2014 11:37 pm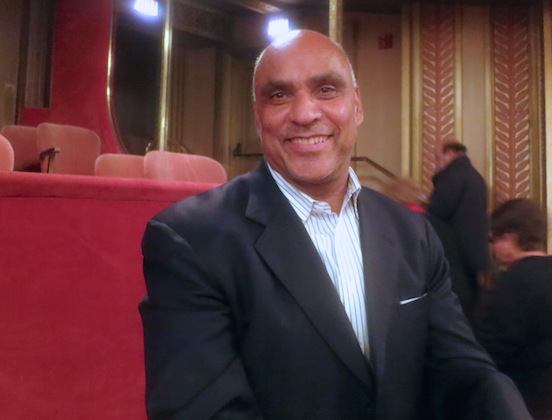 CHICAGO—"I would say it is culturally enlightening," Leon Richardson said, so people seeing Shen Yun Performing Arts "would get a good glimpse into Chinese history and culture performed through art and dance."
The managing director of AllianceBernstein summed up Shen Yun well. AllianceBernstein, a $44 billion dollar company, is headquartered in New York but has offices all around the world.
Mr. Richardson was seeing it on April 2; he also saw the performance last year. This year Shen Yun is onstage at Chicago's Civic Opera House and runs through April 5.
After attending New York-based Shen Yun this time, Mr. Richardson had a deeper understanding of China. "I have a better appreciation for how it is being suppressed, the beliefs and things like that, in modern day China," he said.
Shen Yun's mission is to revive the 5,000 years of Chinese civilization, a civilization that was nearly lost due to years of communist rule.
"I think [China] suppresses a lot of information there, so we don't get a real good understanding of what is going on politically there," he said.
He also enjoyed the spiritual underpinnings of the performance: "I think that is wonderful. I think in this country often times we are not spiritual enough. I think we get wrapped up into making money and business, and other things and …. I think we could use more of that."
So what enticed Mr. Richardson to come back? "I like the music, I like the set designs, and I love the stories, and the dancing is beautiful," he said.
"I enjoy exploring other cultures so it's educational for me, I appreciate it," he explained.
Reporting by Stacey Tang and Sharon Kilarski
New York-based Shen Yun Performing Arts has four touring companies that perform simultaneously around the world. For more information, visit Shen Yun Performing Arts.
The Epoch Times considers Shen Yun Performing Arts the significant cultural event of our time. We have proudly covered audience reactions since Shen Yun's inception in 2006