'Humanitarian of the Year' and Renowned Photographer Enjoy Shen Yun
April 1, 2013 3:16 am Last Updated: December 23, 2013 10:44 pm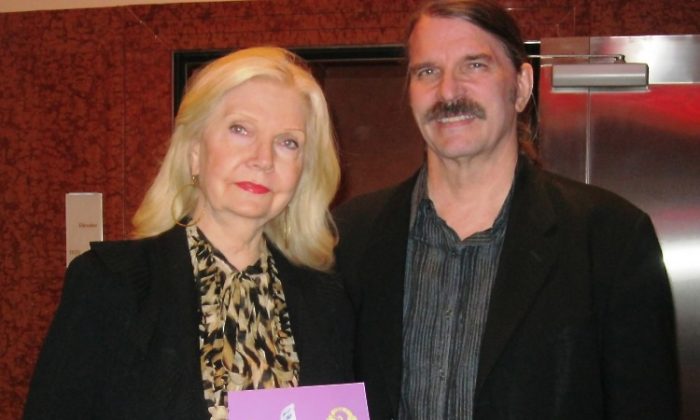 LAS VEGAS—"I thought it was beautiful. Exquisite. The costumes were exquisite and the dancing was just brilliant," said Cindy Doumani, former Las Vegas dancer, after seeing Shen Yun Performing Arts March. 15 at Reynolds Hall in the Smith Center for the Performing Arts with her friend, Randy Soard, a professional photographer.
Ms. Doumani is a notable figure in the Las Vegas community for her humanitarian work related to protecting children and animals. She has received the "Humanitarian of the Year" award from the Las Vegas Chapter of the Society for the Prevention of Cruelty to Animals (SPCA), among other awards, and she is the only showgirl to have a star on the Las Vegas Walk of Stars; hers is located in front of the MGM Grand.
Mr. Soard is a member of the board of directors of Nevada Arts Advocates, a non-profit organization that works to promote arts education and participation and to increase funding for arts programs in schools.
One of Mr. Soard's notable achievements is his creation of "Faces of the Brave," artwork that memorializes the fallen heroes—firefighters, police officers, and other uniformed emergency workers as well as civilians, about 500 total—who lost their lives in the line of duty during the 9/11 tragedy. His artwork was shown in Times Square on the tenth anniversary of 9/11, and it can be seen in fire departments and emergency medical service facilities in over 50 countries, according to Mr. Soard's website.
Both Mr. Soard and Ms. Doumani were highly impressed by the performance.
"The choreography, everything, I would give it an 'A+,'" Ms. Doumani said, adding, "I thought they were like ice skaters without ice, spinning around."
She also noticed the dancers' precise hand movements and said that during the performance she kept commenting about it to her friend. "I thought it was absolute magic," she said.
Shen Yun is a New York-based classical Chinese music and dance company that tours the world each year. With three separate companies touring simultaneously, Shen Yun is currently performing in North America, Europe, and Asia.
In a collection of pieces, each no longer than 10 minutes, dancers wearing richly colored handmade costumes, accompanied by a orchestra, recount China's vast history through its ancient legends to its modern stories of courage.
"Every dance embodies traditional Chinese values," according to the company website.
Chinese culture is deeply steeped in spirituality, and it is Shen Yun's mission to revive this heritage.
"For 5,000 years divine culture flourished in the land of China. Humanity's treasure was nearly lost, but through breathtaking music and dance, Shen Yun is bringing back this glorious culture," its website reads. "Principles such as benevolence and justice, propriety and wisdom, respect for the heavens, and divine retribution, all come to life, washing over the audience."
Ms. Doumani said that "everything" in the performance touched her heart.
"I thought it was very mystical. I thought there was a real message about another power," she said. She said she could see many messages, including the spirituality.
"I also could see the human rights that they don't have in China today, that these people are struggling for. I could get that message," she added, referring to two pieces in the performance that display the persecution in China of people who practice a spiritual discipline called Falun Dafa.
"I thought it was so beautiful. I think a lot of Americans can learn a lot from them. The gentility and beauty was so magnificent. And in their wardrobe and colors. It was just beautiful," she said.
Ms. Doumani would recommend Shen Yun.
"I would love for my grandchildren to see this show. I think that everyone should see this," she said, adding that on the way home from the performance she would call an old friend an encourage her to go. "I'm going to tell her to definitely get a ticket and see the show while it's here," she said.
Mr. Soard also had praise for the performance, saying, "I thought it was very beautiful. The costuming was fabulous." He said he loves Chinese culture. "We travel quite a bit and have been all over the world, so we appreciate good things."
Mr. Soard, a proud patron of Smith Center for the Performing Arts who has seen a myriad of performances around the world—he and Ms. Doumani saw 14 Broadway performances last year—was happy to see Shen Yun at Reynolds Hall.
"With the Smith Center here this has really been a turning point for Las Vegas. Forever we have had the most talented people in the world to cultivate—Las Vegas attracts the best talent in the world. Now we have a place to showcase people, not necessarily limited to the showrooms on the strip. They can have this beautiful place.
"I thought the show tonight was very fitting," he said. "The Smith Center was a great venue for this particular show."
New York-based Shen Yun Performing Arts has three touring companies that perform simultaneously around the world. For more information, visit ShenYunPerformingArts.org.
The Epoch Times considers Shen Yun Performing Arts the significant cultural event of our time. We have proudly covered audience reactions since Shen Yun's inception in 2006.