Easter Gift of Shen Yun Tickets Highly Valued
April 5, 2014 10:31 pm Last Updated: April 6, 2014 11:05 pm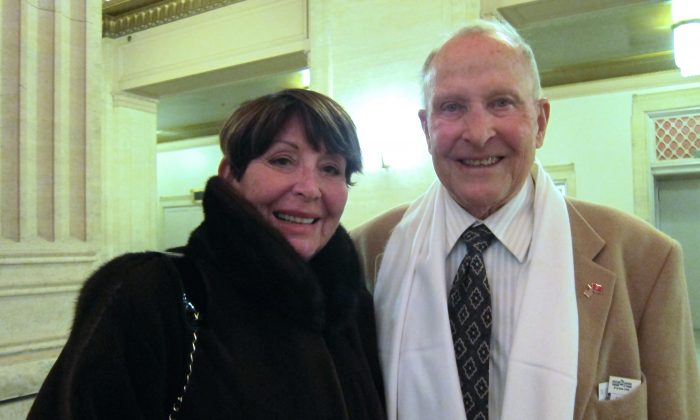 CHICAGO—Colonel Allen Andreasen, a Marine Corps Recruiter, and his wife, Ursula, received a beautiful gift of show tickets from their son for Easter; they came to see Shen Yun's performance, on Friday April 4, in Chicago.
Mr. Andreasen said, "We've looked forward to seeing it for a long time, and I am really very pleased with what has happened, both my wife and I have enjoyed it very much."
"I particularly liked the Mongolian dancers and the drums. And what is spectacular about this performance is the way they brought the things from the screen onto the stage and away from the stage. It's a wonderful performance!" he said.
"These digital backdrop designs complement and synchronize all aspects of the performance: the characters, color of the costumes, specific dance movements, props, lighting, the story being told, particular notes played by the orchestra, and special audio effects," according to the Shen Yun website.
Mrs. Andreasen joins the conversation and agrees with her husband about the performance."It's spectacular, and what I really enjoyed the most is the explanation, the meaning of every dance. Knowing the background of the story that made it most wonderful."
A Shen Yun performance has two bi-lingual emcee hosts. They introduce each vignette with clear explanations for the audience to follow. They tell stories of courage, faith, miracles and good versus evil.
The Shen Yun orchestra combines traditional East and West instruments for a unique sound. Mrs. Andreasen found the ehru an interesting instrument. She said, "It is like a violin, but it wasn't a violin." Her husband provided the answer," The erhu, beautiful!"
"The erhu is one of the most important Chinese instruments, with a history of over 4,000 years. It is capable of imitating sounds from chirping birds to neighing horses and its melodies can be tender or sonorous," states the Shen Yun website.
In his final comments, Mr Andreasen said that he hopes one day this wonderful show will be seen inside China.
Reporting by Valerie Avore and Judy Shakespear
New York-based Shen Yun Performing Arts has four touring companies that perform simultaneously around the world. For more information, visit Shen Yun Performing Arts.
The Epoch Times considers Shen Yun Performing Arts the significant cultural event of our time. We have proudly covered audience reactions since Shen Yun's inception in 2006