Shen Yun 'A Great Success,' Says Belgian Diplomat
April 4, 2014 1:28 am Last Updated: April 4, 2014 2:45 am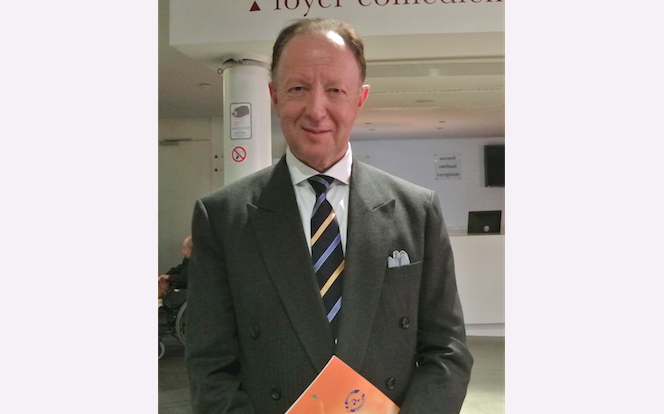 BRUSSELS, Belgium—Shen Yun Performing Arts took to the stage triumphantly, on Wednesday April 2, to start its 6-day, 7-show run at the National Theatre in Brussels.
Frank Van de Craen, a Belgian diplomat, attended Shen Yun's Thursday performance.
"I think it's a great success," Mr. Van de Craen, director of Latin America and Caribbean desk at Belgium's Federal Public Service (FPS) Foreign Affairs, said in an interview in French.
Like many others in Brussels, Mr. Van de Craen had heard and read about Shen Yun in local media leading up to the start of the shows as there had been a lot of press about the Chinese communist regime's attempts to interfere with Shen Yun's performance in Brussels.
Based in New York, Shen Yun was formed by a group of leading classical Chinese artists who aim to revive China's divinely-inspired culture, which has been almost destroyed after decades of communist rule in China, according to the Shen Yun website.
The Chinese regime was particularly sensitive to the performance in Brussels as the shows were held very close to the time that the head of the regime, Xi Jinping, was visiting Brussels.
According to local presenters of the show, the Chinese regime had put pressure on the theater to cancel the show, and also attempted to remove posters advertising the performance located close to Xi's hotel.
With support from the mayor of Brussels, however, the posters were kept in place and Shen Yun took the stage to the delight of audience members in Brussels.
Mr. Van de Craen said the performance presents the traditional Chinese culture and traditions very well.
As Shen Yun's website indicates, "Through the universal language of music and dance, Shen Yun weaves a wondrous tapestry of heavenly realms, ancient legends, and modern heroic tales, taking you on a journey through 5,000 years of Chinese culture. Its stunning beauty and tremendous energy leave audiences uplifted and inspired."
Shen Yun performances feature classical Chinese dance as well as Chinese folk dances, a unique orchestra that blends East and West, and breathtaking animated backdrops, among other features.
"I feel it's very good, very diverse," Mr. Van de Craen said about Shen Yun.
With reporting by Jianping Zhang
New York-based Shen Yun Performing Arts has four touring companies that perform simultaneously around the world. For more information, visit Shen Yun Performing Arts.
The Epoch Times considers Shen Yun Performing Arts the significant cultural event of our time. We have proudly covered audience reactions since Shen Yun's inception in 2006