Financial Executive Wowed by Shen Yun
April 4, 2014 1:27 am Last Updated: April 5, 2014 1:41 am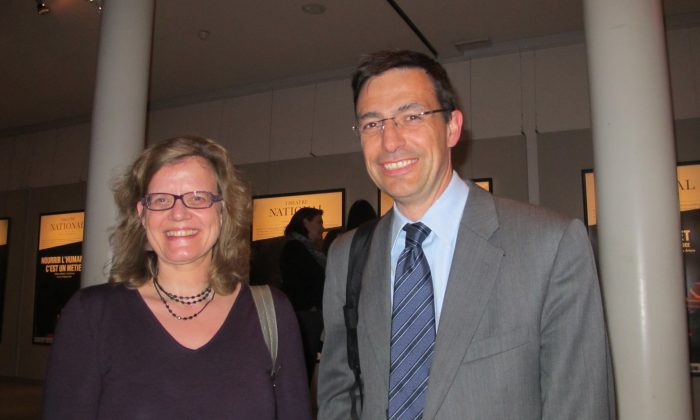 BRUSSELS—Jean-Christophe Mathonet, chief financial officer with a major entertainment company, praised the Shen Yun performance at the National Theatre in Brussels on April 3.
"I think it's great. It's very colorful, it's very well synchronized. And what is really great is that you get a little introduction with every single act," said Mr. Mathonet, who has held executive financial positions with a number of major corporations throughout his career.
He said that what really wowed him about the performance was the mix of the Western type of opera and Chinese music.
Shen Yun Performing Arts features classical Chinese dance and also presents Chinese ethnic dances. The company boasts a unique orchestra that blends the sounds and instruments of East and West, as well as award-winning vocalists who perform Chinese lyrics in the bel canto style.
Béatrice Martin, who also works in the financial industry, said she enjoyed Shen Yun as well. "I enjoy the show … because of the color, the talent of the artists, the choreography, … and the screen," she said, referring to Shen Yun's use of animated digital backdrops to set the scenes behind the dancers.
Shen Yun was formed in a 2006 by a group of leading classical Chinese artists with a mission to revive China's traditional culture. This aspect of Shen Yun added to Ms. Martin's enjoyment of the performance.
"I'm very fond of traditions. This is one of the reasons why I like this show very much," she said.
With reporting by Mary Man
New York-based Shen Yun Performing Arts has four touring companies that perform simultaneously around the world. For more information, visit Shen Yun Performing Arts.
The Epoch Times considers Shen Yun Performing Arts the significant cultural event of our time. We have proudly covered audience reactions since Shen Yun's inception in 2006