Shen Yun and Its Special Magic Return to West Palm Beach
April 15, 2014 11:38 pm Last Updated: April 16, 2014 4:53 pm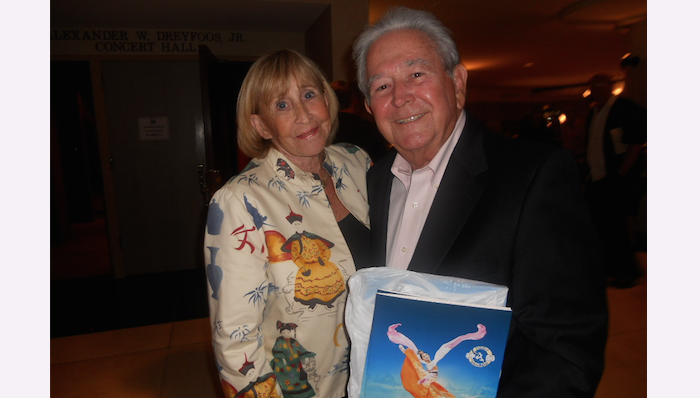 WEST PALM BEACH, Fla.—Shen Yun Performing Arts returned to West Palm Beach for the second consecutive year, bringing another magical performance to the Kravis Center for the Performing Arts on April 15, the first of three performances.
"I think it's very magical, mystical," said Sara Peck, the former owner of a ladies boutique. She said that the artists "make you think about the creative part of your life" and the life of the Chinese people as it was and their life as it is now.
She was impressed by the different periods of Chinese civilization that the performance portrayed. "I think that's stunning, absolutely stunning," she said.
Shen Yun, the premier classical Chinese dance and music company, features classically trained dancers, an orchestra that blends East and West, and unique animated backdrops. Drawing on ancient legends and modern heroic tales told through dance, Shen Yun revives China's 5,000 years of civilization.
Ms. Peck was accompanied by Al Morici, a retired attorney. He described the performance as "very inspirational, beautiful artistic execution." "Most impressive" he said of the art, the spirituality, the dance, and the music.
"We find this show to be spectacular, colorful, interesting, artistic, and fascinating," Ms. Peck said.
"I love the lotus scene," she said of the dance Lotus Fairies. "I love the way the dancers use their sleeves as scarves. They're magical … the way they articulate through their dance the history and civilization, which is far-reaching and very, very fascinating."
"Don't miss it! Don't miss it!" she said she would tell their friends. "It's magical, it's mystical, it's something unexpected. All of it—it's very unexpected."
"I feel that tonight all of the civilization has been embraced, embraced and brought to a beautiful forefront of understanding," she said.
Shen Yun has included Florida in its world tours since 2008. Earlier this season, Shen Yun performed in Fort Lauderdale, Orlando, St. Petersburg, and Fort Myers.
After West Palm Beach, Shen Yun will perform in Miami, April 11–20, Sarasota, April 22–23, Jacksonville, May 9–11.
Reporting by Edie Bassen and Louise Rothman
New York-based Shen Yun Performing Arts has four touring companies that perform simultaneously around the world. For more information, visit Shen Yun Performing Arts. 
The Epoch Times considers Shen Yun Performing Arts the significant cultural event of our time. We have proudly covered audience reactions since Shen Yun's inception in 2006.