KANSAS CITY, Mo.—Harpist Joy Peterson and her husband Ray came out to Shen Yun Performing Arts Global Company's evening performance on Jan. 26.
"I've really enjoyed it. It's really nice. Just all the colors and the dances and how they moved, it was really beautiful," said Joy Peterson after seeing at the Kauffman Center for the Performing Arts.
Shen Yun's mission is to revive traditional Chinese culture through the arts. The hallmark of a Shen Yun performance is classical Chinese dance, and each production features 20 or so vignettes that showcase various stories from China's history, folklore, literature and mythology from 5,000 years past to the present day. This is expressed through story-based dances, and accompaniment with a full orchestra.
The orchestra is unique in combining East-West sounds. "The Shen Yun Orchestra combines the spirit, beauty, and distinctiveness of Chinese music with the precision, power, and grandeur of the Western symphony orchestra. The result—two great traditions producing one refreshing sound," the company's website states.
Mrs. Peterson enjoyed the music.
"I like that it was traditional as well as kind of a little modern. I did like [the blend] a lot," she said.
"I think they did it quite well. It was easy on the ear. I love the way they integrated the Chinese in with the Western—it was very nice."
Classical Chinese Dance
Among the theatergoers of the evening's audience was also former ballroom dancer, Kristina Bondryeva. She attended the performance with Akshay Anand.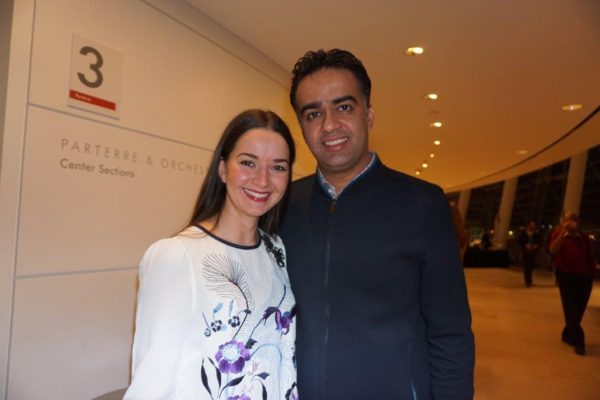 "I think it's beautiful. The dancing and the moves and especially the way they move their arms and it's just amazing. I can see how hard they work and it's just amazing," the former dancer said.
According Shen Yun's website, "Classical Chinese dance is at the heart of what Shen Yun does. Known for its incredible flips and spins, and its gentle elegance, it is one of the most rigorous and expressive art forms in the world."
Thinking about how unique Shen Yun's dancing is, Ms. Bondryeva said, "It's different because you use the material—the way that you move, it's the color, the movement is different because you try to play with the textures rather than just using your body language."
"They've done such a great job," she said.
With reporting by Catherine Wen and Andrew Darin.
The Epoch Times considers Shen Yun Performing Arts the significant cultural event of our time and has covered audience reactions since the company's inception in 2006.