Wellington's Artists Say Shen Yun Is Beautiful
April 9, 2014 9:29 am Last Updated: April 9, 2014 10:36 pm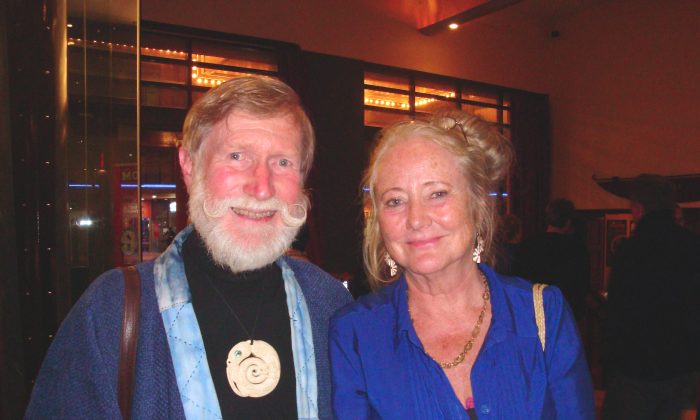 WELLINGTON, New Zealand—Owen Mapp and his wife Hanne Eriksen-Mapp "thoroughly enjoyed" Shen Yun Performing Arts first performance, at St James Theatre, on April 8.
Mr. Mapp said, "They were marvellous."
Mr. Mapp and Ms. Eriksen-Mapp are artists and own their own gallery where Mr. Mapp does carvings and Ms. Eriksen-Mapp makes jewellery.
"Through the universal language of music and dance, Shen Yun weaves a wondrous tapestry of heavenly realms, ancient legends, and modern heroic tales, taking you on a journey through 5,000 years of Chinese culture. Its stunning beauty and tremendous energy leave audiences uplifted and inspired," explains the Shen Yun website.
Ms. Eriksen-Mapp found the beauty of Shen Yun delightful and it filled her with joy.
"It is joyful! It is good entertainment!" she said.
"It made me smile it was humorous and very graceful … It was very enjoyable, and very beautiful, and very well performed, and very good graphics and very good choreography."
Classical Chinese dance is the heart of a Shen Yun performance.
"It is beautiful people, very fit and very good at their dance," she said.
The company's website states, "With state-of-the-art graphics technology, Shen Yun's digital-backdrop team creates vividly animated settings, extending the stage and transporting the audience to a world where heaven and earth are one".
Ms. Eriksen-Mapp appreciated this feature. She said, "I enjoyed the background, I thought that was very cleverly done."
Mr. Mapp said he really enjoyed the production's smoothness and learning about the Chinese culture, in fact he would recommend "the whole performance … It is a very organised."
As an artist Ms. Eriksen-Mapp felt she was well qualified to appreciate the beauty of Shen Yun.
"The art.! And the good performance," she said in appreciation.
"The more you see art, the more you can appreciate it and there you can unite, it doesn't matter where you come from. You can have an appreciation for something that's well done, and well made."
She would recommend the New York-based Shen Yun to her family and friends. She said "I'll tell them to go see it."
"Owen and Hanne work in separate studios, surrounded by the bush and an extensive ethnic collection. Combined they have 77 yrs. of art making experience. Both have taught overseas and are currently tutoring at Whitireia Polytechnic, Visual Arts Dept. and The Learning Connection," according to their website. They teach and exhibit in many countries. Their philosophy is to pass on skills learnt and share the beauty of objects that tell stories.
Reporting by Libei Guo and Leigh Smith
New York-based Shen Yun Performing Arts has four touring companies that perform simultaneously around the world. For more information, visit Shen Yun Performing Arts.
The Epoch Times considers Shen Yun Performing Arts the significant cultural event of our time. We have proudly covered audience reactions since Shen Yun's inception in 2006.