Chinese Visitor to Gold Coast Feels 'Power of the heart' in Shen Yun
April 27, 2014 9:42 am Last Updated: April 27, 2014 9:42 am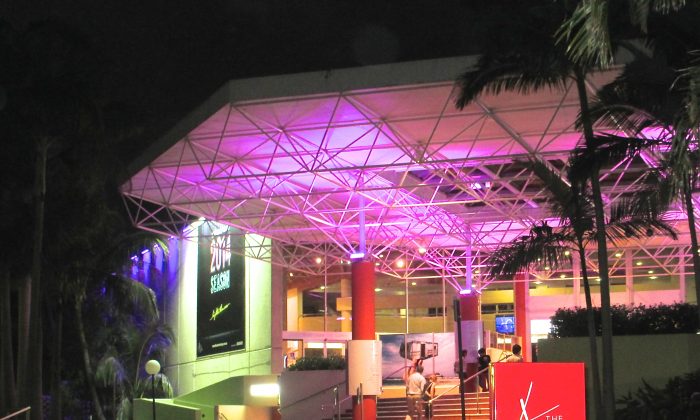 GOLD COAST, Australia–Among the enthusiastic audience watching Shen Yun Performing Arts at the Gold Coast Arts Centre on April 26 was Chinese tourist Ms. Zhang.
Ms. Zhang and her husband were visiting Australia, and had arrived on the Gold Coast just before the show.
Ms. Zhang really enjoyed watching Shen Yun.
"Oh I think it is so fantastic. It's just so peaceful," she said. "You can't see that in China mainland."
The Shen Yun artists are based in New York, and depict China's 5,000-year-old history through classical Chinese dance, ethnic and folk dancing, as well as bel canto singing. There are over 40 musicians in the Shen Yun orchestra, which features a unique combination of Chinese and Western classical instruments.
According to the Shen Yun website, "The company's mission is to use performing arts to revive the essence of Chinese culture—traditionally considered a divinely inspired civilization."
Ms. Zhang said Shen Yun was not like the shows she has seen in China.
"I think it's very, very different. In China, the artists show very good technique, but I think the heart is not so good."
The website explains, "For Shen Yun's artists, the spiritual connection is the motivation for striving to excel. It is the heart behind each movement of the dancer, and each note of the musician."
Ms. Zhang continued, "I think the performance–they show everything from the heart. They love the art, they love Chinese culture–they are beautiful."
"I think you can go very near to the heart; you can feel the power of the heart."
Reporting by Lee Chapman and Philippa Rayment
New York-based Shen Yun Performing Arts has four touring companies that perform simultaneously around the world. For more information, visit Shen Yun Performing Arts.
The Epoch Times considers Shen Yun Performing Arts the significant cultural event of our time. We have proudly covered audience reactions since Shen Yun's inception in 2006