Chicago's Take on Shen Yun: 'Breathtaking'
April 2, 2014 11:09 pm Last Updated: April 2, 2014 11:46 pm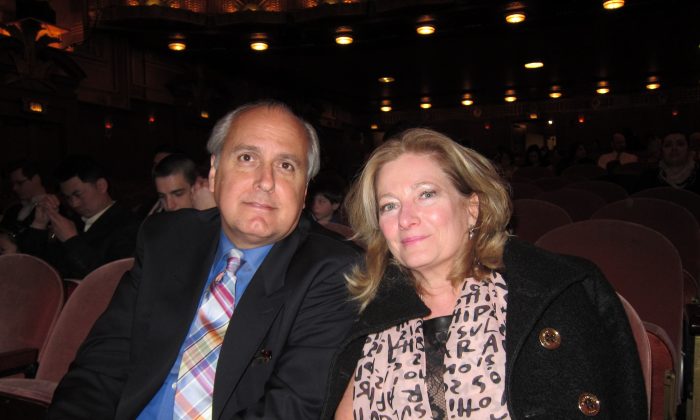 CHICAGO—"I waited a whole year to come here, and I was not disappointed," said Tom Logue about Shen Yun Performing Arts. Attending on April 2, the Logues had seen the first of Chicago's five performances at the Civic Opera House.
Shen Yun, based in New York, presents classical Chinese dance and music to the world as it tours over 20 countries and over 100 cities. Its mission is to revive the 5,000 years of Chinese civilization.
"I am fascinated. The dancing, the choreography is breathtaking," Mr. Logue, a financial planner who has his own company, said. Geralyn Logue, his wife used exactly the same adjective to describe the beauty of the performance.
At the heart of Shen Yun is classical Chinese dance, one of the most challenging and expressive dance systems in the world. Classical Chinese dances in combination with Chinese folk dances comprise the 20 or so short pieces that make up the evening.
"The swirling around and the scenery is beautiful," Mr. Logue said.
Behind the dancers are digitally animated projections that appear on a backdrop and depict scenes from China's history and regions of its country.
The Logues often attend the Civic Opera House to see the Lyric Opera. Their daughter is studying opera in college.
"The music is beguiling," Mr. Logue said of Shen Yun's Orchestra, which combines both Eastern and Western instruments seamlessly.
Mr. Logue was surprised to see spirituality presented by the stories the dances depict. Shen Yun presents China's long cherished values that stem from their ancient belief in the divine. These values had been eroded through years of communist rule.
Several of the dances depict the current persecution in China of people of faith.
"I am in favor of religious freedom," Mr. Logue said in response to these.
The couple, interviewed during intermission, were looking forward to the performance's second half: " I am sure the grand finale will not disappoint. I want to see more of the cultural interpretations."
Reporting by Valerie Avore and Sharon Kilarski

New York-based Shen Yun Performing Arts has four touring companies that perform simultaneously around the world. For more information, visit Shen Yun Performing Arts.
The Epoch Times considers Shen Yun Performing Arts the significant cultural event of our time. We have proudly covered audience reactions since Shen Yun's inception in 2006