TORUN, Poland–After attending Shen Yun Performing Arts' evening performance on Jan. 20 in CKK Jordanki Concert Hall, mayor of the City of Torun, Michal Zaleski, said Shen Yun dancers are world-class.
"We are happy to host this [Shen Yun] performance in our city in Torun, a city full of monuments, but at the same time full of love for artistic values, for ballet, theater, opera, [and] everything that can be found and seen in our city." Mr. Zaleski said.
Commenting on his city's response to New York-based Shen Yun Mr. Zaleski said, "Torun residents and also numerous guests who came here to see this performance in our city watched with admiration the thousand-year value of dance, the dance that was brought from China."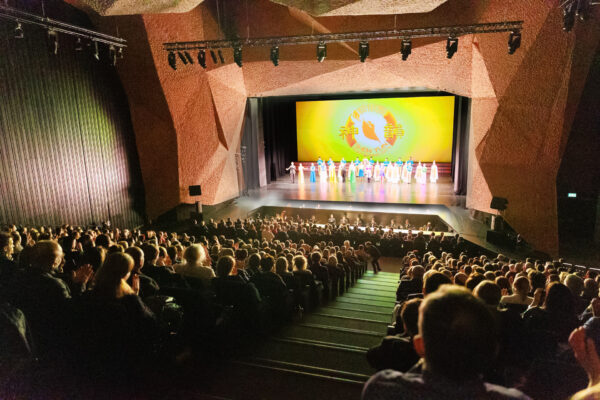 New York-based Shen Yun is the world's premier classical Chinese dance and music company. According to the website, through the universal language of music and dance, Shen Yun weaves a wondrous tapestry of heavenly realms, ancient legends, and modern heroic tales, taking the audience on a journey through 5,000 years of Chinese culture.
"Each dance was different, each performance was different and each was compelling, interesting, and it really would be too audacious to single out any of the great parts of this performance," he said.
He was impressed with the orchestra.
"Fantastic music—music that was played professionally, with exceptional precision, accurately. The coordination of the movements on the stage and the coordination of the beauty of the music made the stage appear to be floating in the air."
"The artists who presented the beauty of the arts of China, historical China, found their way to the hearts of the audience [and] to our hearts. … We were able to watch with joy the origins of the beautiful Chinese culture from thousands of years ago," he concluded.
Nun Praised Purity and Beauty of Shen Yun Performance
Catholic nun, Sister Barbara Rybus who was also in the audience this evening said that she could not wait to see the performance.
"Fantastic, wonderful. You can see in all dances the purity of souls of those performers who dance. Artists just want to give their best on stage to convey the beauty to others," she said.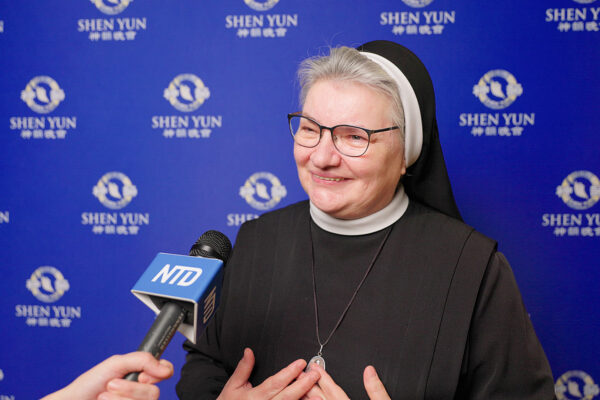 Shen Yun artists believe that cultivation of the heart is the way to create art that is truly sublime, according to the company website.
Although Sister Rybus knew a little bit about Eastern arts because she used to work for many years in Siberia, Russia near Mongolia–which borders China–and during that time she had met Chinese people but the Shen Yun performance surpassed her expectations.
"Wonderful music, wonderful colors, costume colors [were] beautifully chosen, beautiful dance," Sister Barbara Rybus said.
She especially liked the dance with long, flowing sleeves.
"I am fascinated by their performance and I will certainly look forward to seeing their new repertoire next year."
Each year the company presents a whole new program, with changes to choreography, stories, music, and costumes.
"If a man lives in harmony with God, with nature, with another man [then] he has inner peace. This inner peace emanates from our face, our eyes, [and manifests itself] in contact with other people. It seemed to me that even [Shen Yun] songs conveyed that we should keep going towards the good, the beauty of this Sun–as God is," the sister said.
Sister Rybus explained that what some people describe as Sun or a Higher force for her that is simply–God, Creator of Heaven and earth.
Shen Yun's mission is to revive 5,000 years of a divinely inspired culture that flourished in the land of China but was nearly lost.
"I did not even expect that what is ancient is so tightly connected to what is modern. Amazing, beautiful experience. I can only suggest to everyone who wants to see [this performance] that it's worth it," she said.
Sister Rybus was thrilled by how the artists performed what was unearthed from five thousand years of civilization and how it was transposed to the stage to show it to today's people.
"I think that this [artistic] expression is a Mission, it is simply conveying to the modern man that only in harmony with that Beauty that is in human nature, with the right—can we create something in the world—something good."
Ancient Chinese sought harmony between Heaven, Earth, and humankind, and followed the course of nature.
"If we will feed on this good, beauty, these aesthetics, the goodness that should emanate from us will grow in us, … and [then] we will continue to go towards this good, towards this perfection, so nothing could separate us from God and we would simply live in one great harmony with God and with people."
CEO and Business Owner Impressed by Shen Yun Music and Backdrop
CEO of an international information technology company Wiktoria Jaros-Susicka and business owner Karol Susicki were both glad to attend and were impressed by Shen Yun's music and backdrop.
Ms. Jaros-Susicka  mentioned, "We are glad that we were able to see a little bit of the world during this pandemic time."
"For me, it was an amazing experience, because it was the first time I saw such blending of contemporary instruments with the Chinese ones," Ms. Jaros-Susicka said.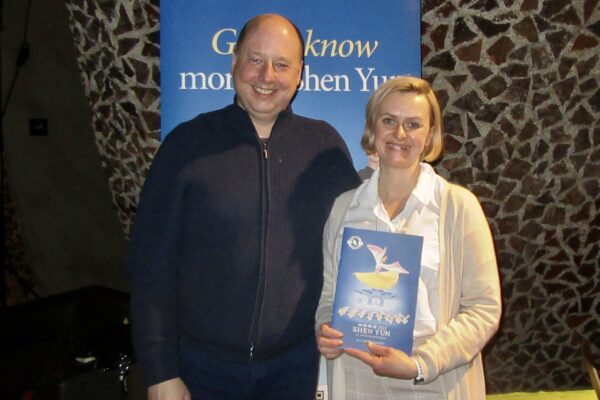 Shen Yun's orchestra uses the Western orchestra which serves as a foundation, accentuating the distinct sound of Chinese instruments.
Mr. Susicki liked the sound of the Chinese instrument called erhu sometimes called the "Chinese violin." Though it has only two strings, it can convey a wide range of emotions, according to the Shen Yun website.
"It was a beautiful instrument, I did not think that it was two strings," Mr. Susicki said.
"Our daughter plays the cello, my son plays the guitar—these instruments have more strings—and I did not think that you can bring out such beautiful and deep sounds from a two-stringed instrument."
Ms. Jaros-Susicka said that she "was very impressed with this dance, especially with all somersaults."
"I liked men's somersaults a lot—all of them in general," she noted.
She also liked "the difference between the male dance, which was so strong, and the female dance, which was so gentle."
Shen Yun's digital backdrop also caught the couple's attention. The company uses its digital designs to complement and synchronize all aspects of the performance, the website said.
Shen Yun's special background-stage performance interaction, now legally patented, allows performers to travel back and forth between the stage and the animated backdrop.
"The transitions [between the stage and the backdrop] were great and amazing when they jumped on and suddenly …," Ms. Jaros-Susicka said.
"They appeared on the screen [or] the other way around," Mr. Susicki added.
"Next year, we would like to come with our daughters, three little ones—ages: 10, 10, and 14," Mr. Susicki said.
"I would say that it is worth coming to see traditional Chinese culture, as it is rarely possible, that is, you cannot see it anymore," Ms. Jaros-Susicka said.
"It is especially so relevant in our times, … and I think this encounter with this tradition is very unique and valuable."
Reporting by Agnieszka Iwaszkiewicz, Haiying Wang, and Ella Kietlinska.
The Epoch Times is a proud sponsor of Shen Yun Performing Arts. We have covered audience reactions since Shen Yun's inception in 2006.