Chia-Chi Lin was only 2 when she first heard the violin, having grown up with many sisters who were taking music lessons. Looking back, it must have been surprising that a child her age would sit so quietly, with rapt attention, focused on the music through the entire lessons.
"There was nothing else I wanted to learn, just violin," Lin said. She found herself inexplicably attracted to the instrument, which was easy to learn once she was old enough to begin lessons, but Lin said she now knows it was a calling.
About 13 years ago, the classical Chinese dance company Shen Yun Performing Arts had begun to tour. Upon seeing what those artists had set out to accomplish, Lin said she realized she had a duty, a purpose.
"I realized that's what I had to do," she said.
Lin, from Taiwan, is an accomplished principal violinist of orchestras, and she felt her path in classical music was a gift.
"Shen Yun has combined from the East and the West the best, most glorious of classical traditions," Lin said. Moved by the company's study of classical tradition and adherence to beauty, she knew she had to be part of those efforts to preserve tradition.
Shen Yun Music: Bringing East to West
Shen Yun's orchestra is famously unique. From the first notes of the production, the audience can notice a distinctly Chinese sound. But peering down into the orchestra pit, one will find a largely Western classical symphony orchestra, with one or two exotic instruments here and there.
"When I first came to Shen Yun, even though I was born in Taiwan and am Asian, this really was my first encounter with Asian music," Lin said. She has served as both concertmaster and conductor during her time with Shen Yun.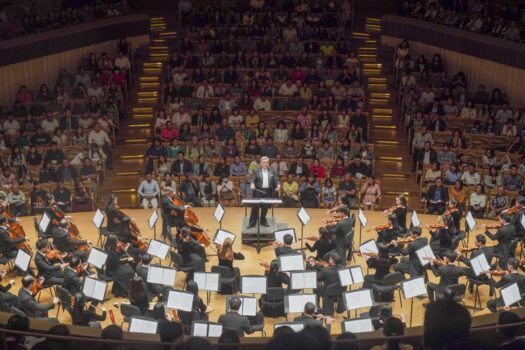 "Listening as an audience member, the Western classical arrangements will be very familiar, but we also use ancient Chinese instruments, such as the erhu and pipa, and some percussion. These instruments mainly play the melodies, to express the character of Chinese culture, that traditional Chinese cultural expression," Lin said.
The tonality between the two traditions is totally different, Lin explained. Western tonality is a well-established system, the backbone of classical music. Chinese music, with its pentatonic scale, sounds immediately foreign compared to it, but Shen Yun has managed to harmonize the two.
The effect?
"You still have that glorious, sweeping arrangement of classical music … but the character is different—unique," Lin said.
Shen Yun and 2 Traditions
Classical music came together as a system in the time of Bach and Beethoven, Lin said, a period of time when musicians and composers saw their talent as a gift from God and believed in a higher power and divine ideals. It is music that was born of such a world, establishing a tradition that artists have followed ever since.
"So here [in Shen Yun], even with the musical aspects we take from the Western tradition, we have kept things traditional, classical. We really are working within tradition," Lin said.
As for the Chinese melodies, ancient China too had a culture of reverence for the divine, you use art to express higher ideals.
"There is 5,000 years of Chinese civilization, and that was divinely inspired," Lin said. "That's what we're preserving: traditional culture. Whether it's dance or music, we're working within tradition."
When she first played this music, Lin felt immediately very moved—and that feeling has never faded away.
If you have never played Chinese music, yes, it can be difficult to sight-read, Lin said. But the technical difficulties are easy to overcome; the real challenge is understanding the culture deeply enough to express it beautifully.
"Even though on the surface, the music seems to be played effortlessly, to make it very beautiful, very moving in a performance, you're moved yourself at the sheer beauty of it. You're emotionally moved," Lin said. "In the course of these 13 years, I honestly feel each performance is different, and at every single performance, I'm moved."
"If there is a challenge, it's to express the character of something, really understanding the inner meaning or content, and figuring out how to best express that," Lin said. "You have to get inside the music and understand it in order to make it right and make it beautiful, in order to achieve what the music is for."
What the music is for, and what the Shen Yun musicians do best, is storytelling.
Shen Yun Musicians' Harmonizing
Lin said that each piece has a storyline, even when a narrative isn't depicted; and those pieces have a unique character. The composers work closely with the choreographers so that every note and phrase corresponds to a gesture or movement on stage.
"I try to look at [the performance] on stage, to see how the dancers move their bodies and what the piece is about, and what the meaning they're trying to express is," Lin said. "When I play the line or the melody, I use my instrument to try to express the character of the piece, to express what they're trying to convey on stage."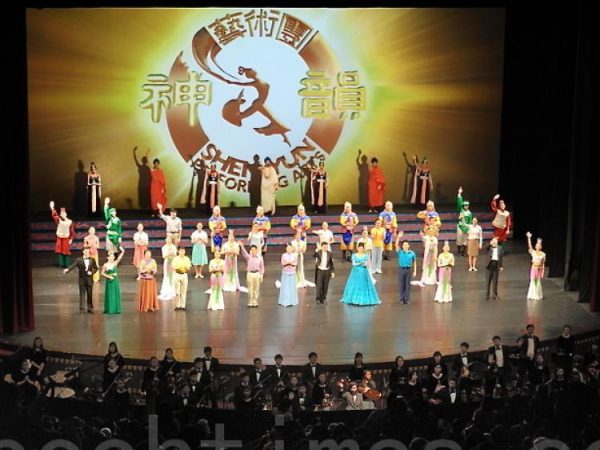 From the notes that the composers write and the musicians play, to the colors chosen for the costumes, to the backdrop graphic design, to the dancers working together to tell a story on stage, there is a sort of coordination that happens not just on a physical level but also mentally, emotionally, and spiritually.
"Everything is building together for the best effect," Lin said. Each piece plays a part in contributing to something whole and beautiful. "I think that's why people feel Shen Yun is so great."
Lin said that whether it's conducting or playing the violin, during the performances, she focuses on the moment in order to put herself completely into the whole work of art in play.
"You kind of become one with it," she said. "It's a group effort, not an individual thing."
"And I think we show different things every day when we play," Lin said. "Maybe it's very subtle, but it's different every day because we feel differently every day. … Maybe tomorrow, or next week, or last week, because I am improving, hopefully, I can achieve different things or learn different things."
We are all trying to improve ourselves all the time. What can we do to achieve this together on stage?
"We are all trying to improve ourselves all the time. What can we do to achieve this together on stage? And the next day it can be something else, on top of that. There's always room to improve, and it's never the end of it," Lin said. "Art has always been like that, an endless pursuit of perfection."
And when everyone in the ensemble is in this pursuit together, you can feel it, she said.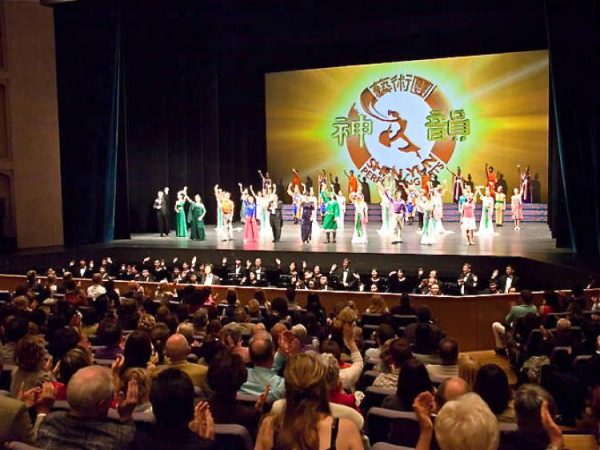 "The heart you have is actually very important … We can feel each little bit of tension, when it's not there yet, not beautiful enough, not smooth enough," Lin said. "Only when you're cooperating can you achieve that sort of perfect harmony. Music can convey to people feelings—what's in our hearts comes through in the music."