NAGOYA, Japan—Japanese entrepreneurs and artists said they were excited from attending Shen Yun Performing Arts at the Aichi Prefectural Art Theater in Nagoya on Jan. 27.
"I was uplifted. My whole body is swept up in this excitement," said Ms. Endou Masayo, the president of a construction company, "The movements are absolutely beautiful and extremely difficult, but the dancers were completely unruffled. The music matched the dances perfectly. The orchestra coordinates with the stage so precisely. I appreciate Shen Yun's performing."
Ms. Endou said she had never seen a performance like Shen Yun, which made her feel grateful.
"This is a brand-new experience for me. The backdrop, stage, and orchestra cooperate as one body in the show," she said. "It's amazing."
Ms. Endou felt that not only the theatergoers but also the artists were enjoying the performance.
"The dancers are expressive. I felt they enjoyed the show as well," she said. "They tried their best to make sure the success of the performance, and they made it. I kept my eyes on them from beginning to end."
Ms. Endou said: "It's an honor to attend such a spectacular!"
New York-based Shen Yun is the world's top classical Chinese dance company and has in recent years set a new bar for the art form internationally. The performance is presented through highly-expressive art forms such as classical Chinese dance, original orchestral music performed live, soloists who sing in the bel canto tradition, animated digital backdrops, and more.
'They Have Sincere Hearts'
Mr. Oshima Hirochika, the operation department manager of an IT company, said Shen Yun brought him "a wonderful artistic enjoyment."
He felt that the Shen Yun artists have not only super-high techniques and capabilities, but also great virtues.
"I could feel clearly that they have sincere hearts under their peaceful faces. This majestic performance is based on their hard daily training," he said.
Mr. Oshima was impressed by the rich Chinese history that Shen Yun presented.
"I felt I traveled along the Chinese history during the show. There are several stories that Shen Yun presented that are well-known in Japan," he said. "I like the story-based dances. They are very easily understood, and the values that these dances presented are easy to accept."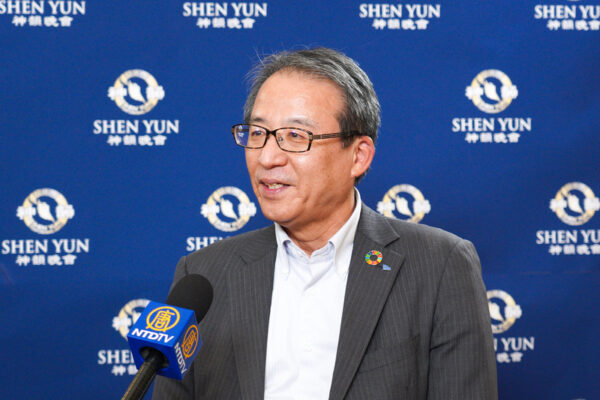 Each Shen Yun performance consists of nearly 20 vignettes, showing the beauty and goodness of "China before communism." For 5,000 years China's civilization was built on values and virtues from the spiritual teachings of Buddhism, Taoism, and Confucianism.
'An Unexpected Gift from God'
"The performance is amazing!" said Ms. Yoshikawa Harue, a Japanese ocarina virtuoso. "Attending Shen Yun is an unexpected gift from God. I'm very content."
Ms. Yoshikawa's friend had purchased a ticket but then could not attend, and gifted the ticket to her instead, and the event turned out to be a big surprise.
"The dances are fantastic, extraordinarily great," she said. "I saw the heavenly beings dancing with very beautiful costumes and hair pieces. It's fabulous!"
Ms. Yoshikawa said everything that Shen Yun presented was outstanding.
"I'm very glad that I had the chance to attend the show. This is a really good one. It's kind of rewarding," she said.
Ms. Yoshikawa appreciated her friend's generosity in giving the ticket to her. She bought a Shen Yun souvenir for the friend and plans to bring the friend to Shen Yun next year.
Every year, Shen Yun puts on an all-new production, including new choreography, music, costumes, and backdrop sets. Ms. Yoshikawa said she has already looked forward to attending Shen Yun again.
'I Think Shen Yun Is Magic'
Ms. Murakami Keiko is a dance teacher. She said the classical Chinese dance that Shen Yun presented was excellent.
"The dancers' flexibility is magnificent. Each of their movements presented a very beautiful curve," she said. "I was deeply touched."
Ms. Murakami said Shen Yun dancers' movements are very difficult to do, and have a strong impact and power that uplifted and inspired her.
"My heart soared when I saw the show," she said. "I think Shen Yun is magic and has a divine nature."
The name "Shen Yun" means the "beauty of divine beings dancing."
Reporting by Epoch Times Staff in Nagoya, Japan.
The Epoch Times is a proud sponsor of Shen Yun Performing Arts. We have covered audience reactions since Shen Yun's inception in 2006.